One of the most popular ways to play a rebounding Chinese economy is with industrial stocks. Over the past few weeks I have heard a lot of stocks thrown around as the best ways to gain exposure to the region. I dug into a few popular and under-the-radar industrial companies to see where they get their sales from. Caterpillar (NYSE:CAT) and Cummins (NYSE:CMI) are US companies. Komatsu (OTCPK:KMTUY) is headquartered in Japan, and Volvo (OTCPK:VOLVY) is headquartered in Sweden. The table below summarizes the findings from each company's most recent quarterly filing.
CY 2012 Q3 Sales per company by region
Asia
Europe
North America
South America
Other
Caterpillar
15.7%
17.6%
35.1%
14.6% 1
17.0% 2
Cummins
41.4%
21.0% 3
29.3%
4.5%
3.7% 4
Komatsu
50.7% 5
11.0% 6
30.9% 7
7.4% 8
Volvo
21.7%
35.4%
24.1%
10.4%
8.3% 9
Footnotes:
1
Includes Central America
2
Company calls out worldwide 'Mining' segment seperately
3
Includes Middle East
4
Africa accounts for 3.7% of total sales
5
Company specifies China accounts for 7.5% of sales, Japan accounts for 15.8%
6
Includes CIS
7
Company doesn't delineate between North & South America
8
Middle East & Africa account for 7.4% of total sales
9
Company specifies 'Other Markets' account for 8.3% of total sales
From the table, the most direct way to play a rebounding China is Komatsu. Many investors are wary of Komatsu since it is less well known and has few analysts following its moves. The next best option is Cummins which is a well-known name with a significant number of analysts following it.
Below is a 1-year chart of the four companies discussed above (via Yahoo Finance).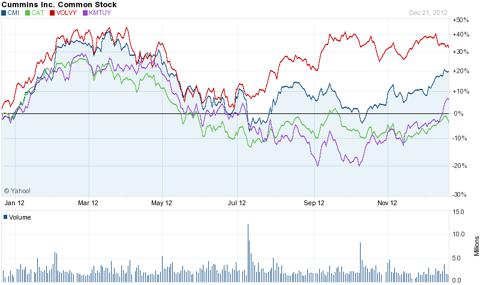 Over the past year, Volvo outperformed the other three names. Given the heavy European exposure paired with the political and financial turmoil of that region, the returns don't follow the conventional wisdom of the market. Investors priced in a slow European market for heavy equipment which resulted in lowered expectations which were easy for the company to beat. Also, any positive news was essentially unexpected which helped the shares rally.
There are many similarities which can be drawn between the China storyline now and the European storyline of a year ago. In both cases there are doomsday predictions of what will happen when the economy truly falls apart and it seems, at least until a few weeks ago, to be in vogue to be a China bear. Very similar rhetoric seems to have convinced people to be too bearish on the European economy last year.
With people taking so loudly about what could happen if the worst does happen, it has clearly paid to be on the other side of the trade in the past and it may work again.
Disclosure: I am long CAT, CMI. I wrote this article myself, and it expresses my own opinions. I am not receiving compensation for it (other than from Seeking Alpha). I have no business relationship with any company whose stock is mentioned in this article.