Current historically low interest rates have caused investors to seek higher yielding opportunities. Stocks with high yields provide current income and a cushion against capital depreciation. Due to the looming fiscal cliff, I recommend investing in tax preferential accounts if at all possible.
Dividend stocks tend to have a strong financial position but it is always critical to check the liquidity and solvency ratios before considering an investment. This dividend strategy generally works in one of two ways: either you buy before the ex-date to receive the dividend or buy after if the stock declines far below the after-tax amount of the dividend. Regardless of your short-term strategies, these equities can be attractive longer-term investments depending on your individual circumstances.
Buying the stock to receive the dividend is intuitive but many have contacted me requesting further details on the second strategy. Investopedia has a great example of how this works. To explain this, I will use AT&T (T) as an example. AT&T declared a $0.45 dividend to shareholders of record on January 10, 2013. On the ex-dividend date the stock price should decline by the after-tax dividend amount, with an assumed tax rate of 15% because many dividends qualify for a preferential tax rate. It is true that you can personally avoid immediate taxation by owning the security in an account with beneficial tax treatment but this serves as a benchmark.
As a result, an investor would expect the stock price to decline by $0.38 = [$0.45 * (1-.15)]. If AT&T declined by more than $0.38 in the absence of negative news you might have an attractive opportunity. For conservatism you may ignore the tax aspects and only trade if the stock price declines by the full dividend amount. Executing this strategy can generate returns over short periods of times but should only be performed on companies that you would be comfortable owning. Note that some analysts may already be incorporating 2013 dividend rates into their models. I am hesitant to speculate on the rate increase so I am still using 15% but if you would like to increase your margin of safety, please increase the tax rate on your personal calculations.
To focus on these opportunities I ran a screen with a focus on relative safety for the investments as the objective is to concentrate on liquid companies that are affordably priced. I began with a specification of a dividend yield greater than four percent and an ex-dividend date within the next week. To provide some layer of safety I narrowed down the environment by looking at companies with market capitalizations greater than $1B, P/Es between zero and 20, and institutional holding percentage in excess of fifteen percent (except ADRs).
While not a precise requirement, I prefer companies that have underperformed the S&P 500 year-to-date as it indicates reduced downside relative to peers. For example, if negative macro news breaks, the stock that has declined more in the past year should ideally perform better than a similar stock with year-to-date gains. With the impending European crisis I now avoid companies with significant European exposure. This is summarized below:
Dividend Yield ≥ 4.0%
Ex-Dividend Date = Next Week
Market Capitalization ≥ $1B
P/E Ratio: 0-20
Institutional Ownership ≥ 15%
Ideally Modest S&P 500 Underperformance
Minimal European Exposure
After applying this screen I arrived at the equities discussed below. Although I envision these as short-term trading ideas, you still need to exercise caution. The information presented below should simply be a starting point for further research in consultation with your professional financial advisor before you make any investment decisions. My goal is to present new companies to you and provide a brief overview of their recent developments and this should not be considered a substitute for your own due diligence.
Note that many companies have been shifting the dates of their dividend payments into December to avoid higher dividend tax rates in January 2013. The dates presented are accurate to the best of my knowledge but are subject to change at any time without warning.
Due to the volume of real estate focused equities in this week's screen (primarily mREITs), they have been analyzed in a separate article
Prospect Capital Corporation (PSEC): 12.03% Yield; Ex-Dividend 12/27
Prospect Capital is a specialty finance company that operates primarily in the private equity and specialized investment categories with a focus on secured lending. The firm prefers to make small investments ($5-$50M) in small-to-mid-size North American companies. Private equity companies are attractive dividend producers because they frequently revitalize or improve existing businesses and are able to return excess cash quickly. These can be volatile firms because their ventures often do fail but once they have successful investments, they can pay above-average dividends.
Earlier in 2012 Prospect agreed to acquire a specialty finance company, First Tower Corp., in a cash/stock deal valued at approximately $233 million. First Tower specialized in offering installment loans to consumers for mid-sized consumer purchases. Based upon TTM earnings, the deal would offer a current yield of 21% and thus far has been an accretive acquisition. This is another case of the rich getting richer, and shareholders should take advantage.
Prospect reported another strong quarter of earnings in November in which net investment income increased 166% year-over-year. The current portfolio yield sits around 13.3% revealing that the dividend is quite safe. In early December, Prospect increased the December 2012 and January 2013 dividend payments by 8.2%. CEO John F. Barry commented that "because of its 2012 record date, Prospect's 11.0000 cents per share December 2012 dividend should enjoy current 2012 tax rates for shareholders and should not be subject to higher 2013 tax rates envisioned by currently passed United States legislation." In June 2010, Prospect began distributing dividends monthly rather than quarterly, which accounts for the large perceived dividend decrease from $0.40 to $0.10. Private equity investments are complex due to the scale and diversity of their operations so I strongly recommend that you read the earnings release for further details of investment activities. The company has been very active recently as it offered $200M of 5.9% notes as well as increasing its revolving credit facility.
The stock has been largely immune to poor equity performance in 2012 and has risen from $9.50 to $12 but has recently fallen below $11. The stock has dropped 6.9% in the past three months due to dilution concerns relating to the company's $384M net stock issuance ($11.10 per share before fees). Dilution is never good for a company but Prospect has a history of raising capital to meet investing requirements. I am confident that the $300M in capital will deployed profitably and investors would be wise to take advantage of the drop in the share price. The P/E is still below seven and the yield is in excess of twelve; therefore, I am bullish on Prospect Capital's future. PSEC trades at a relatively low 6.9 P/E, consistent with the depressed multiples of other financial services companies, which is remarkably low given the recent success of the industry. Many companies with yields in excess of ten percent can be yield traps, but Prospect has withstood the test of time and also offers capital gains opportunities.
None of the loans originated in the past four years have gone on "non-accrual" status, highlighting management's ability to select attractive investment opportunities. Jeffrey Gall recently performed a detailed analysis of Prospect's holdings and came to the conclusion that "Outside of a few minor portfolio holdings, PSEC's portfolio is very healthy … Given its current portfolio coupled with the fact that PSEC is trading below book value makes PSEC a stock worth owning." If you needed even more of a reason to buy PSEC there was recently a "cluster insider buy" in which the COO, Director, and CFO all purchased shares within a five-day period. There is a risk that high yielders such as Prospect will be under pressure if dividend tax rates increase but I would be comfortable buying Prospect under $11.50.
Kayne Anderson MLP Investment Co. (NYSE:KYN): 7.31% Yield; Ex-Dividend 12/26
KYN is a closed-end fund that invests in the equity of energy-related master limited partnerships ("MLPs"). As of November 30, 70% of the portfolio was invested in Midstream MLPs, which focus on gathering, processing, storing, and transporting activities. Top holdings include Enterprise Products Partners L.P (8.9%), Kinder Morgan Management, LLC (7.5%), and Plains All American Pipeline, L.P. (7.1%). NAV per share is $28.51 thus KYN is trading at an approximate five percent premium to book value. This is consistent with this type of fund and is actually towards the low-end of its recent historical trading pattern. I believe there is value in KYN but I would shy away when the premium approaches ten percent. KYN may be an attractive alternative to direct investment in MLPs due to its diversification and beneficial tax treatment (for example, KYN issues 1099s vs. K-1s). The largest risk associated with KYN is that it utilizes substantial leverage that may make this fund unsuitable for all investors.
The dividend was recently increased 7.8% year-over-year and is the ninth consecutive quarterly payment increase. Since April 2011 the quarterly distributions have exhibited solid growth. Note that this $.55 quarterly distribution will have special tax treatment as it "is anticipated that a portion of this distribution will be treated as a return of capital for tax purposes."
Baytex Energy Corp. (BTE): 6.14% Yield; Ex-Dividend 12/27
Baytex Energy is an oil and gas company that engages in the acquisition, development, and production of oil and natural gas in Western Canada. In recent years Baytex has also been expanding its presence in the United States. As a Canadian publicly listed corporation there may be special tax considerations for United States shareholders depending on their unique situations. Despite its natural gas interests, more than 75% of revenue is derived from heavy oil with light oil accounting for nearly 20%. Todd Johnson wrote a very comprehensive overview of Baytex in which he concludes "I believe Baytex is a long term winner in the Canadian monthly dividend oil sector. I prefer the company's focus upon internal funding and monthly dividends." The stock has declined since that point and the yield has climbed from 5.8% to 6.1%.
Baytex recently announced an acquisition of 46 sections of undeveloped oil sands leases in the Cold Lake area of northeast Alberta for approximately $120M. This acquisition is consistent with Baytex's focus on heavy oils. Note that Baytex pays dividends monthly and that payment has remained constant at $.22 per month throughout 2012. Overall Baytex appears to be a solid dividend opportunity but there may be storm clouds looming on the horizon. Demand for pipeline capacity is outstripping supply and those companies without refining capabilities, such as Baytex, may suffer. Earnings are estimated to drop almost thirty percent going forward if demand stays at this level. This is a critical situation to monitor if you are considering a long position in the company. With current and forward P/Es of 18.1 and 28.0, respectively, I would personally avoid the risk involved in Baytex.
AllianceBernstein Income Fund Inc. (ACG): 5.60% Yield; Ex-Dividend 12/26
This closed-end fund offering from Alliance Bernstein has the objective of generating high current income to outperform the broader bond market with a side objective of preservation of capital. This is a very popular market segment recently and the fund has appreciated more than five percent this year. The fund's portfolio is available here as of October 31 and there are no unexpected holdings. 58% of holdings are government securities with nearly 70% of the portfolio rated triple-A so you may be wondering how the robust 5.6% yield is achieved.
The answer is primarily leverage: the fund has 43% leverage which boosts the returns. The use of leverage in this low interest rate environment may be prudent but this is a red flag for dividend capturing as the trade could very easily turn against you. The leverage has actually decreased three percent since the prior portfolio update, a noticeable decline over such a short period. The fund charges sixty five basis points which is notable if your objective is generating income.
PG&E Corporation (NYSE:PCG): 4.39% Yield; Ex-Dividend 12/27
I recently wrote a detailed explanation of how I analyze utility companies and in brief I focus on the number of customers and geographic location. Larger companies enjoy scale benefits and are able to profit more from smaller rate increases. While geographical differences exist for regional utilities, the underlying business is essentially the same: a stable, cash-cow business that returns most profits to investors via dividends and share repurchases.
PG&E Corporation is a utility company servicing northern and central California with approximately 9.5 million customers (55% electric/45% natural gas). The stock has been in the news for the past two years over its natural gas explosion in San Bruno, California, which killed eight people and injured many more. This disaster has already resulted in $915M of expenses and a recent ruling stated that PG&E will face $2.2B in future safety costs. Out of the $2.2B, approximately $1.3B will be recoverable from customers but the charges will be spread over "several decades". For the nine months ended September 30, 2012, total operating revenues are up slightly as increases in electric were almost fully offset by declines in natural gas. Income before income tax for the period was only $10M higher year-over-year but net income was helped by a lower income tax provision versus 2011. The stock has slumped in the second half of 2012 and declined from $46.50 to a low of $39 and is still trading near the low-end of that range. Despite trading only seven percent from its 52-week low, the P/E and payout ratios are both high at 19.2 and 84%, respectively. Management's short-term focus will justifiably be on improving safety and the company's image rather than enriching shareholders. Accident related expenses will continue to pressure the company in the near future and I would suggest a utility with less negativity surrounding it.
Philip Morris International (NYSE:PM): 4.00% Yield; Ex-Dividend 12/24
Philip Morris International ("PMI") is the largest tobacco company in the world with major brands such as Marlboro and L&M. Excluding China and the United States, PMI holds 28% of the global cigarette market. Tobacco companies make for great investments in all types of economies because tobacco users are always willing to buy the inelastic product. I have invested in both Altria (NYSE:MO) and Philip Morris with tremendous capital gains and dividends over the years. US cigarette volume is declining, but tobacco is still a strong worldwide seller. Furthermore, declines in cigarettes are being partially offset by demand for smokeless tobacco and other products.
Philip Morris' dividend has hit four percent for the first time in over a year and has risen over sixty basis points since April 2012. When Altria spun-off PMI in 2008 the dilemma for investors was whether they were willing to sacrifice yield for higher international growth. Fast-forward four years and PMI has nearly doubled its dividend payout and lags Altria's yield by only 1.5%. All tobacco stocks have been under pressure recently as the European Commission has drafted a bill that would increase the amount of warning on packages as well as ban slim and flavored cigarettes in the UK. Additionally there are fears that more markets could follow the Australian trend towards plain packaging where companies are essentially granted no ability to advertise their products. It is unlikely that legislation will be allowed in other countries due to peculiarities in the Australian constitution but it is an important trend to follow if you own tobacco stock. Philip Morris still has decent growth opportunities and will continue to enrich shareholders with dividends and buybacks.
The information presented has been summarized below. Yellow and red represent "avoid" and "consider" classifications, respectively. Blue represents real estate focused equities that have been analyzed in a separate article.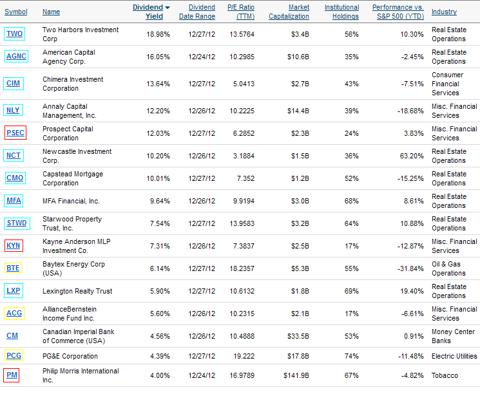 Please refer to profile page for disclaimers.
Disclosure: I am long PSEC, PM, T. I wrote this article myself, and it expresses my own opinions. I am not receiving compensation for it (other than from Seeking Alpha). I have no business relationship with any company whose stock is mentioned in this article.