Note: all dollar amounts are in Canadian dollars unless otherwise indicated.
Baytex Energy Corp. (NYSE:BTE) is one of the better western Canadian oil and gas companies. It currently offers a monthly dividend of $0.22, or $2.64 per year. At current prices, the stock is currently yielding 6.2%. Any dividend coming from Canada is subject to a 15% dividend withholding tax, therefore the after-tax yield may be lower.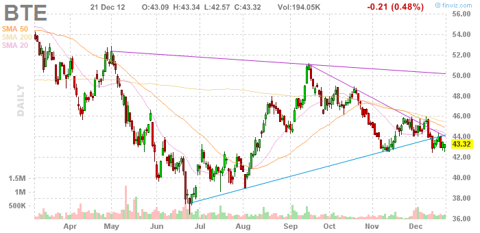 Baytex has proved reserves of over 234 mmboe and contingent resources of an estimated 738 mmboe. The reserve mix is estimated to be about 92% oil. Total production for Q3 2012 was 54,381 boe/d. The production mix included about 88% oil and liquids. Capex for Q3 was $113 million. Guidance for 2013 is for production to be in the range of 56,000- 58,000 boe/d, for the production mix to be 89% oil and liquids, and for capex to be around $520 million.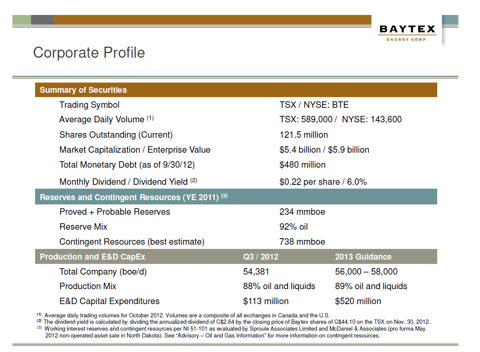 Operating areas for Baytex include: the Canadian provinces of Alberta, Saskatchewan and British Columbia, and the US state of North Dakota. Reserves for Baytex are made up of 71% heavy oils, 21% light oils, and 8% nat gas. The production mix for 2013 is expected to be composed of 75% heavy oil, 14% light oil and 11% nat gas. Alberta provides the majority of production for Baytex at 60%; Saskatchewan provides 34% and the US and British Columbia provide 3% each.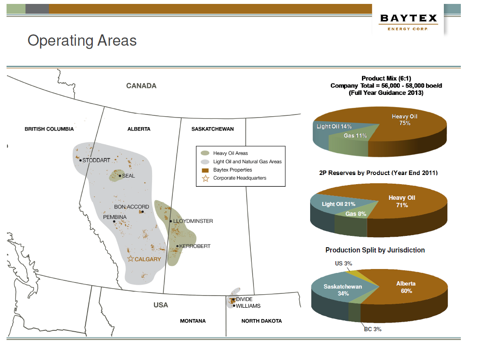 The growth strategy for Baytex includes a targeted CAGR of 8% in oil production. Overall production for Baytex has also grown at CAGR 8% since 2006. Oil has been steadily increasing as a percentage of the production mix, increasing from 73% in 2004, to 89% in 2013.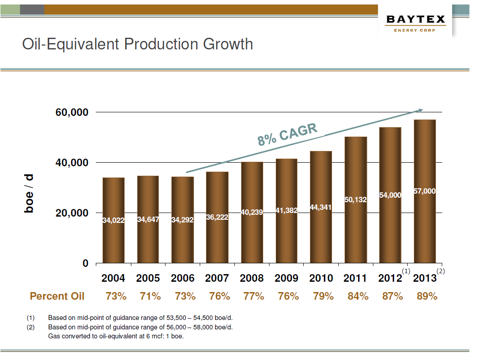 Baytex has also seen its reserves grow at a CAGR of 10% since 2005. As of 2011, probable reserves are at 96 mmboe and proved reserves are at 156 mmboe. Oil as a percentage of reserves has grown from 79 % in 2005, to 92% in 2011.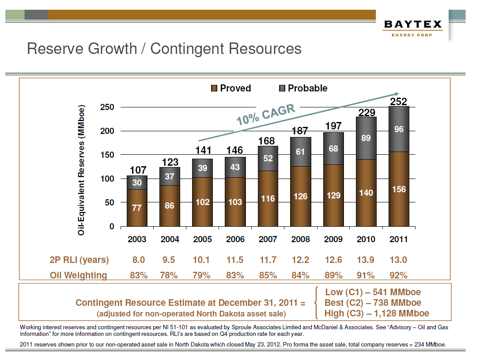 Baytex's dividend is one of the safest of the Canadian oil sands companies. Its current dividend of $0.22 per month is under 60% of funds from operations. If one were to remove shares participating in the DRIP (about 32% of shares) then the payout ratio drops to under 40% of FFO. Since reducing the dividend in 2009 (due to its reclassification from a trust to a corporation), Baytex has raised its dividend three times, from $0.12 to $0.22, or about 83%. Baytex also has a strong balance sheet, with total debt at only $480 million.
Baytex offers a high monthly dividend, which is covered by its funds from operations. It is also has relatively low debt, compared with some of the other names in this sector. Baytex was not hurt much from the historically low nat gas prices seen earlier this year. However, it has suffered from declining prices for Alberta crude. The dividend for Baytex is safe in my opinion due to the current low debt levels. I would personally buy Baytex if it drops to below $40, however at current prices, I believe it is a decent value.
You can read more about my thoughts on other Canadian oil sand companies, such as: Pengrowth Energy (NYSE:PGH) here and Penn West Exploration (PWE) here.
Source for charts: December Corporate Presentation
Disclosure: I am long PGH. I wrote this article myself, and it expresses my own opinions. I am not receiving compensation for it (other than from Seeking Alpha). I have no business relationship with any company whose stock is mentioned in this article.