Oil service stocks have long been considered underpriced by analysts - as a group they traded well below analysis price targets throughout 2012. Analysts are expecting about 25% upside in Halliburton (NYSE:HAL), 27% upside in Schlumberger (NYSE:SLB), 20% in Baker Hughes (BHI), and over 35% in National Oilwell Varco (NYSE:NOV). These stocks have largely been unchanged throughout the year, with the exception of Baker Hughes which is down over 15% year-to-date.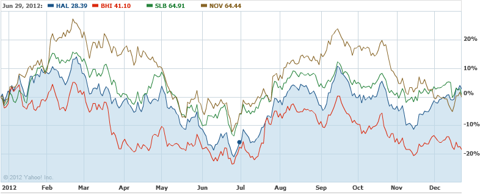 Most investors will not be looking closely at this industry as a healthy oil supply along with a weak economy have kept the price of oil at fairly low levels. Also while the price of natural gas has rebounded it still remains near historically low levels. Furthermore many people have low expectations for the economy in 2013. The CBO estimates if the fiscal cliff is avoided, that GDP will grow at just 1.7% for 2013. If the economy outperforms and there is any disruption in oil supply I think prices in 2013 could be higher than the market currently has priced in.

Halliburton appears to be the most undervalued of these stocks. It has the lowest PEG and forward P/E ratio and along with Baker Hughes it has the lowest EV/EBITDA ratio. While Halliburton is the most dependent on North America for its revenues this also gives them more opportunity to gain international market share. One possible area Halliburton could see gains is in China. In the 3rd quarter the company attributed a 3% increase in revenue from the Middle East/Asia region in part to integrated drilling and completion services for shale gas wells provided in both China and Australia.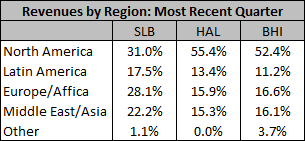 Halliburton is focused on three segments of the oil services business: deepwater, unconventional and mature fields. Halliburton believes it has developed and is developing the best technologies to service these segments. The company highlights that it has doubled spending on technology in the past 5 years. These investments in technology will pay off for Halliburton as the industry increases spending on more highly technical oil fields.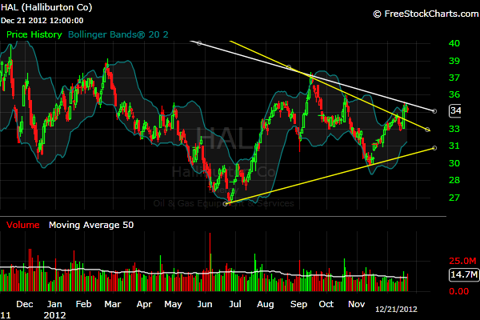 Halliburton has been and arguably still is in a consolidation pattern. When looking at the yellow triangle it appears Halliburton may have broken out to the upside, however I believe the upper white line could be a continuation of this consolidation. Longer term the stock is still defined by a trading range it has been in going back about 16 months, with $40 per share providing strong resistance on the upside and strong support coming in around $27. However through this fall the range has narrowed with the stock moving between $30 and $38. With natural gas prices in an uptrend and the possibility of an improving global economy in 2013, Halliburton could be set to break out of this trading range and give investors a nice return in the new year.
Data sourced from: Company filings, and Yahoo Finance. Chart from: Freestockcharts.com
Disclosure: I have no positions in any stocks mentioned, and no plans to initiate any positions within the next 72 hours. I wrote this article myself, and it expresses my own opinions. I am not receiving compensation for it (other than from Seeking Alpha). I have no business relationship with any company whose stock is mentioned in this article.