The consumer discretionary sector has been one of the strongest performers in the market over the past five years (See Chart). The sector has managed this despite an anemic economic recovery and poor personal income growth. Initial indications show decent holiday spending and consumer confidence should be boosted once the fiscal cliff is resolved. Here are two retailers that have received some recent positive comments from analysts and whose consensus earnings estimates have risen in the last few months. Growth investors looking to add to their allocation in this sector should consider them for additions into their portfolios.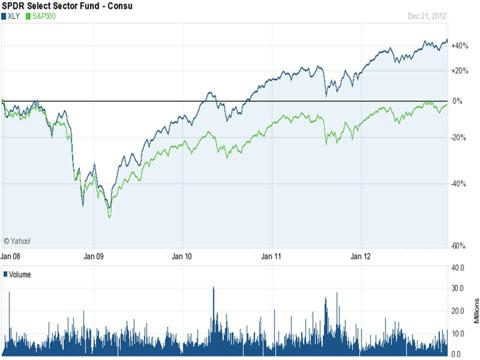 Abercrombie & Fitch Co (NYSE:ANF) operates as a specialty retailer of casual apparel for men, women, and kids. The company manages approximately 1050 stores throughout the United States under several brands including Hollister and Abercrombie & Fitch.
4 reasons ANF is still a good long term growth play at $47 a share:
Consensus earnings estimates for both FY2012 and FY2013 have risen more than 15% over the last two months.
Wedbush Securities reiterated its "outperform" rating on Abercrombie and raised its price target from $48 to $56 a share this week. Robert W. Baird raised its rating on ANF from "Neutral" to "Outperform" the week before.
ANF is priced at under 13.5x forward earnings, a discount to its five year average (17.0). It also still sports a five year projected PEG of under 1 (.93).
Even after its recent run up, the stock is still selling in the bottom half of its five year valuation range based on P/E, P/S, P/B and P/CF.
Nike (NYSE:NKE), one of the world's largest shoe and apparel brands also had a good week and received positive comments this week.
4 reasons NKE has further upside from $105 a share:
ISI Group just reiterated its "Buy" rating and raised its price target from $100 to $120 a share.
Nike rallied into the sell-off Friday as it reported earnings that came in 14 cents a share better than EPS estimates. The company beat estimates by 15 cents a share last quarter. North America saw a 17% Y/Y revenue gain in the latest quarter. The rally was probably muted by the fiscal cliff pullback and the shares should still have upside if sentiment in the overall market improves next week.
Consensus earnings estimates for both FY2012 and FY2013 had already improved some 3% over the last three months, and I would look for more upward revisions based on this latest earnings report in the weeks ahead. This should provide a positive tailwind for the stock.
The company has an A+ rated balance sheet and over $3B in net cash on the books (approximately 7% of market capitalization). It also has a low beta (.85) for conservative investors looking for less volatility than the overall market.
Disclosure: I am long ANF. I wrote this article myself, and it expresses my own opinions. I am not receiving compensation for it (other than from Seeking Alpha). I have no business relationship with any company whose stock is mentioned in this article.