I compiled this list of stocks with the goal of diversification in mind. Zipcar (ZIP) and BioSante Pharmaceuticals (BPAX) are both looking good for long-term growth while True Religion (NASDAQ:TRLG) and Skullcandy (NASDAQ:SKUL) seem to be trading below their true value. Finally, National Oilwell Varco (NYSE:NOV) is a fundamentally sound stock that has returned only 1% YTD and is due for a correction.
Zipcar
Zipcar is a different take on the typical car rental business that everyone is used to. Instead of going to a car lot and renting a car, you become a member of Zipcar which allows you an allowance of driving time per month. After your allowance is used up, it's similar to other car renters in that you pay a fee based on the number of days you keep the car.
How Zipcar really separates itself from other renters is that there's no need for on-site employees. Cars are parked at Zipcar locations placed strategically throughout big cities and near universities. Customers rent through their computer, by phone, or using Zipcar's apps for Android and iPhones. Once the rental is made, their Zipcard (given to all Zipcar members) becomes the key to unlock a particular car.
Zipcar is still a young company with limited availability which means it has a lot of room for growth. While the company was heavily affected in the short-term by Hurricane Sandy, its long-term outlook is good. In fact, last week was the first time since IPO that the 25 day moving average moved above the 50 day moving average. This may signal a change in the trend.
Zipcar has yet to make a net profit in an operating year, however the company has moved closer to the black every year. It trades at 75 times earnings which is exceptionally high, however this is not unheard of for young, high growth companies.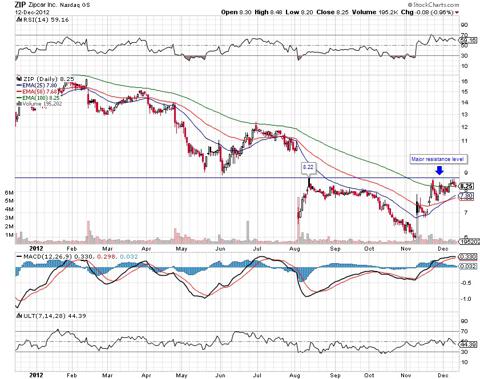 Biosante Pharmaceuticals
BioSante Pharmaceuticals is a biotech that focuses on contraceptive and female health products as well as some cancer drugs. Rather than manufacture its products, BPAX licenses them out to other companies to produce. This allows the company to focus its funds largely on research.
Currently, the company has two drugs approved by the FDA in Elestrin and Bio-T Gel. Elestrin is a drug that combats the symptoms of menopause while Bio-T Gel delivers testosterone into the bloodstream through the skin. Outside of these two, there are several products in different phases of clinical trials.
One of the more promising group of drugs, known as GVAX, are vaccines against certain cancers developed through genetic engineering of different cells. These are primarily in phase I and phase II trials. BioSante also has an oral contraceptive in phase II clinical trials.
While the future looks bright for this growth equity, the current fundamentals are also impressive. Its price to cash has decreased from approximately 8 in 2009 to about 4.5 after its most recent quarter. As a biotech company, it's important that the company diversify its product line to ensure security should trials not go well for a certain drug. BioSante has at least four different products in the pipeline and continues to increase R&D investments.
At the same time, the high R&D costs have led to increasingly negative profit margins and its business model of licensing drugs to other companies to produce further exacerbates this problem (they depend on timely royalty payments to survive). It's possible that the company may choose to produce products in the future which could be a huge incentive for investors to buy in.
The technicals show that now may be a good time for investors to make the buy if they plan on doing so for the long term. The 25 day moving average has just crossed above the 50 day moving average for the first time in the past year. The RSI shows BPAX is in solid uptrend territory without being overbought. The MACD shows that there is an uptrend but it's slowing down.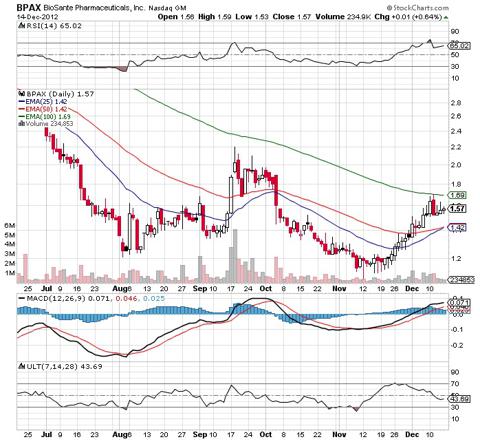 True Religion Apparel
True Religion Apparel is a manufacturer and distributor of high end clothing (primarily jeans). Distribution is primarily through department stores and its own retail outlets but online sales are becoming more of a focus for the company.
True Religion has shown increasing revenue consistently on a year-over-year basis. With a growing percentage of revenue coming from online sales, it's possible that this trend can continue especially in the long term as the economy recovers.
The fundamentals for True Religion are impressive to say the least. It's trading at only 13 times earnings compared to its industry peers trading at about 24 times earnings. The price-to-book is 1.89 (investors pay $1.89 for every $1 of assets) compared to an industry average of 3.60 (investors pay $3.60 for every $1 of assets). It even pays a hefty dividend at 3.34% (though with a payout ratio of about 32.90% this could cut into future growth).
The chart shows that now may be a great time to buy into this stock. The RSI and Ultimate indicators both just crossed into uptrend territory and the price just moved above the 25, 50, and 100 day moving averages. These are all bullish signs and supported by solid fundamentals.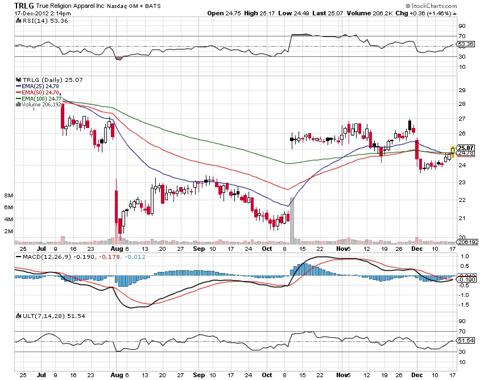 National Oilwell Varco
National Oilwell Varco produces equipment for the oil and gas industries. The company recently spent just over $1 billion to acquire a handful of smaller companies which all operate under the same line of business. National Oilwell focuses on three segments of the equipment manufacturing process: petroleum services, distribution and transmission, and rig technology.
The stock has returned only 1% YTD which isn't saying much but its fundamentals are solid for the long term which is what we should be focused on. It's trading at only 12 times earnings which is quite a discount to its high of 20 times earnings over the past 5 years. Its price-to-book is only 1.49 compared to the industry average of 2.90. The dividend yield is hardly anything to consider at only 0.76% but its payout ratio is only 8.51% which leaves a lot of room for dividend growth in the future.
Revenues are up 37% compared to last year at this time. Earnings per share are up 28% compared to last year at this time. The profit margin is up 12% year over year. It's difficult to find anything bad about this stock in its fundamentals, and technicals point to a great time to buy.
The price is well below the 25, 50, and 100 day moving averages. The RSI and the ultimate oscillator are both straddling oversold and the MACD is converging with the signal line from below. It's possible that the stock will continue its decline till the end of the year but there is major support at $63.29. Investors should watch the stock and look to jump in right after the swing.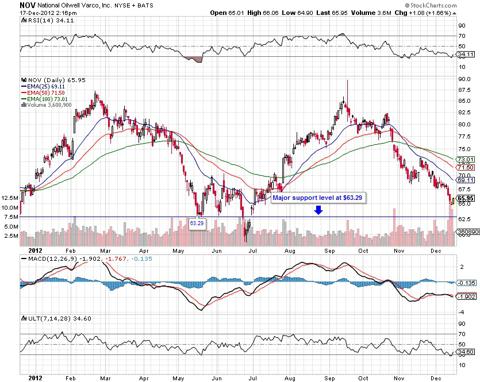 Skullcandy
Skullcandy may be the most well-known of the companies on this list because of its primary product line: cheap, colorful headphones sold at various retailers and online. This stock has been battered YTD without any real explanation. Even its outstanding short float is inexplicably high (though not quite as high as it was a few months ago).
It's trading at only 8 times earnings and only 7 times forward earnings which is considerably less than its 5 year average of about 15 times earnings. Despite beating earnings almost every quarter since inception, the market has doubted the viability of Skullcandy as a long-term business. Sooner or later, however, the market will have to take notice.
Skullcandy's revenues are up 40% in the past year and 91% in the past five years. The company has no long-term debt despite moving into a new market with higher end headphones to compete with the Beats by Dre line by Monster Cables.
Technicals give mixed signals, though based on fundamentals it's a cheap stock nonetheless. The price is below the 25, 50, and 100 day moving averages but there seems to be resistance just below $8. The RSI and Ultimate oscillator both show downtrend territory but not overbought. Finally the MACD shows that an uptrend may be coming soon (it's crossed above the signal line and diverging).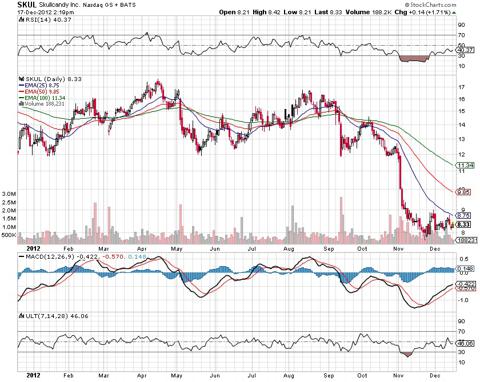 It's important as investors to weight fundamentals, technicals, and sentiment before deciding on the proper time to buy and sell stock. It's also a good idea to look at options for more customization based on your particular risk and reward needs. As long as the investments are for the long term in solid companies, there shouldn't be a need to wait for a stock to bottom out to buy in.
Disclosure: I am long SKUL. I wrote this article myself, and it expresses my own opinions. I am not receiving compensation for it (other than from Seeking Alpha). I have no business relationship with any company whose stock is mentioned in this article.
Additional disclosure: I may initiate a long position in BPAX, NOV, TRLG, and ZIP over the next 72 hours.