For much of the past two years, I've been very adamant about staying away from social media companies such as Facebook (FB), LinkedIn (LNKD), Pandora (P), Groupon (GRPN), and Zynga (ZNGA). This is due to their excessively high valuations beginning with their initial public offerings and the resulting inability for the market to correctly value the present day worth of their future potential. Back in December 2011, I noted in my article found here that these types of social media investments offered an "abundance of unnecessary risk" for a time of economic uncertainty. In February 2012, I reiterated this concern by pointing out that the wild swings in first day trading sessions suggested that even the underwriters were uncertain as to how to fairly price these popular types of investments.
Yet with a year now behind us, it's clear that the invisible hand of the free market economy has begun to more adequately price some of these names. As investors began to digest the folly of their former exuberance, poor performing companies like Zynga and Groupon watched their support fall out from underneath as their revenue growth slowed much faster than anticipated. Facebook botched its IPO and the shares are beginning to reflect a more reasonable valuation that still anticipates a high degree of growth potential. Pandora has steadily trended down as the company just begins to cross the threshold of being net income positive. As for LinkedIn, the company remains one of the few social media plays that has trended upwards in light of meeting earnings expectations and often surprising to the upside.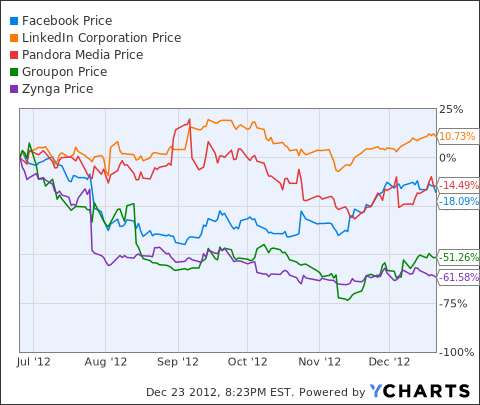 A quick comparison between these companies shows that the market continues to remain generous in terms of valuation. Many of these names are currently trading several multiples above their book values. This could be dismissed if it wasn't for the lucrative price-to-sales ratios and lack of meaningful earnings to coincide with this factor. Though displayed below, the high forward price-to-earnings ratios may also prove to be deceptive. Strong earnings growth can skew the perception of this data. Likewise, this information can be skewed by the fact that many of these companies teeter on the edge of having positive earnings. For instance, in the case of Zynga a rather large 233 P/E ratio is largely due to the fact that the company is expected to earn $0.01 in the coming year. All of the values below were taken from Yahoo! Finance as of December 23, 2012.
| Company | Market Cap. | Fwd. P/E Ratio | Price/Book Ratio | Price/Sales Ratio |
| --- | --- | --- | --- | --- |
| Facebook | $56.89 Billion | 40.40 | 4.15 | 12.79 |
| LinkedIn | $12.26 Billion | 89.15 | 14.95 | 14.86 |
| Pandora | $1.53 Billion | N/A | 14.50 | 3.96 |
| Groupon | $3.16 Billion | 20.08 | 3.93 | 1.44 |
| Zynga | $1.83 Billion | 233.00 | 1.00 | 1.46 |
Out of all the companies listed above, the only one now venturing into a more rational valuation appears to be social gaming company Zynga. While perhaps not the most promising name of the ones listed above, from a fundamental standpoint it remains the only stock that represents a more fair present day valuation of the company's future potential. This can also be assessed by the recent company news of management's authorization for a $200 million stock buyback.
With an adequate price-to-sales ratio of only 1.46, it's clear that Zynga's revenues remain well in-line with the company's current price. Despite significantly slower growth in recent months, revenues have also continued to grow year-over-year. While earnings may have stalled in light of poor management decisions, the prospect of the company's future has not been proven to be broken altogether. Zynga continues to release a steady flow of gaming apps. It is also beginning to break out of its reliance on Facebook as it attempts to diversify its revenues. In 2013, the company expects to enter into real-money gambling which could significantly change the dynamic of its business model.
Yet above all, the company's key advantage in the present is the fact that it holds a strong balance sheet and a leadership position in its industry of social gaming. According to the latest filed Form 10-Q found here, Zynga has $394 million in cash and another $1.25 billion in marketable securities as of September 2012. This bodes well for a company currently sporting a meager market capitalization of $1.83 billion. This is especially the case when considering that research and development remains the single largest expense of the company. Last quarter, Zynga spent $155.6 million in this area. With such a strong capital position, Zynga remains more than able to buy out competitors should it see fit to do so.
Conclusion.
Overall, it would appear that social media companies continue to sport relatively high valuations despite their recent discounts found in falling stock prices. The industry as a whole has been volatile in light of the market's excitement over the sector's potential. Yet in light of perceived failure, the deep discount of Zynga in particular stands out as a stock in the social media space that might merit additional investigation by investors. The company's strong balance sheet continues to support the stock at these levels and it also provides the company with the ability to grow through further acquisitions. Last of all, the recent announcement of a stock buyback remains a confirmation that bearish sentiment concerning the stock may have finally reached its limits.
Disclosure: I am long ZNGA. I wrote this article myself, and it expresses my own opinions. I am not receiving compensation for it (other than from Seeking Alpha). I have no business relationship with any company whose stock is mentioned in this article.