Wynn Resorts Ltd. (NASDAQ:WYNN) could be set to produce big gains for investors in 2013. The company has been troubled this year by Steve Wynn's public battle with business partner and board member Kazuo Okada. This, along with worries about the slowing Chinese economy and the potential for the Chinese government to limit the flow of money into Macau, will leave Wynn's stock close to unchanged for the year. Wynn is now seeking to remove Okada from the board and has already reduced the size of its board and increased the percentage of independent directors. The company believes this will help them win regulatory approval in Pennsylvania and Massachusetts.

Wynn appears cheap when you compare it to its peers. Its EV/EBITDA ratio is only slightly ahead of MGM Resorts (NYSE:MGM) and much lower than its most similar competitor Las Vegas Sands (NYSE:LVS). Furthermore Wynn's EV/EBITDA ratio is lower than Caesars Entertainment (NASDAQ:CZR) despite the fact that Caesars is far from profitable and Wynn is expected to earn over $6 per share in the past year. When you look at price to sales and EV/Sales Wynn is ahead of financially challenged Caesars and MGM but is still far behind Las Vegas Sands. Wynn underperformed MGM and Sands through much of 2012, in large part because of the Okada situation. I think 2013 could bring that problem to an end and allow Wynn to outperform MGM and Sands.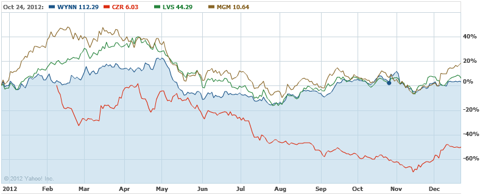 Along with pursuing opportunities in Pennsylvania and Massachusetts Wynn is expanding in Macau with Wynn Cotai set to open in 2016. Wynn's Cotai project will more than double the number of rooms and tables the company operates in the Macau SAR, the only region in China were gambling is legal. As this project moves along I believe investors will start to price in the huge gains Wynn will see from Cotai. It is also set to open as transportation to Macau improves, in 2016 a tunnel/bridge from Hong Kong to Macau is scheduled to open and Macau is also adding light rail to better connect Macau and Cotai.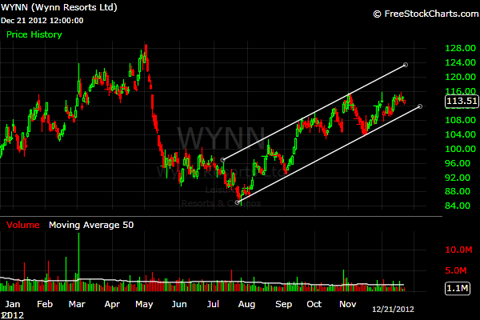 After falling over $30 per share in the first half of May, Wynn's stock found a bottom throughout the summer and since reaching a low under $85 in late July the stock has been in a gradual uptrend. This looks like the kind of uptrend investors should be looking to buy into. The current pullback could create a buying opportunity as I think any price under $114 per share would make a good entry. There will likely be some resistance as the stock reaches the high from earlier this year at around $129 but I think it could have the momentum needed to break through this level.
Data sourced from: Company filings, and Yahoo Finance. Chart from: Freestockcharts.com.
Disclosure: I have no positions in any stocks mentioned, and no plans to initiate any positions within the next 72 hours. I wrote this article myself, and it expresses my own opinions. I am not receiving compensation for it (other than from Seeking Alpha). I have no business relationship with any company whose stock is mentioned in this article.