Is USA Graphite Inc. (OTC:USGT) promotion being used to enrich Insiders while leaving investors in the dust?
Let's take a look at how USA Graphite was set up before we get into the current promotion going on. USA Graphite Inc. started as PTM Publications incorporated. They filed a SB-2 to go public on April 27, 2006. Michael Kessler was the attorney helping with the SB-2 filing (see below):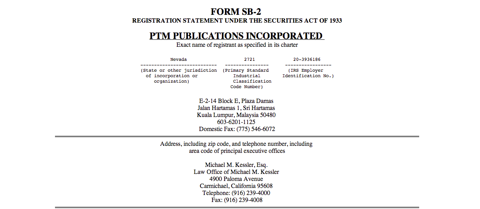 Michael Kessler is very familiar. He was involved with another company that used boiler room tactics to bring in buyers so insiders can sell their shares to them. The company was Independence Energy Corp. (OTCQB:IDNG)
Independence Energy Corp. went public as Oliver Creek Resources, INC by filing a SB-2 on Mar 7, 2006: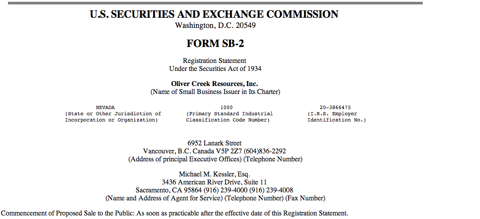 I got multiple phone calls from someone trying to sell me on Independence Energy Corp during the summer. Let's take a look at a chart of Independence Energy Corp.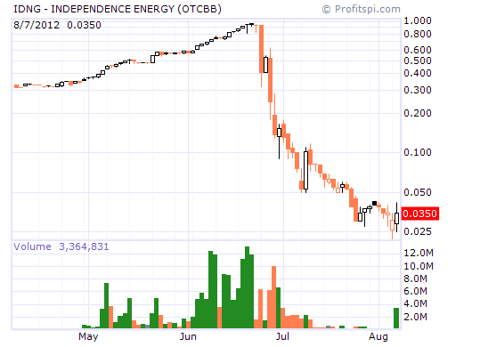 Now lets get back to USA Graphite Inc. 1,000,000 shares of PTM Publications were in the officers hands.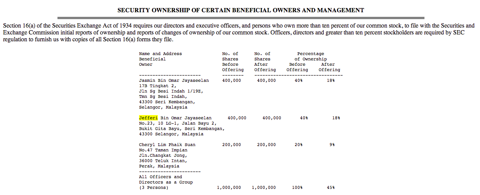 1,200,000 shares were sold for .05/per share to unknown group of shareholders.

The share structured did not change for the next 4 years.
From the 8-k filed Dec 15, 2009
On October 27, 2009 all the officers of PTM Publications Incorporated resigned. Patrick Debolis was appointed new President, CEO, Principal Executive Officer, Treasurer, CFO, Principal Accounting Officer, Secretary, Treasurer and as Director.
May 19, 2010 Patrick filed for a 22:1 forward split. This left 22,000,000 restricted shares in the officers hands. 26,400,000 free trading shares in the seed shareholders hands. July 15, 2010, PTM Publications Incorporated changed its name to "Magnium Oil Inc." by way of merger.

Then April 17, 2012 changed the name of the Company to "USA Graphite Inc.", by way of merger.

Another forward split.
This time a 3.5:1 forward split. At this point, Patrick owned 77,000,000 restricted shares( summer of 2011 he purchased rest of officers shares for $5,000). 92,400,000 free trading shares in the seed holders hands. USA Graphite Inc. in my opinion was clearly put together for 1 reason, to enrich the insiders. Patrick DeBlois who did his job and stepped aside, he resigned on November 8, 2012. Wayne Yamamoto took over.
After all these events it was pretty obvious that a penny stock promotion was just around the corner. Why do I say that? It is because the insiders can't sell their free trading shares if no one is buying. This is why a lot of these penny stocks with a bunch of shares in the seed shareholders hands tend to get promoted by penny stock newsletters.
Now here comes the PUMP! Some insider paid an illegal spam group (I never signed up to any of their lists, and I am receiving emails) to promote USGT. First emails landed on December 4 2012 at night as can be seen below. I have received 110 spam emails on USGT since then.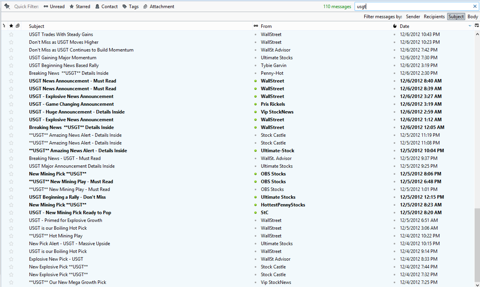 An example of the content of the emails here. Here is a picture of the most important part of the emails: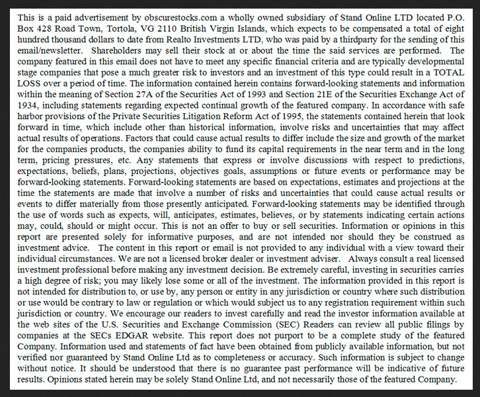 800k compensation. However, that is meaningless coming from law breaking spammers. In my opinion you can't trust them, not even their disclaimers. This group has sent spam to pump other stocks in the past like OTCPK:BRND, OTCPK:IDOI, OTCPK:MSTG. Take a look at how those stocks fared for investors.
Premier Brands Inc. (OTCPK:BRND):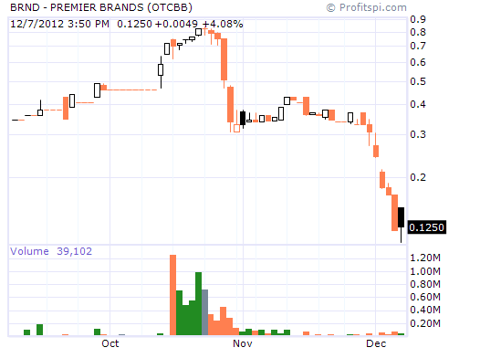 IDO Security Inc. (OTCPK:IDOI) (in July/Aug it was pumped):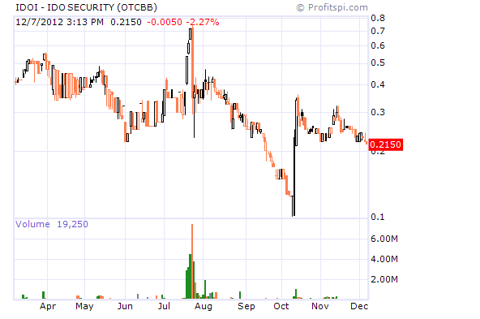 Mustang Alliances, Inc. (OTCPK:MSTG) (spam pumpers' first-pump):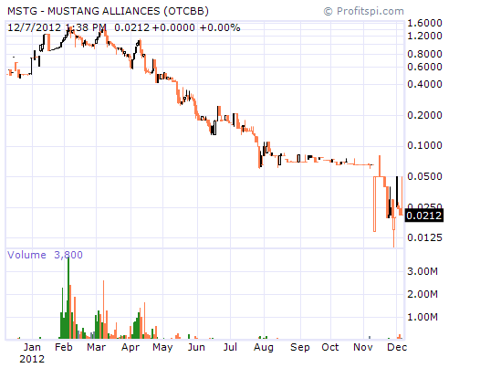 One thing is for sure that the spam pump is working and bringing in volume for the insiders to sell too. 92,400,000 free trading shares in the seed holders hands. USA Graphite Inc. is trading around $0.65; at these level these shares are worth $60,060,000. Sweet deal for the insiders considering they purchased the shares for only $60,000.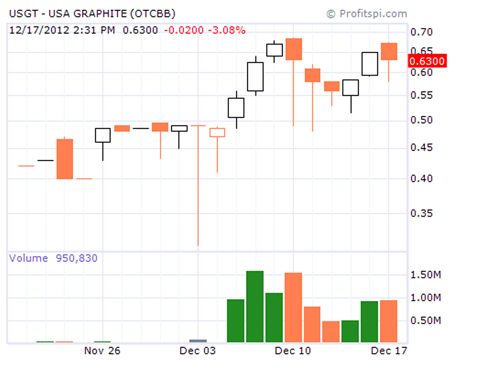 Please do not invest in this until you understand all that I have written above. This company in my opinion was built to make the insiders rich.
Also take into consideration that the past stocks MSTG, IDOI, and BRND, and the spam group that promoted them are all being sued by a private investor because of the spam mailers, see here.
Disclosure: I have no positions in any stocks mentioned, but may initiate a short position in OTC:USGT over the next 72 hours. I wrote this article myself, and it expresses my own opinions. I am not receiving compensation for it. I have no business relationship with any company whose stock is mentioned in this article.