Despite the looming uncertainty surrounding the fiscal cliff, many financial stocks have recently exhibited peak performance providing miraculous gains to investors and placing a large number of in-the-money call options. Bank of America's (NYSE:BAC) market performance over the past few weeks reveals a prime example of this.
As FY 2012 inevitably comes to an end, these next few weeks will be crucial times for investors to analyze the expected growth on a per-sector level for the upcoming year. The goal of this article is to provide an introduction to the top tier money center banks that comprise the financial services sector index, discuss the relative performance of these banks, and conclude with discussing a conservative financial instrument that will enable investors to profit from the financial sector's positive performance, but at the same time eliminate a portion of the firm-specific risk that is inherited through investing in a single firm.
Financial Service Sector Index
From a YTD perspective, the financial services sector index (IXM) has returned roughly 23.5%, where as the S&P has only returned 13.29%. Figure 1 below illustrates IXM's price performance YTD.
Figure 1: IXM's YTD Price Graph
Click to enlarge images.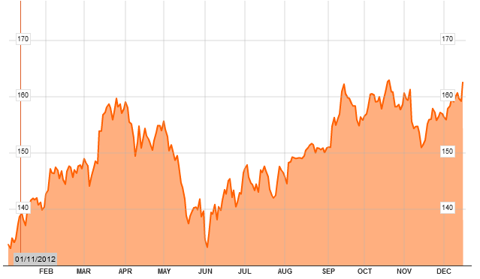 Source: Bloomberg.
Going into further detail, IXM is a modification of a standard cap-weighted index. It serves as the underlying index for the exchange traded fund Financial Select Sector SPDR (NYSEARCA:XLF), which will be covered later. The primary purpose of this index is to mimic the performance of the companies that are not only components of the S&P, but are also highly involved in the development and production of financial services and products. Of all the firms within this index, money center banks have the largest foot print. From a valuation standpoint, many firms are presenting favorable valuation metrics as a result of recent earnings.
Money Center Banks
Money center banks have a significant market share in the financial sector and analyzing these firms cannot be avoided when it comes to understanding the condition of the financial sector. Below you will see Figure 2, which illustrates the YTD performance of BAC, JPMorgan Chase (NYSE:JPM), Citigroup (NYSE:C), Wells Fargo (NYSE:WFC), and Goldman Sachs (NYSE:GS) relative to the S&P.
Figure 2: Money Center Bank's Relative Performance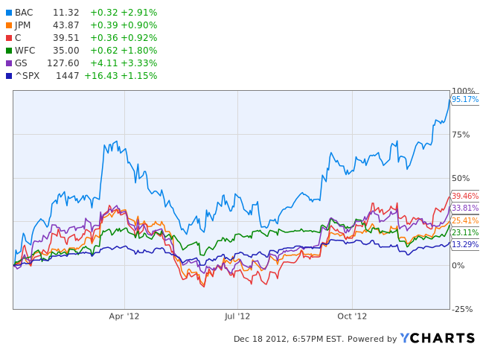 As you can tell from the above, in percentage terms BAC surpassed its peers by an extreme amount. However, this is primarily due to the significant downfall in market value leading to a new 52-week low BAC established in November of FY 2011. At this time, BAC was trading at a severe discount to its tangible book value and its balance sheet was in horrible condition. After witnessing nearly a 104% YTD return in BAC's market value this year and taking into consideration dramatic improvements to BAC's balance sheet, BAC is yet once again still extremely undervalued trading at only half of its book value. Note I focused in on BAC because in my perspective I feel it has the upside potential in terms of market value over the next eight to 12 months. In addition, all of the firms shown in Figure 2 are also held within the exchange traded fund, which will be discussed next.
A Less Risky Alternative
Considering the variation among investors' preference to risk, directly investing in a major money center bank is not appropriate for everyone. But while a particular sector's outlook seems relatively positive in contrast to alternatives, it is important have alternatives for gaining exposure to that particular sector. The Financial Select Sector SPDR is an exchange traded fund that enables investors to profit off the growth of the financial sector, yet avoid the additional risk of investing in any single firm.
Figure 3: XLF's YTD Price Graph

To provide investors with a better idea as for what to expect in FY 2013, I computed an expected return of 11.5%. Note this return is significantly lower than the 25% YTD return XLF has provided. However, my calculation takes into account a bear scenario. Given a bull market, investors should expect between 25% and 35% for the total market return on the fund and upward of a 45% return in terms of net asset value. These computations take into account historical data as well as current valuation metrics. In comparison to alternative funds, XLF is also attractive from a commission standpoint. The expense ratio of the fund is only 0.18% and the management fee is even lower at 0.04%.
XLF's Asset Composition
Five of XLF's top 10 holdings include the five money center banks mentioned earlier. Below Figure 4 illustrates XLF's top 10 holdings in descending order based on the corresponding percent of its total assets. Notice a few of these holding have provided enormous YTD returns, specifically American International Group (NYSE:AIG), C, and BAC.
Figure 4: XLF's Top 10 Holdings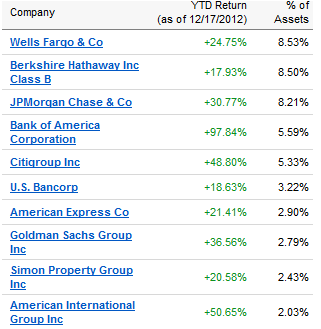 Conclusion
Investors should be cautious when it comes to allocating portfolio weights to various sectors. Historically, financial firms exhibit a nasty habit of being highly correlated to the performance of the overall market. Most financial firms display a high correlation coefficient, which indicates that often positive momentum in the market will also be seen in financial firms and vice versa in times of downward momentum. Note that XLF provides diversification in the sense that it helps to a portion of the firm-specific risk associated with individual financial firms, but does not provide diversification from the financial sector.
In addition, despite the two-star rating XLF received from Morningstar, it is important to note S&P Capital IQ recently upgraded XLF to overweight on Dec. 12. This upgrade was made on the notion that consumer credit default rates are displaying a downward trend, thus implying it will indirectly have a positive impact on the valuation of financial firms. From the perspective of market participants, going into FY 2012 may have been highly questionable in regard to the well-being of the financial sector. However, I feel going into FY 2013 is a completely different story.
Sources: Bloomberg Market Data, YCharts, TD Ameritrade, and Google Finance.
Disclosure: I am long BAC, XLF. I wrote this article myself, and it expresses my own opinions. I am not receiving compensation for it (other than from Seeking Alpha). I have no business relationship with any company whose stock is mentioned in this article.