Introduction
Yum Brands (NYSE:YUM) has undergone one of the biggest transformations by focusing its growth initiative on foreign markets such as China, and 72 other emerging markets. This focus is what has driven investors to aggressively invest in the company over the past 5 years, and even led to some bullish exuberance in the year of 2012. I believe 2013 will be a difficult year for YUM investors. Although the long-term remains fairly solid, the short-term price action has been reason for concern. In 2012 Yum Brands traded at $74.75 (52-week high), while my forecast assumes that those valuations are only feasible and sustainable in 2015. This clearly implies that investors are pushing the cart before the horse.
Qualitative Analysis
Source: Information pertaining to Yum Brands came from the shareholder annual report
There is much to be positive about with regards to Yum Brands, the primary reason being Chinese growth. Currently Yum Brands operates three main divisions: Pizza Hut, Taco Bell, and KFC. Now personally, I'm a huge glutton and I love eating at Yum Brands' restaurants. I like to think outside the bun a lot.
The macroeconomic environment remains strong for Yum Brands especially in foreign markets. Yum Brands anticipates that in the next 10 years, the rising incomes in the working class will continue to unfold. This will result in 600 million people affording fast food offerings from KFC, Taco Bell, and Pizza Hut in China. The emerging markets is Yum Brands primary growth initiative. This is likely to succeed.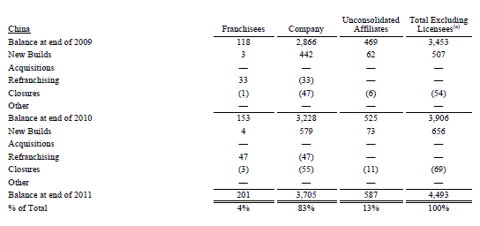 Company owned franchises in China in 2009 was 2,866, in 2010 it was 3,228, and in 2011 3,705. Only 4% of franchises were franchisee owned. Yum is well-positioned in China, and reaffirms my suspicion that YUM has a strong growth catalyst behind it for the long-term.
However not all is good for Yum Brands. In 2011 same store sales were down by 1%. This drop in same stores will be a sore spot going forward, but is only prevalent in fully matured markets like in the United States. 70% of Yum Brands operating profit came from its international business division. International growth is Yum Brands primary growth catalyst and is what is making the growth valuations for the company both reasonable and feasible going forward.
Yum Brands is likely to succeed because its international roll out of stores has been successful, under that historical context I find it reasonable that Yum Brands will execute international growth successfully.
What has not been reasonable are not the growth valuations, but the price investors are willing to pay for what is reasonable yet not outstanding growth. More discussion on this will be continued in the investment strategy and historical analysis section of the article.
Yum Brands currently operates more then 14,000 KFC's, 13,000 Pizza Hut's and 6,000 Taco Bell's. Kentucky Fried Chicken is YUM's largest division by units.
Competition includes but is not limited to: McDonald's (NYSE:MCD), Denny's (NASDAQ:DENN), Tim Hortons (THI), Burger King (BKW), and Darden Restaurants (NYSE:DRI).
Technical Analysis
The stock has been on a continuous up-trend since 2009. On 12/21/2012 the stock crashed by approximately 3.93%, with a break below the 200-Day Moving Average on 12/19/2012. Usually a break below the 200-day Moving Average implies that a stock will remain under the 200-Day Moving Average for the next 200-days.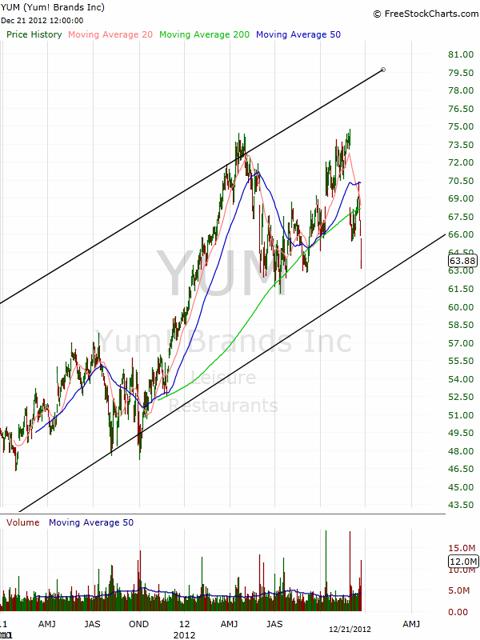 Source: Chart from freestockcharts.com
The stock is trading below the 20-, 50- , and 200- Day Moving Averages. The stock will experience further downside through 2013, as investors have overbought the growth prospects of the company.
Notable support is $45.00, 52.00, and $62.00 per share.
Notable resistance is $69.30, $74.20, and $85.00 per share.
Street Assessment
Analysts on a consensus basis have reasonable expectations for the company going forward.
| | | | | |
| --- | --- | --- | --- | --- |
| Growth Est | YUM | Industry | Sector | S&P 500 |
| Current Qtr. | 10.70% | 26.40% | 8.90% | 9.60% |
| Next Qtr. | 13.20% | 199.50% | 29.10% | 15.20% |
| This Year | 13.60% | 36.70% | 5.30% | 7.20% |
| Next Year | 12.90% | 15.60% | 5.30% | 13.10% |
| Past 5 Years (per annum) | 13.81% | N/A | N/A | N/A |
| Next 5 Years (per annum) | 14.27% | 15.58% | 14.16% | 8.74% |
| Price/Earnings (avg. for comparison categories) | 19.6 | 16.61 | -7.2 | 14.76 |
| PEG Ratio (avg. for comparison categories) | 1.37 | 1.22 | 0.3 | 1.41 |
Source: Table and data from Yahoo Finance
The company shows reasonable growth as analysts on a consensus basis have a 5-year average growth rate forecast of 14.00% (based on the above table). This growth rate is below the industry average for 2012 (36.70%).
| | | | | |
| --- | --- | --- | --- | --- |
| Earnings History | 11-Dec | 12-Mar | 12-Jun | 12-Sep |
| EPS Est | 0.74 | 0.73 | 0.7 | 0.97 |
| EPS Actual | 0.75 | 0.76 | 0.67 | 0.99 |
| Difference | 0.01 | 0.03 | -0.03 | 0.02 |
| Surprise % | 1.40% | 4.10% | -4.30% | 2.10% |
Source: Table and data from Yahoo Finance
The average surprise percentage is .08% above analyst forecast earnings over the past four quarters (based on the above table). This implies that analysts have been extremely accurate at forecasting the performance of the company over the past year.
Forecast and History
| | | |
| --- | --- | --- |
| Year | Basic EPS | P/E Multiple |
| 2005 | $ 2.54 | 8.1 |
| 2006 | $ 3.02 | 8.63 |
| 2007 | $ 1.74 | 19.82 |
| 2008 | $ 2.03 | 14.27 |
| 2009 | $ 2.28 | 14.44 |
| 2010 | $ 2.44 | 19.34 |
| 2011 | $ 2.81 | 20.62 |
| 2012 | $ 3.26 | 18.8 |
Source: Table created by Alex Cho, data from shareholder annual report, and price history is from Yahoo Finance.
The EPS figure shows that throughout the 2007 period revenues dropped as the company was adversely affected by the great recession. The revenue fell short for the 2007 period all the while operating expenses increased. Once the United States economy exited the recession in 2010-2012 the company earnings improved.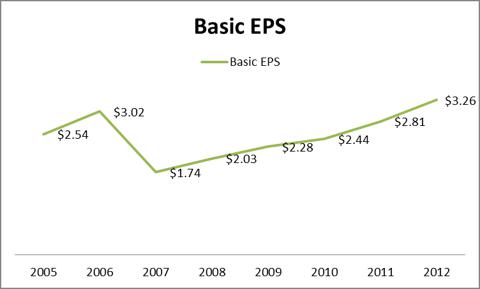 Source: Table created by Alex Cho, data from shareholder annual report
By observing the chart we can conclude that the business is somewhat cyclical and is affected by macroeconomics. Therefore one of the largest risk factors to YUM is the slowing of Chinese gross domestic product growth. So as long as the global economy continues to grow, the company will generate reasonable returns over a 5-year time span based on the forecast below.

Source: Forecast and table by Alex Cho
By 2018 I anticipate the company to generate $7.40 in earnings per share. This is because of earnings growth, improving global outlook, earnings management and continued development overseas.
The forecast is proprietary, and below is a non-linear chart indicating the price of the stock over the next 5-years.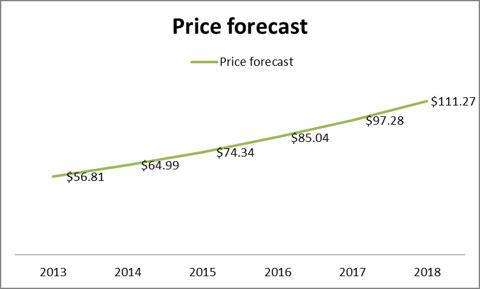 Source: Forecast and chart by Alex Cho
Below is a chart detailing 13 years in pricing based on my forecast and price history on December 31st of each year.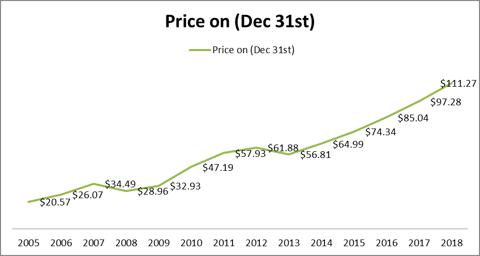 Source: Table created by Alex Cho, data from shareholder annual report, and price history is from Yahoo Finance.
Investment Strategy
YUM currently trades at $63.88. I have a price forecast of $56.81 for 2013. Yum Brands is in a long-term up-trend. I believe there will be a minor correction in 2013, with the price of the stock rapidly improving throughout the 2014-2018 period.
Short Term
Over the next twelve months, the stock is likely to depreciate from $63.88 to $56.81 per share. This implies 11% down side from current levels.
In 2012 YUM reached a 52-week high of $74.75 this is a price I anticipated by 2015-2016. The stock is currently overbought at $63.88, which implies that investors should not buy YUM in 2013 unless if the price reaches $56 per share.
I put a price forecast at $56.81 because the stock is likely to trade closer to its historical value rather than the implied value other writers on Seeking Alpha have represented. Other analysts (Oxen Group) have a price target of $92 in 2013. I can almost guarantee you that is not going to happen. The underlying reason behind why my forecast is superior to other analysts is that I factor in previous buying behavior and make it a larger component of the calculation. By doing so the forecast becomes more accurate. Other analysts rely on future assumptions, then they put a price premium on that future assumption. As you can see $92 is a huge premium over $64 (current price). The stock is already in a strong down-trend which is why it is even more unlikely that $92 per share is going to happen.
The reason the stock is selling-off is because it's returning to its mean valuation. I believe this re-valuation is both healthy, reasonable, and sounds closer to logical reality than $92 per share.
Investors should buy the stock at $56 per share, then hold the stock for long-term appreciation.
Long Term
The company is an exceptional investment. I anticipate Yum Brand's to deliver upon the price and earnings forecast despite the risk factors (macroeconomic, competition, etc.). Yum Brand's primary upside catalyst is the Chinese emerging class, international development, and earnings management. I anticipate the company to deliver upon my forecasted price target of $111.27 by 2018. This implies a return of 75% by 2018. This rate of return is exceptional, considering Yum Brand's has a market capitalization of $28.9B. The added liquidity allows larger institutions to participate in the buying and selling of stock, making this a compelling growth investment for both large and small investors.
Conclusion
Buying YUM on long-term growth is both wise and practical. The world is not over, December, 21 2012 was a fluke, but YUM is not a fluke.
Disclosure: I have no positions in any stocks mentioned, and no plans to initiate any positions within the next 72 hours. I wrote this article myself, and it expresses my own opinions. I am not receiving compensation for it (other than from Seeking Alpha). I have no business relationship with any company whose stock is mentioned in this article.