Utility stocks have been fighting the currents lately, largely due to an imminent fiscal cliff, which will trigger an increase in dividend taxation. Partially due to this, the Utility sector has been a strong under-performer of late. The chart below compares the six-month performance of the Dow Jones Utility Average vs. the S&P 500.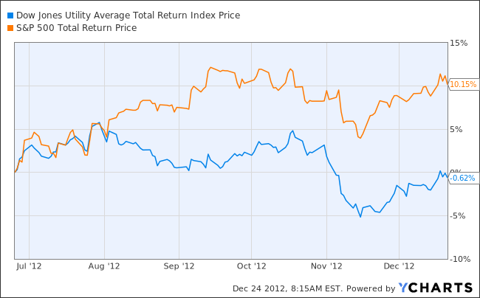 Are Utility investors just helpless victims of Mr. Market, or is there something that can be done to fight back? Let's consider a couple of counter-measures that may help protect the vital organs of your portfolio.
Benchmarks And Test Setup
Before we look at some performance-enhancers, we need benchmarks to gauge the potential effectiveness. Our initial screen will include any stock in the Utilities sector (GICS 55) that trades over one dollar. Our benchmark will be S&P 1500 Electric Utilities. The test will run over the trailing 10 years with annual re-balancing.
Total Return

Annualized Return

Max DD

Sharpe

Sortino

SD

Correlation with
Benchmark

Beta

Screen

214.40%

12.14%

-40.96%

0.47

0.60

18.11%

0.23

0.18

SP1500 Electric Utilities

77.81%

5.92%

-47.30%

0.10

0.14

22.51%

-

-
Next, let us consider four tactics that we can use to either lower downside loss, increase upside gain or a combination of both.
#1: The Jab - Demand Higher Yields
Utilities are attractive because they have the ability to generate fairly consistent profit in most market conditions. In a recession, you still need electricity, water and natural gas. This is not to say that share prices cannot be whipped around like the tip of Indiana Jones' whip. But the more income you generate from your stocks, the less worried you may be about temporary share price movements.
In bear markets, I prefer to focus on yields instead of share price. Why? If your favorite utility is now generating an 8% yield instead of 5% and you still like the fundamentals, you are more likely to buy -- which is the right thing to do. Those investors focusing on capital losses are more likely to sell at the worst possible time when they can no longer cope with the agony of a massive drawdown. So in theory, a large yield should add some ballast to a falling utility stock, provided the fundamentals are moderately stable.
The second reason I like larger yields has to do with value, which we will discuss in #3.
Higher yields in defensive stocks should add support when prices fall, but will this theory stand up to testing? Still using only annual rebalancing, I add one simple rule that chooses the higher yielding half of utility stocks. This reduces our portfolio of stocks from an average of 140 down to just below 70. Below are the performance numbers. While this only made a very slight difference to total gain from our benchmark, notice the difference to the drawdown.
Total Return

Annualized Return

Max DD

Sharpe

Sortino

SD

Correlation with
Benchmark

Beta

Screen

237.52%

12.93%

-29.48%

0.55

0.69

16.86%

0.23

0.17

SP1500 Electric Utilities

77.81%

5.92%

-47.30%

0.10

0.14

22.51%

-

-
#2 - The Clinch - Employing A Hedge
Investing is only partially about the total returns. If you don't think this is true, ask someone if they would be willing to invest in a system that was able to deliver amazing 10-year returns, but with drawdowns up to 80%. Very few people would have the constitution to trade such a system. But if you were able to hedge the same investment strategy with 10-year returns that were still decent, although only about one-quarter as large, with only 20% drawdowns… I am sure you would find many more willing investors.
Personally, I don't feel that all drawdowns are equal. For instance, trading stocks where the bankruptcy rate is high will have a more permanent drawdown than Utility stocks temporarily pulling back in a bear market. Because of this, if you can handle a big drawdown, I'd suggest trading Utilities without a hedge. For investors that prefer a trade-off of total return for a smoother short-term ride, consider adding a 33% hedge.
If your portfolio was two-thirds long utilities and one-third short a broad market fund such as the SPDR S&P 500 (NYSEARCA:SPY), your drawdown will reduce at the expense of your total return.
Total Return

Annualized Return

Max DD

Sharpe

Sortino

SD

Correlation with
Benchmark

Beta

Screen

140.95%

9.19%

-12.05%

0.57

0.78

9.61%

0.33

0.13
If you are going to hedge, just make sure you are starting with a strong annualized return. If your system has a sub-standard return, the hedge will only make the portfolio that much less compelling. Even if your downside is only a few percent, you may not be very pleased if your upside is only one or two percent.
#3 - Be Sure To Weigh In First
Of the 70 or so stocks we have to choose from based on yield, be sure to pick those with the best value ranking. Stocks with better value (fundamentals compared to share price) may have less downside in a bear market and more upside spring in the subsequent bull market. Again, I put a caution here that not all value is the same. There are value traps, as when a stock has sliding or shaky fundamentals. But there is also good value, as when you have a strong sector or stock that is being punished due to a market-wide compression. This is one of the reasons why I employ various value-ranking rules in conjunction with creating a utility portfolio. Weigh your prospective stocks and pick the heavy-weights according to your ranking system.
This next screen picks the best 10 based on a ranking system that looks for value based on earnings, free cash flow, sales and book value. It also includes a limited amount of price performance ranking and a minor component of analyst-based rules. This is the result of creating a value ranking system in conjunction with our high-yielders from rule #1.
Total Return

Annualized Return

Max DD

Sharpe

Sortino

SD

Correlation with
Benchmark

Beta

Screen

254.02%

13.47%

-37.40%

0.50

0.62

19.66%

0.18

0.15

SP1500 Electric Utilities

77.81%

5.92%

-47.30%

0.10

0.14

22.51%

-

-
My preferred ranking system for Utilities is to have two sets of rules -- one for when market conditions are bullish and the other when they are bearish. I consider the market to be bullish when the S&P 500 forward earnings are trending upwards and bearish when they are trending downwards.
Potential Bull: preference is for growth, value and upward analyst revisions
Potential Bear: preference is for lower debt, higher liquidity, stable price, tighter range on earnings estimates and fewer analyst revisions
Of course, if you employ a form of market timing, you will need to examine your holdings more than once a year, as a lot can change in 12 months. In the screen below, I re-examine the portfolio every three months.
Total Return

Annualized Return

Max DD

Sharpe

Sortino

SD

Correlation with
Benchmark

Beta

Screen

366.93%

16.66%

-24.79%

0.67

0.90

19.35%

0.19

0.17

SP1500 Electric Utilities

77.81%

5.92%

-47.30%

0.10

0.14

22.51%

-

-
#4 - Pick Your Battles
One other important aspect to investing is knowing when to get aggressive, and when to cover and conserve your cash. This can be more advanced where many investors will simply choose to pass. But if you are using software to screen your stocks and create your ranking system -- it isn't all that complex.
Our previous ranking rules required us to pick the best 10. But just how good are the best 10? In an extended bull market the terms "value" and "growth" mean something much different than they did in March 2009. Instead of simply picking the "best 10," look for an absolute minimum threshold for your ranking rules.
I use Portfolio123 software, and I can run see the ranking system performance easily enough. This chart below is an example of annualized returns over the last decade for the various ranks.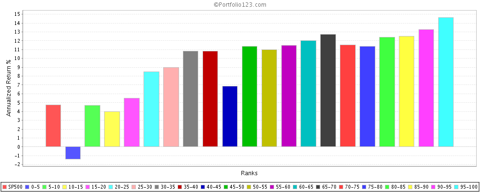 As you can see, typical stock performance deteriorates on average when the ranking is below 50 for this system (for demonstrative purposes only). Thus, if I was using this system, I might be inclined to make a rule that only buys when the rank is above 65 or 70 and sell the moment the rank falls below 50. When the average rank falls too low in a bear market, this tip will transition you to cash.
Below is the Utilities strategy using a minimum rank of 80 to buy. This strategy also sells when a stock hits a rank of 65 or less. You can see three layers to this chart, which include performance, draw-down and amount of cash used. The system below draws on many of the principles in the Defensive Utilities model portfolio.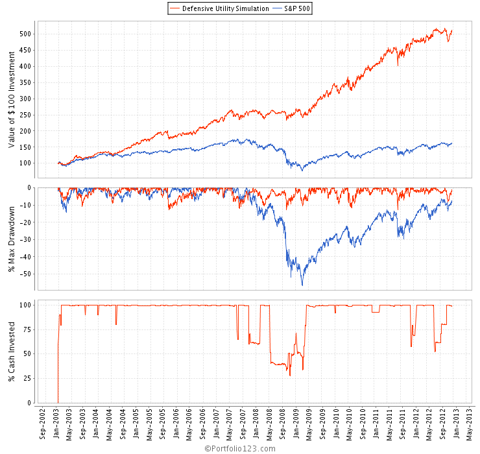 Creating A Utilities Portfolio
To sum up, despite the potential increases in dividend tax, I still feel that Utilities are a good play. If prices drop because of higher taxes, it would be all the more attractive to load up your retirement accounts with these defensive high-yielders. You can mitigate some of the potential risk by utilizing a ranking system and choosing the best 10, 15 or 20.
To get you started, if you were to create a portfolio today using the market-timing ranking system (which suggests we are currently in an upwards earnings trend), your top 10 picks based on ranking would be the following:
| | | | | |
| --- | --- | --- | --- | --- |
| Ticker | Name | Rank | MktCap | Industry |
| (NYSE:TGS) | Transportadora De Gas Del Sur SA Tgs | 97.29 | 281.25 | Gas Utilities |
| (NYSE:POM) | Pepco Holdings Inc. | 90.41 | 4533.71 | Electric Utilities |
| (NYSE:TEG) | Integrys Energy Group Inc | 89.56 | 4149.33 | Multi-Utilities |
| (LG) | Laclede Group Inc. (The) | 87.94 | 867.75 | Gas Utilities |
| | Rwe AG | 87.84 | 25288.8 | Multi-Utilities |
| (NYSE:SGU) | Star Gas Partners LP | 86.29 | 250.11 | Gas Utilities |
| (NYSE:VVC) | Vectren Corp | 86.27 | 2441.65 | Multi-Utilities |
| (NYSE:UTL) | Unitil Corp | 85.85 | 365.15 | Electric Utilities |
| (NYSE:AEE) | Ameren Corp | 84.5 | 7532.73 | Multi-Utilities |
| (NYSE:PCG) | PG&E Corp | 83.87 | 17814.02 | Multi-Utilities |
In three months, I will follow up on this article to give you the next 10 recommendations. Please note that some of the above are MLPs, and they are structured differently than other Utility stocks.
Disclosure: I have no positions in any stocks mentioned, and no plans to initiate any positions within the next 72 hours. I wrote this article myself, and it expresses my own opinions. I am not receiving compensation for it (other than from Seeking Alpha). I have no business relationship with any company whose stock is mentioned in this article.