by Steven Orlowski
Three weeks ago, we published an analysis of the best performing stock markets utilizing data from the Financial Times Global Equities Macromap. At the time, the five best performing equity markets for the twelve-month period ending 12/03/2012 were emerging markets.
The list of the top five was as follows: 1. S&P CNX Nifty India 16.87% 2. FTSE/JSE All Share South Africa 16.68% 3. WIG Poland 15.71% 4. MXSE IPC Mexico 15.15% 5. Hang Seng 14.26%.
The current performance for those same markets is the following: the S&P 500 CNX Nifty India is now up 24.22%, the FTSE/JSE All Shares South Africa is up 21.98%, the WIG Poland is up 25.65%, the MXSE IPC Mexico is up 17.76% and the Hang Seng is up 21.00%.
We also looked at five ETFs that track the indexes on the list. The India-focused ETF we profiled in that last report, the iShares S&P India Nifty Fifty Index ETF (INDY), is essentially flat since the beginning of this month.
EZA, the iShares MSCI South Africa Index ETF, is up strongly rising nearly 8% since early December.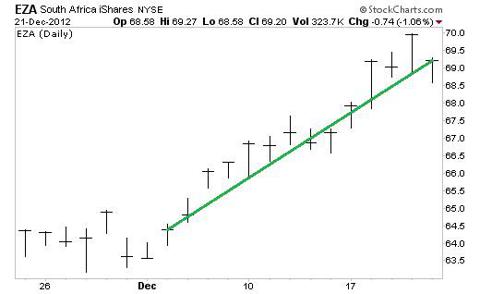 EPOL, the iShares MSCI Poland Investable Market Index Fund has also done well gaining more than 6% over the same period.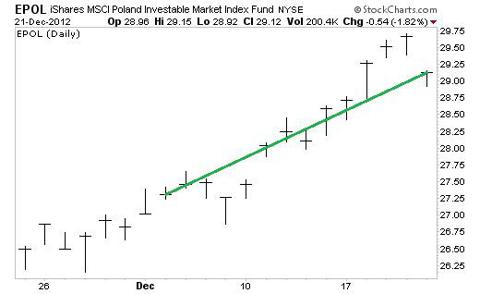 EWW, the iShares MSCI Mexico Investable Market Index, is up approximately 3%.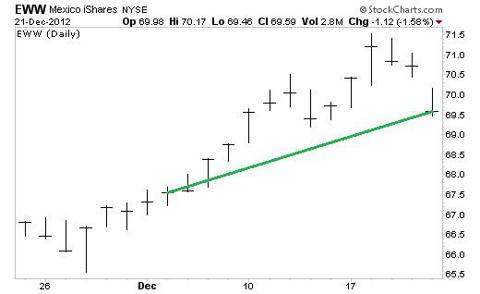 And EWH, the iShares MSCI Hong Kong Index Fund, is up as well, a little more than 2%.
Longer term, INDY looks likely to stay within its recent trading range as it needs to move close to $26.00 per share to break out. Near-term downside should be limited to about $24.00 per share.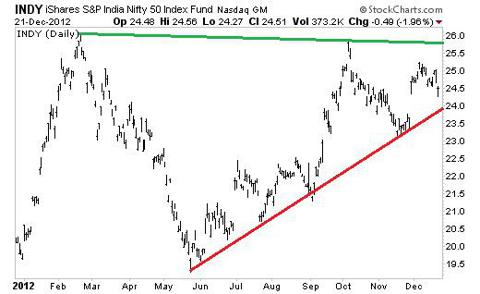 EZA traded right up to resistance at approximately $70.00 per share but failed to break through. That is the level to watch as a short-term pullback would likely bring the ETF back down to between $67.00 and $68.00 per share.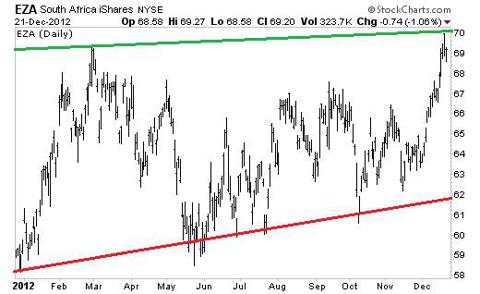 Like EZA, EPOL also traded right up to resistance, but failed to break out. Downside here should be at about $28.00 short term, while a return to $26.00 is possible with negative fundamental forces in play.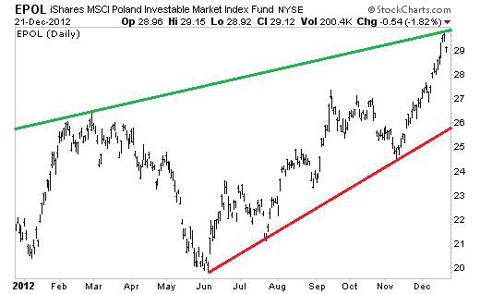 Similarly EWW traded to the top of its range and has already pulled back a bit. Look for it to stick between $66.00 and $72.00 as it continues to trend higher.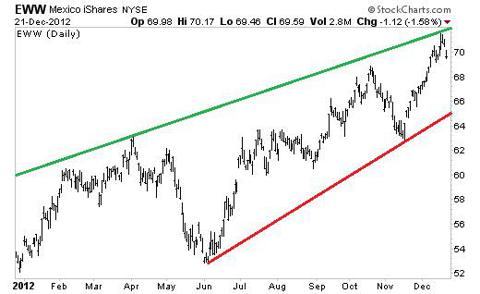 EWH continues to tighten its range as it trends higher. It got close to resistance recently and has drifted slightly lower.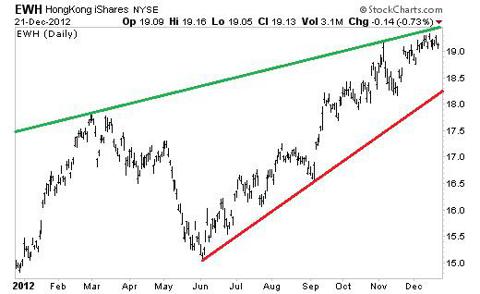 As we enter the new year, look for more of the same from these ETFs. Uncertainty is still dominating the mindset of investors, but there are signs of improvement around the globe and optimism seems to be mounting.