Typically, the US stock market performs particularly in January, roughly 2% better than any other month, on average. The market performs so well, in fact, that it's unlikely to be a random event, particularly because it can be explained by tax loss selling as retail investors realize tax losses before the end of the fiscal year, which pushes prices down in December only to rebound in January. More specifically within the January effect, it is the smaller stocks that have been beaten down over the past year which tend to do especially well in January. Therefore, we ran a stock screener, combined with some basic fundamental analysis and determined that Apco Oil and Gas (NASDAQ:APAGF), Monster Inc (NYSE:MWW), Deckers Outdoor (NASDAQ:DECK), FNB Corp (NYSE:FNB) and Tempur-Pedic (NYSE:TPX) are all attractive investments to take advantage of the January effect should it happen in 2013.
Market Returns By Month
click to enlarge)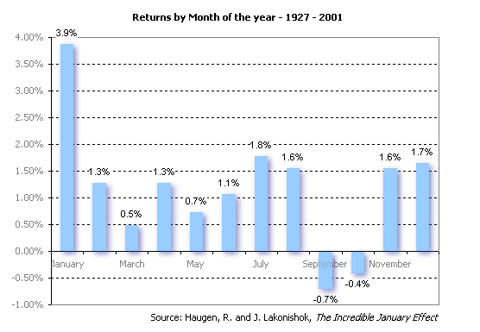 The Reasons For The January Effect
The January effect is described in this academic paper and is believed to be due to window-dressing by institutional investors as they want their portfolios to appear full of winners for disclosure at year end (Lakonishok, Shleifer, Thaler, and Vishny (1991)) and the tax-loss selling hypothesis which is that losers will be sold before the end of the fiscal year for tax loss harvesting purposes (Grinblatt and Moskowitz (1999)).
Deconstructing The January Effect
However, the January effect does not impact all stocks equally, it is more prevalent in smaller and cheaper stocks as determined by book to market, as this research (Jacobsen et al 2005) demonstrates.
Stocks To Position Yourself For The January Effect
Based on the above academic research combined with some basic fundamental analysis we recommend the following stocks as ways to position yourself for the January effect.
| | | | | | |
| --- | --- | --- | --- | --- | --- |
| Company | Ticker | Market Cap | 52 week price change | P/E | P/B |
| Apco Oil and Gas | APAFG | $0.4B | -83% | 9.7 | 1.6 |
| Monster Worldwide | MWW | $0.7B | -25% | n/a | 0.7 |
| Decker Outdoor | DECK | $1.2B | -60% | 8.5 | 1.8 |
| FNB Corporation | FNB | $1.5B | -5% | 14.1 | 1.1 |
| Tempur Pedic | TPX | $1.8B | -42% | 14.1 | n/a |
source: Yahoo Finance
Price Performance Over Past Year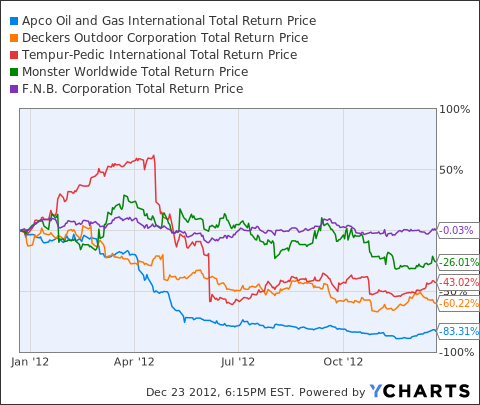 APAGF Total Return Price data by YCharts
In all cases these are smaller capitalization stocks (under $2B in market cap) that have experienced negative return in 2012 and have a trailing P/E below 15 and a P/B below 2. They are also diversified by industry.
Stock Specific Risks For Each Company
Apco Oil and Gas - based in Argentina, the main risk for Apco is government seizure given that the government seized YPF and Chevron's Argentinean assets in 2012 and is under fiscal pressure. Apco also has significant foreign ownership, so is at risk. However, given that it has fallen 83% in the past year the stock remains risky, but the risk should be incorporated in the price.
Monster Worldwide - an online career site, Monster has felt increasing pressure from new entrants driving new innovation such as LinkedIn (LNKD) with online resumes and Glassdoor with details of salary by roles, as a result Monster's share of job advertising has diminished. However, despite this the business remains profitable.
Decker Worldwide - Decker has been hit by rising raw material costs, and its core brands of UGGs, Teva and Sanuk need to continue to maintain share. UGG is the largest brand in the portfolio so their ability to successfully steward that brand will likely determine the outlook for the stock.
FNB - like all banks, FNB may suffer in a rising interest rate environment that could squeeze margins.
Tempur-Pedic - having acquired competitor Sealy, Tempur-Pedic has a significant debt load which may weigh on earnings. There is also some risk that the deal is blocked due to anti-trust concerns.
Conclusion
Though the list of stocks above all have their specific issues, based on prior years they are likely to have a good January. Each company has its own risks, but in combination they have a good chance of outperforming the market in January 2013.
Disclosure: I am long FNB. I wrote this article myself, and it expresses my own opinions. I am not receiving compensation for it (other than from Seeking Alpha). I have no business relationship with any company whose stock is mentioned in this article.
Additional disclosure: I may initiate a long position in APAGF, DECK, TPX and MWW over the next 72 hours.