On Friday December 21st, it was announced that the S&P cuts its credit rating of Weatherford (NYSE:WFT) a notch to BBB-, one step higher than junk grade, saying the oilfield services company's recent capital spending and investments have hurt its credit. S&P says WFT's spending over the last several quarters has increased its debt by an average of $300M per quarter since the middle of 2011, which also equates to a total of $1.8 Billion in debt for the last 18 months. That being said, I wanted to take a closer look at Weatherford from both a fundamental and possible acquisition perspective.
Based in Geneva, Switzerland, Weatherford currently "provides equipment and services used in the drilling, evaluation, completion, production, and intervention of oil and natural gas wells worldwide. It offers artificial lift systems, which include reciprocating rod lift systems, progressing cavity pumps, gas lift systems, hydraulic lift systems, plunger lift systems, hybrid lift systems, wellhead systems, and multiphase metering systems." (Yahoo! Finance)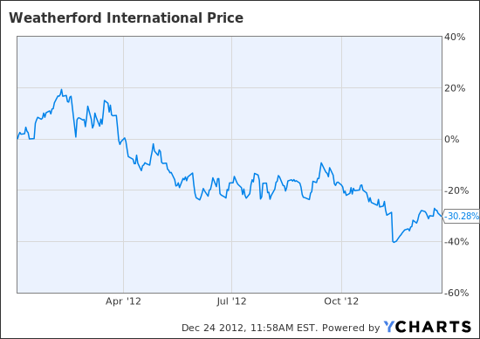 Fundamentally speaking, shares of Weatherford have fallen 30.28% in the year, carry a market cap of $8.13 Billion, and currently trade at 1.83% premium to its 50-DMA and a 10.93% discount to its 200-DMA. From a value standpoint, shares of WFT are also trading at an 8.69% discount to its current BVPS of $11.61.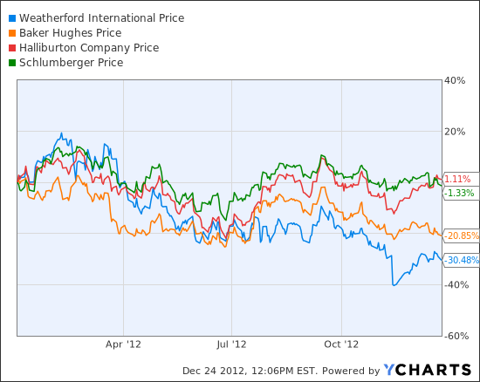 Comparatively speaking, Weatherford has been significantly outpaced by many of its competitors such as Halliburton (NYSE:HAL), Baker Hughes (BHI) and Schlumberger (NYSE:SLB) in terms of performance since January 1st.
Why has 2012 been such a poor year for Weatherford? One of the biggest contributors to the company's downward spiral has clearly been its accounting. On November 13th, Simmons & Co. noted that the energy services company posted a weak Q3 and warned of further accounting discrepancies in previous quarters that likely will lead to a "growing sense of unease and alarm." Although revenues continue to grow, a restructuring of management may in fact be needed to bring a sense of confidence back to the company.
My second concern deals with the fact Dahlman Rose thinks Weatherford would be a good acquisition target. On December 5th, it was said that "the firm believes WFT's core product lines, global presence and multinational tax structure would be attractive to a number of companies, and the current stock price could make WFT vulnerable to an unfriendly offer." Dalhman Rose went on to say Halliburton and General Electric (NYSE:GE) could be interested in acquiring Weatherford in an effort to boost each company's global product portfolios. In my opinion, General Electric could be the front runner in the hypothetical race to acquire WFT for two reasons.
First and foremost, GE has enough cash to easily acquire the company, without going any further in debt. By examining the company's numbers, GE currently has a total $85.46 billion in cash, and a combined $58.83 billion in cash flow. Secondly, sources close to the company have noted an offer may be on the table to acquire the Italian aerospace company Avio for 3 billion euros, or $3.9 billion, in an attempt to strengthen its commercial jet engine division. As The New York Times reported, a source with knowledge of the discussions said that GE and Avio's majority stakeholder, the private equity firm Cinven, will likely cement the deal this week.
If strengthening is what General Electric is in the market to do, then Weatherford could offer a solution when it comes to such products as hydraulic and hybrid lifts, multiphase metering systems and various other types of pressure-control equipment. As it stands now, Weatherford is currently valued at $8.11 billion or a mere 9.48% of General Electric's total cash on hand. Even if GE were to offer a conservative per share premium of 30% to Monday's closing price of $10.60/share, they'd still have enough to cover the deal.
Final Analysis
Although no official talk of a General Electric takeover has been announced, I strongly believe Weatherford could be a very nice addition to GE's global portfolio. With that said, I'd remain cautious on the company by initiating a small to moderate position at current levels and gradually add to that position as positive news and any improvement of the company's outlook is announced.
Disclosure: I am long GE, SLB. I wrote this article myself, and it expresses my own opinions. I am not receiving compensation for it (other than from Seeking Alpha). I have no business relationship with any company whose stock is mentioned in this article.