The chemicals giant Dow Chemical Co (NYSE:DOW) has said in a statement that it will be distributing its dividend of $0.32 per share on 31st December to all those shareholders who are on its books by the end of 24th December 2012. The investors will now receive their dividends exactly one month before the previously announced date of 30th January 2013. The company hasn't disclosed any reasons for this change but it is obvious that it is because of the "fiscal cliff" which could cause an increase in taxes, particularly the tax rate on dividends which could more than double from 15% to a potential 43.4% should the Congress and President Obama fail to reach an agreement.
Dow Chemical has now joined a list of hundreds of companies, including Oracle (NASDAQ:ORCL) and Cisco (NASDAQ:CSCO), who will be paying dividends several weeks before their previously announced dates.
In its most recent quarterly earnings release for the three months ending Sep-2012, Dow reported a drop of 9.7% in revenues from the same quarter last year to $13.6 billion while in the same period, its profits also dropped by 35.3% to $582 million. Overall, the company's profit margin has fallen from 5.95% in Sep-2011 to 4.26% in Sep-2012. The lower sales came on the back of falling price levels, particularly in China and Europe where they are down by 11% and 12% respectively.
Other chemical industry leaders, such as Du Pont (NYSE:DD) are also struggling due to similar reasons. The demand from construction and electronic markets remains weak. The current slump in the solar industry, particularly the photovoltaic, will continue to hurt Du Pont.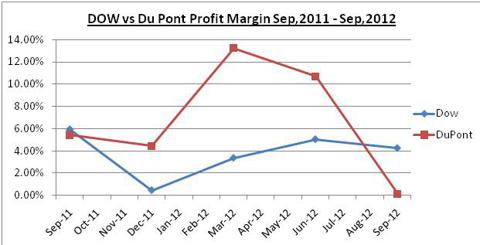 The only positive for Dow and the chemical industry has been the booming 'agricultural sciences' operations. Dow has reported a drop in quarterly sales for each of its operating segments except the Agricultural Science unit where sales went up by 8.05% to $1.3 billion. However, its EBITDA has dropped by 16% to $63 million but the company claims it was "due to continued investments in growth."
Dow's CEO Andrew Liveris was among the corporate leaders who have recently met with President Obama, and heard him expressing his concern on the delays in reaching a consensus over the fiscal cliff.
Like almost every other firm facing European and Chinese headwinds, Dow Chemical is going through restructuring that includes layoffs, budget cuts and closure of facilities. This should have a positive impact on its margins. A total of 20 plants are expected to be closed and net job cuts of 2,400 are expected, most of it from its North American workforce. The company's fourth quarter, the current quarter, will take a hit of $1.1 billion for the plant closures and layoffs.
Similarly, Du Pont's corporate restructuring plan also involves eliminating 1,500 jobs.
Liveris has also revealed that some business units generating $1 billion annual sales will be put up for sale. A new unit has now been created through the consolidation of the Middle East, North Africa and Turkish regions, called Dow MENAT, and will be led by the company's Middle East boss Markus Wildi. Overall, Dow is looking to save $2.5 billion in the next three years.
Meanwhile, Dow is planning to build a massive ethylene plant in Freeport, Texas with an annual capacity of 1.5 million tons, which would be the largest plant of Dow. The company has applied for a permit and wants to begin construction from early 2014. The plant then could become operational by 2017 and will come with a price tag of $1.7 billion. The new facility will rival the existing ones owned by Exxon Mobil (NYSE:XOM) and Chevron Phillips Chemical, a joint venture between Chevron (NYSE:CVX) and Phillips 66 (NYSE:PSX). It is part of Dow's strategy to tap into the natural gas play, whose prices have plummeted to historic lows on the back of the shale gas boom, by investing up to $4 billion in Texas and Louisiana in the next five years for ethylene and propylene.
This calendar year, Dow's stock has easily outperformed Du Pont although both of them offer attractive yields of more than 3.5%. Du Pont's ROE on the other hand is considerably more than the industrial average of 8.97%. Dow's budget cuts, restructuring and closures, despite the billions planned in investment, coupled with the expected increase in demand from China, will provide some growth in margins in its next fiscal year.
| | | |
| --- | --- | --- |
| | DOW | Du Pont |
| Stock YTD | 10.99% | -2.69% |
| P/E | 24.65 | 13.81 |
| EPS | 1.3 | 3.23 |
| Yield | 4.00% | 3.80% |
| ROA | 3.55% | 6.07% |
| ROE | 7.70% | 27.46% |
Disclosure: I have no positions in any stocks mentioned, and no plans to initiate any positions within the next 72 hours. I wrote this article myself, and it expresses my own opinions. I am not receiving compensation for it (other than from Seeking Alpha). I have no business relationship with any company whose stock is mentioned in this article.