Shares of Exxon Mobil Corp. (NYSE:XOM), one of the world's most profitable companies, are often driven by movements in commodities prices such as oil, gasoline, and natural gas. While the oil and gas giant has less control over its destiny than a company in a non-commodity industry, there are three things XOM can do to maximize shareholder value.
1. Stop Increasing Dividend
Over the past ten years, in steady increments, as shown by the chart below, XOM has been increasing its dividend. The company likely plans on increasing the dividend for the next ten years as well. However, I disagree with this strategy. My primary reason for disagreeing with future increases in the dividend has to do with likely increases in dividend tax rates. As it stands right now, the top dividend tax rate is said to rise to 43% next year. While a deal will likely be reached to avert such a steep increase, the tax rate will still likely be much higher than the current 15%. Given this scenario, a significant portion of XOM dividend proceeds will end up with the government, not shareholders. Simply put, as I will go on to discuss, there are more tax-efficient ways to return money to shareholders.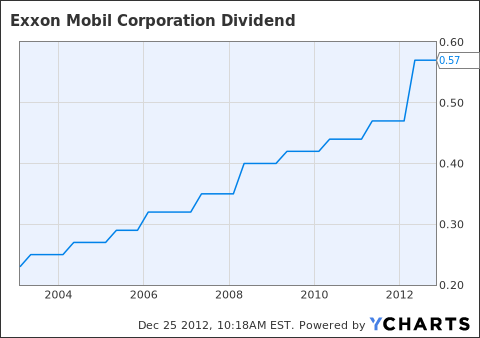 2. Increase Share Buyback
Over the past ten years, as shown by the chart below, XOM has bought back a significant amount of stock. Going forward, instead of increasing the dividend, XOM should focus on increasing the buyback.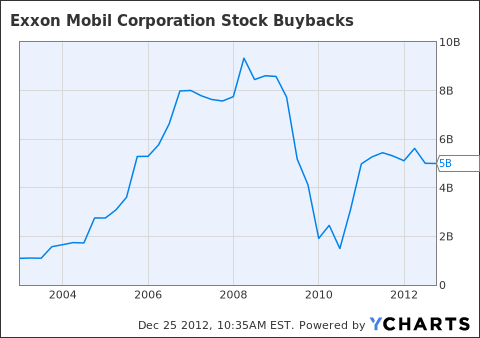 There are two primary reasons why XOM should increase the buyback. Firstly, a stock buyback is more efficient way for XOM to return money to shareholders than a dividend as the buyback is not taxed. Also, as shown by the chart below, XOM's current valuation is at a historic low.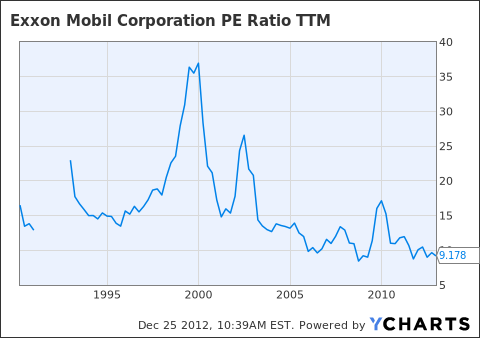 3. Refining Spin-off
Oil companies ConocoPhillips (NYSE:COP) and Marathon Oil Corp. (NYSE:MRO) have both recently spun off their refining operations into separate companies. XOM should follow suit and spin-off its own refining business. There are a few reasons for this. Firstly, fundamentally, the refining and production business are at odds with each other as oil refining companies look to buy oil at the lowest possible cost while production companies look to sell oil at the highest possible cost. Another reason for a spin-off is that the independent companies would likely be better managed if run on their own as opposed to being run together. Finally, and most importantly, as shown by the chart below, both the Conoco & Marathon spin-offs were major success stories. Shares of refining companies Phillips 66 (NYSE:PSX) and Marathon Petroleum Corp. (NYSE:MPC) surged 58% and 47% respectively since their IPOs. Of course, these gains are mostly due to the recent bull market in refining. Interestingly, as shown by the chart below, the total combined return for Conoco and Marathon shareholders who held on to their newly issued refining stock was far greater than the return for XOM shareholders over the same time period.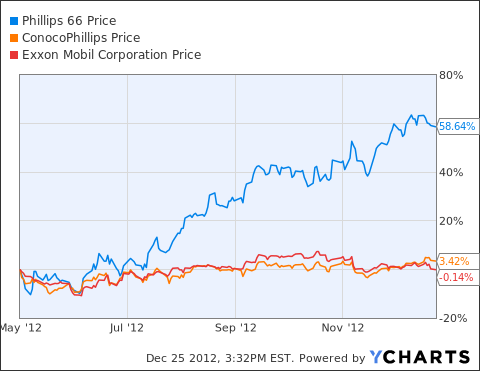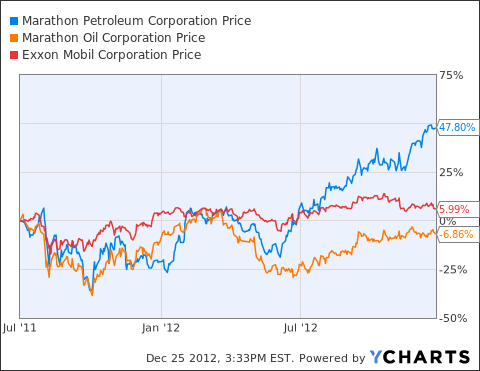 Conclusion
For XOM to maximize shareholder value: the company should stop raising the dividend, start raising the buyback, and spin-off its refining arm into a new company. If these moves are taken, XOM shareholders are poised to do well even if oil and gas prices do not move higher.
Disclosure: I have no positions in any stocks mentioned, and no plans to initiate any positions within the next 72 hours. I wrote this article myself, and it expresses my own opinions. I am not receiving compensation for it (other than from Seeking Alpha). I have no business relationship with any company whose stock is mentioned in this article.