Overview
In the past few years, MLPs (Master Limited Partnerships) have been very popular with investors given their high distribution rates and tax advantages, combined with their stable business models. Unlike my December 13th article titled "3 MLPs With Dividend Yields Over 5% To Buy For 2013" which focuses on larger MLPs, this article focuses on smaller, mid-cap MLPs. These mid-cap MLPs have potential to return a significant amount of cash to shareholders. The companies featured in this article have market capitalizations of less than $14 billion, and have dividend yields of at least 7.7%. This list is meant as a base for further research.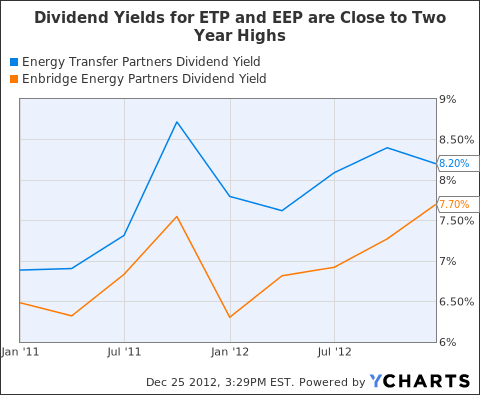 ETP Dividend Yield data by YCharts
Energy Transfer Partners (NYSE:ETP)
Market Cap: $13.2 Billion
Dividend Yield: 8.2%
Energy Transfer Partners is a mid-sized MLP. The company operates approximately 69,000 miles of various types of pipelines, such as Oil and Natural Gas. The company has a few major growth projects that should help the company increase profitability. In October of this year, ETP completed a merger with Sunoco that converted the latter into a wholly-owned subsidiary of the former. Additionally, the company is seeking to diversify its asset base. Specifically, the company is in the very early stages of plans to convert an existing LNG import facility to an LNG export facility. If the company goes ahead with this project, it could be operational by late 2018. ETP's growth projects could make many investors excited about the long-term prospects for the company.
Enbridge Energy Partners (NYSE:EEP)
Market Cap: $8.4 Billion
Dividend Yield: 7.7%
Enbridge Energy Partners is another mid-sized MLP; however, the company is a bit smaller than ETP. The company is responsible for approximately 13% of U.S. daily Crude Oil imports. Additionally, EEP has a rather extensive Natural Gas pipeline system consisting of approximately 11,200 miles of pipelines. The company is targeting a CAGR of 2-5% for distributions to shareholders, due to organic growth. EEP is also moving towards a less risky revenue model, as it aims to have approximately 60% of revenue from cost of service contracts by the year 2016.
About MLPs
Companies organized as MLPs are required to pay out a very significant portion of their cash from operations to shareholders. When filing income taxes, investors often need to file additional forms in order to have MLP distributions correctly assigned.
Disclosure: I have no positions in any stocks mentioned, and no plans to initiate any positions within the next 72 hours. I wrote this article myself, and it expresses my own opinions. I am not receiving compensation for it (other than from Seeking Alpha). I have no business relationship with any company whose stock is mentioned in this article.