I got a good laugh over the Intel (NASDAQ:INTC) buying Nvidia (NASDAQ:NVDA) rumor. While I certainly believe that Nvidia has a lot of great IP and is worth far more than its current market price today, there's just too much of a bitter rivalry between the companies for such an acquisition to be viable. Jen Hsun Huang repeatedly fires shots across Intel's bow about how its Tegra processors in tablets are going to replace "cheap PCs," and Intel has finally responded in recent presentations by making the Tegra 3 the Atom Z2760's punching bag. Nvidia, of course, will strike with its "Tegra 4" that looks like it will beat the snot out of the Atom.
Now, as a shareholder of both, it's interesting to see this rivalry, but it must be absolutely confusing for those not very closely following both companies to understand why someone would own both. So, in this article, I aim to help those looking to invest in one or the other to make the "right" choice for their portfolio depending on exactly what investment they want to make.
Dividends/Income - A No-Brainer
If steady income and the stability of owning a "blue chip" are of the utmost importance to you, Intel is a great stock. It yields ~4.4% at these levels, has an aggressive buyback program in place (to reduce share count and facilitate future dividend increases), and is fairly adamant about how important the dividend program is to the company (it is second only to investing in its own business, according to CFO Stacy Smith at the Credit Suisse Technology Conference).
Nvidia, on the other hand, yields only ~2.4% at these levels, has a buyback program in place but never seems to actually buy back shares (although as dilution increases, the total amount paid with the dividend increases, which means the buyback program is likely to be more aggressive now), and is a much smaller company that is still looking to expand into additional sources of income. However, if bought at these levels, the dividend may grow quite nicely to give a good yield on the initial investment.
Clear winner for the income folks? Intel.
Growth - The Tables Turn
When it comes to growth, things look at lot different. Intel is a large company with CY2011 revenues of $54B and CY2012 revenues look on track to hit about $53.5B. Intel already commands a dominant market share position in the PC space (although AMD's (NASDAQ:AMD) stumbling could lead to continued gains as we saw this year). It also owns the server space, but TAM expansion there is aggressive. Intel expects the server group to double by 2016, from $10B to $20B, but an 18% increase in sales over 4 years isn't exactly the most compelling growth argument on the planet. There needs to be growth in the PC space and any additional revenue from ultramobile would certainly be helpful. But the point is: Intel is already huge, so moving the needle is tough.
But what about Nvidia? Well, let's take a look at the following slide from the recent Raymond James IT Supply Chain conference: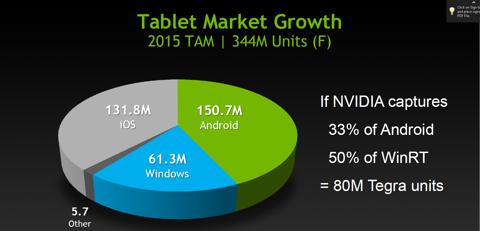 Assuming Tegra products sell for ~$20/piece, 80M units of tablets would add $1.6B to the top line. Today, Nvidia's mobile division rakes in roughly $600M per year, so a $1B addition to today's top line number estimate of $4.28B would be a nice chunk of business.
Next, as Nvidia fully leverages its acquisition of Icera for its modem/baseband technology, the firm should see additional market share growth in smartphones as it brings an integrated-with-LTE part (codenamed "Grey") to the market.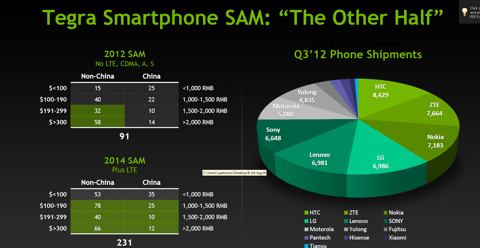 Add these with growth from the firm's "Tesla" HPC-oriented processors, modest growth in the consumer GPU space (there's not a whole lot of share to take away from AMD at this point, and the space itself likely to grow slowly), and potential growth in the phone space, and the growth prospects from the $4.3B revenue number look pretty nice.
So if you want growth, go with Nvidia. The balance sheet is pristine, the revenue base is small enough to grow nicely from, and solid management really drives confidence for those looking for more long-term holds.
Growth Winner: Nvidia
Valuations/Margin Of Safety
I'll be honest - I always love a margin of safety, so big cash positions are incredibly attractive. However, there's the other side of the argument that having too much excess cash is a bad thing as that cash needs to be used to fuel the business.
Intel is very CapEx intensive, buys back a lot of stock, pays a lot in dividends, and spends a lot in R&D. The company recently issued a debt offering that netted $6B to use for stock buybacks. The company has about $10B in cash and, after the debt offering, $13B in low-interest debt.
On one hand, these investments make it very clear that Intel will continue its dominance at the high end and give it a clear shot at winning in the mobile space. However, it might make some uneasy to see Intel with more debt than it has ever had in its history.
Nvidia, in stark contrast to Intel, loves to hoard cash. Only recently did it declare a dividend. There's a buyback program in place, but it is unclear as to how aggressive the buyback will be. Given that there is now a dividend in place, opportunistically buying back shares is healthy for free cash flow. Nevertheless, the company has $3.43B in cash and negligible debt, roughly 50% of its market cap. Ex-cash, the company trades at less than 1x sales. Given that 2012 is likely to be a year of positive growth for the company, Nvidia seems quite underpriced for its growth.
Conclusion
If you want safe, reliable dividends from a blue-chip company that is aiming to put a processor into everything that it can (assuming, of course, the processor can generate nice margins), then Intel is your choice. Keep growth expectations from a $54B/yr company in check and long term Intel should be a very nice "buy and hold" investment.
If your aim is to bet on the high growth smartphone/tablet chip market to really make a difference for a company, then Nvidia's a better bet. Even if Intel owned the entire smartphone chip market, it is a drop in the bucket compared to Intel's datacenter and PC client group businesses. For Nvidia, on the other hand, mobile devices provide an interesting headline growth opportunity that, when paired with the incessant need for high performance graphics, more powerful workstations, and high performance compute demand needs, should lead to very nice growth off of a much smaller revenue basis.
Disclosure: I am long INTC, NVDA, AMD. I wrote this article myself, and it expresses my own opinions. I am not receiving compensation for it (other than from Seeking Alpha). I have no business relationship with any company whose stock is mentioned in this article.