Exelon Corporation's (NYSE:EXC) bulls have long touted the company because of its Exelon Generation LLC wholesale power generation subsidiary and because of its large concentration of nuclear power plants as part of its power generating assets. Exelon's stakeholders need to realize that may have held true in 2008 but isn't as applicable now. Exelon's risk profile has changed over the last 5 years thanks to its Constellation Energy Group Inc (NYSE:CEG) in 2012 as well as the advent of hydraulic fracturing serving as a game-changer in the natural gas and energy marketplace.
Formation of Exelon
Exelon was formed from the merger of PECO Energy and Unicom Corp in October 2000. In 1999, PECO and Commonwealth Edison's holding company Unicom agreed to a blockbuster merger that created the largest nuclear power plant operator. At the time, Unicom owned four plants with 13.47 GW of capacity and PECO owned two plants outright with 4.07 GW of capacity. PECO also owned 50% of a joint venture with British Energy called Amergen and Amergen owned 4 plants with 3.625 GW of capacity. The purpose of this deal was to combine two historically mediocre performing utilities located in big urban metropolitan areas which had large nuclear power operations in order to potentially take advantage of the emerging wholesale power distribution markets. Exelon later bought out British Energy's share of Amergen and renamed it Exelon Generation LLC.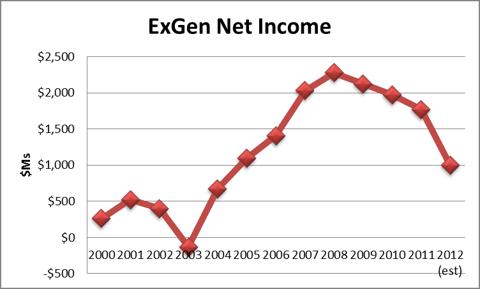 Source: Exelon's 2000-2011 Annual Reports and Our Estimates
Fracking Fractures Exelon's Fortunes
For a period of time, Exelon was able to take advantage of its low operating costs for its nuclear power plants and the steadily rising prices of energy commodities (in particular natural gas, which serves as the biggest influence in wholesale power pricing decisions at the margin) in order to grow its ExGen wholesale power generation profits from $260M in 2000 to $2.28B in 2008. Exelon's rapid profit growth at ExGen helped the company offset declining profits at its ComEd and PECO regulated utility operations and have enough left over to grow its quarterly dividend by nearly 150% cumulative from 2001 to Q4 2008.
Unfortunately, the company's dividend has remained frozen in time since Q4 2008 as the natural gas bubble was burst in 2008 due to the left-handed hook of the financial crisis and the right handed uppercut of hydraulic fracturing, or fracking. These two factors helped cause natural gas spot prices to plummet from $10.79/MCF in July 2008 to a low of $1.89/in April 2012. Natural gas prices rebounded to $3.69/MCF as of October 2012 before easing to $3.29/MCF in December 2012. The collapse in gas prices resulted in ExGen's Net Income deteriorating from $2.28B in 2008 to an estimated $1B in 2012.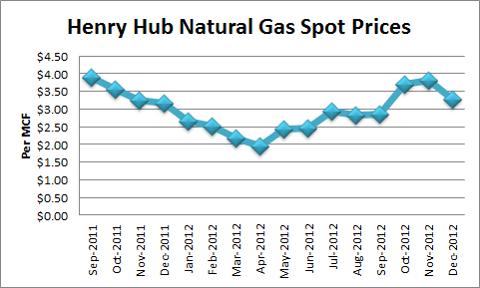 Sources: Energy Information Administration
Exelon Pushes for Cap and Trade to Solidify its Profits
We think that Exelon's management was aware of its heavy exposure to natural gas prices because it was one of the earliest supporters of a cap and trade program. Under such a program, companies that generated carbon emissions in excess of a specified allowance would be charged a price for the excess emissions. Exelon was an early backer of Illinois Senator Barack Obama's 2008 Presidential campaign and its support of Obama resulted in Exelon being known as "The President's Utility". Obama shared a similar attitude towards Exelon's coal-based utility peers because he said that under his plan of a cap and trade system, electricity rates would necessarily skyrocket.
So if somebody wants to build a coal-powered plant, they can. It's just that it will bankrupt them because they're going to be charged a huge sum for all that greenhouse gas that's being emitted. The US House of Representatives passed a cap and trade program by a slim margin in 2009 but the Senate did not take up the measure. Exelon was disappointed that the cap and trade died in the 111th Meeting of the US Congress because it would have been able to garner an additional $1B in profits from its ExGen subsidiary as ExGen's nuclear plants generate lower emissions than its peers and the cap and trade program would allow it to raise its market price to its customer base.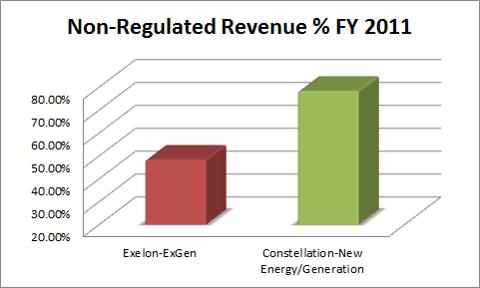 Sources: 2011 10-K Reports from Exelon and Constellation
Exelon's M&A Attempts: Fourth Time's a Charm
In an attempt to counteract the weakness in the wholesale power market industry Exelon attempted to buy out other utilities. It was unable to acquire Illinois Power (2003), Public Service Enterprise Group (2006) and NRG Energy (2009) because of various regulatory roadblocks. After offering $1B worth of concessions to the Maryland regulators towards the end of 2011, it received regulatory approval to acquire Constellation Energy and it closed the deal in March 2012.
Constellation Energy had a similar business model as Exelon in that both companies had regulated utility subsidiaries in slow-growing, urban areas as well as a large proportion of revenues from non-regulated operations. Before Exelon merged with Constellation, Exelon generated 48.3% of its 2011 revenues from its ExGen non-regulated subsidiary while Constellation generated 78.3% of its 2011 revenues from non-regulated operations. Exelon's non-regulated revenue from intersegment sales to its regulated utility affiliates was 6.2% in 2011 versus 16% for Constellation in 2011.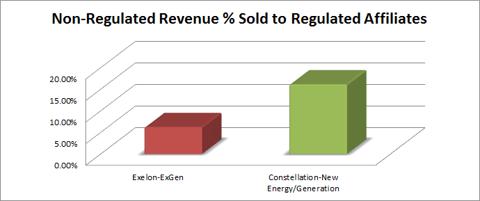 Sources: 2011 Annual Reports from Exelon and Constellation
Exelon Generation versus Constellation Generation/New Energy
Although Exelon Generation accounted for a lower percentage of Exelon's revenues in comparison to Constellation's Generation and New Energy subsidiaries, ExGen generated a higher profit margin in 2011 than Constellation Generation and Constellation New Energy. Constellation Energy and Constellation Generation combined for more revenue ($12.8B) than Exelon Generation ($10.3B) in 2011 yet ExGen had generated $1.77B in reported profits ($2B adjusted) versus Constellation's $458M in reported losses ($290M in profits excluding impairments and non-recurring charges). As a result, we can see that ExGen's adjusted profit margin of 19.4% in 2011 was nearly 8.6X the 2.26% generated by Constellation Generation and Constellation New Energy combined.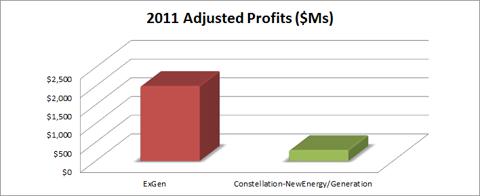 Sources: 2011 Annual Reports from Exelon and Constellation
Exelon's Utilities Versus Constellation's Utility
Exelon's utility subsidiaries ComEd and PECO served a greater population base than Constellation's Baltimore Gas & Electric subsidiary. While ComEd and PECO have been mediocre performers in comparison to other utility companies, ComEd and PECO could make the claim that at least those subsidiaries were more profitable than BG&E. We can see that BG&E is still the weakest link within Exelon's operating structure in general and in its regulated utility subsidiaries in particular. In the first nine months of 2012, ComEd generated $219M in net income (5.27% profit margin), PECO generated $305M in adjusted net income (12.7%) and BG&E generated $28M in adjusted net income (1.34%).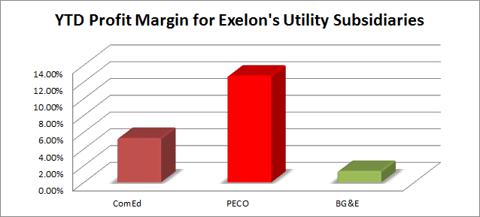 Sources: 2012 Earnings Report for Exelon Corporation
Power Generation Sources
As everyone knows, legacy Exelon was world-renowned for its portfolio of nuclear power plants. Exelon's nuclear plants account for 22% of the US's nuclear power generation capacity and 4% of the nation's entire electric output. Before Exelon merged with Constellation, Exelon's generation asset mix was 67% nuclear, 23% from fossil fuel powered plants and 10% from hydroelectric and other renewable energies. The legacy Constellation organization had a sharply different mix of power generation assets than legacy Exelon. Legacy Constellation's power generation capacity mix was only 16% nuclear, 79% fossil fuel-powered plants (23% coal, 42% natural gas, 6% oil and 8% natural gas/oil dual use) and 5% renewable/alternative energies. As part of the merger agreement, Exelon was required to sell off the three Maryland coal-fired plants it inherited from the merger. Exelon also sold off its ownership stakes in five California based coal and biomass powers that were previously owned by Constellation.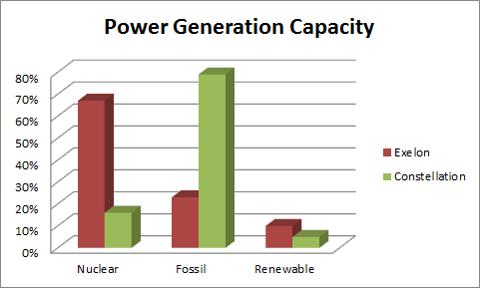 Sources: 2011 Annual Reports from Exelon and Constellation
Conclusion
In conclusion, our readers have come to see us criticizing Exelon's performance in relation to Wisconsin Energy (NYSE:WEC), which is 90 miles north of Exelon's headquarters. Even though we are proud of the fact that our utility WEC has performed significantly better than EXC, we are wishing that the EXC shareholders who have responded to our reports comparing Exelon versus Wisconsin Energy could have approached their position in Exelon with a more open mind. We believe that Exelon's shareholders have been too sanguine with regards to their position in Exelon based on its high dividend and previous success achieved from 2000-2008. Despite Exelon's well-known brand name and massive operating scale, Exelon's risk profile has changed thanks in part to its acquisition of Constellation and because fracking has changed the game with regards to natural gas prices. Even Travis Miller (a noted Exelon bull) at Morningstar cut his fair value estimated share price by $9 (13.5%) in 2011 because he felt that Exelon was overpaying for Constellation.
We can see that Exelon's energy generation portfolio changed thanks to the Constellation deal and that Constellation's profit margins for its comparable business units were well below Exelon's. At least Exelon did not incur any goodwill in the deal and it only incurred $457M in acquisition related intangible assets relating to CEG's brand name and retail relationships. Exelon had suffered $3B of impairments from 2003-2006 due to its PECO-ComEd merger and Constellation incurred $3.4B in impairments from 2009-2011 and the good news is that we are not expecting the combined company to have much in the way of impairments. However, we're not expecting much in the way in performance for Exelon because it is bogged down integrating Constellation and because fracking has reduced the price its ExGen subsidiary can get for its wholesale electricity generated for its customers.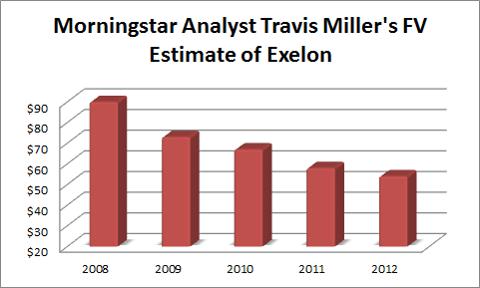 Sources: Morningstar Direct
Disclosure: I am long WEC. I wrote this article myself, and it expresses my own opinions. I am not receiving compensation for it (other than from Seeking Alpha). I have no business relationship with any company whose stock is mentioned in this article.
Additional disclosure: This article was written by an analyst at Saibus Research. Saibus Research has not received compensation directly or indirectly for expressing the recommendation in this article. We have no business relationship with any company whose stock is mentioned in this article. Under no circumstances must this report be considered an offer to buy, sell, subscribe for or trade securities or other instruments.