Imagine you are in a football stadium filled to capacity. Most likely, almost everyone there is rooting for the home team. All 83,858 fans. What a crowd! That stadium would be quite loud. Sure, you could watch the game and enjoy yourself getting caught up in the energy, but what if you look around? What are the chances that you are a lot smarter than half the people in there? What are the chances that you can even find the shortest food line or the bathroom without a long wait? In case you can't imagine what it looks like, here is an example: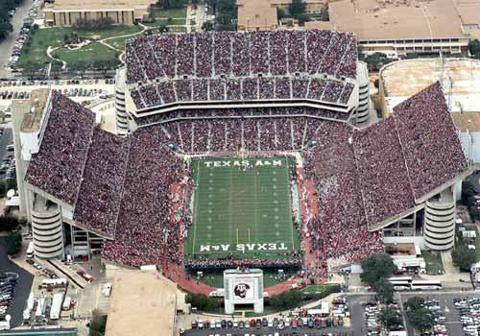 In the investment world, some companies can draw that same sell-out crowd that "Johnny Football" enjoys. Many of these companies tend to be large, others tend to be quite speculative. Take for example Apple (NASDAQ:AAPL). Seeking Alpha data suggests that 83,858 readers are following the company, meaning that they want to receive email alerts. By the way, that number has grown over the past 8 months by 50K! While AAPL is the largest stock in the S&P 500 at $489 billion, that's still a lot of folks. I am introducing a new statistic, the Seeking Alpha Crowd Indicator (SACI), which divides the market cap of a stock by the number of its followers. In the case of AAPL, the SACI is $5.8mm. A much smaller company that has a tremendous following is Sirius XM Radio (NASDAQ:SIRI), with a SACI of just $1.5mm (10K followers and $15 billion market cap). Even dog Research In Motion (RIMM), down 27% this year, has almost 10K followers and a SACI of just $590K. Perhaps the most insane is Annaly Capital (NYSE:NLY), with almost 19K followers and a SACI of just $759K.
My point is that trying to get an edge on a stock against more people than can fill a football stadium or perhaps a small basketball arena is likely a loser's game. There are some great stocks that couldn't even fill the bathroom at that stadium. Those are the companies I like. I feel like I am a reasonably good analyst, but I find it hard to compete against a huge crowd. Many of my best contributions here at Seeking Alpha or the most successful recommendations for my clients or my model portfolio subscribers have been rather obscure. With this concept in mind, I want to give some examples of what I am talking about. To do so, I created a screen using Baseline to identify stocks in the Russell 3000 with $1 billion or more of market cap (obscure doesn't have to be tiny, and it doesn't even have to be unknown). Here are the other parameters I used:
YTD Price Return > 30% (394 companies)

Trailing EPS Growth > 20% (197 companies)

PE F12M < 20X and > 8X (105 companies)

Number of Analysts < 9 (42 companies)
Still too many, so I threw in two more:
3-Year Price Return > 50% (27 companies)

Within 7% of 52-week High (22 companies)
So, this is a bunch of companies growing strongly and performing quite well but that are under the radar. My final cut involved calculating the SACI. Included in the final list of 14 are those companies with SACI in excess of $10mm (100 followers or less per $1 billion market cap), sorted by SACI: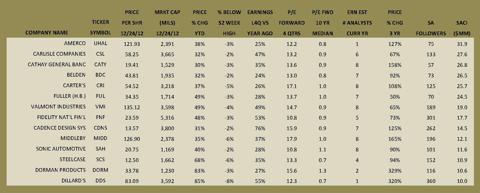 Now, please keep in mind that these are examples and not recommendations. I am not even suggesting necessarily looking for just winners with high SACI, though it's not a bad idea! My point is that stocks can fly high and far under the radar.
Before I share a few thoughts about some of the companies that made the cut, a few general observations:
Most of us have heard of most of these companies

A few are even "Large-Cap"

Many still appear reasonably valued if not cheap, at least at first inspection
One that caught my attention and inspired this article actually was Papa John's Pizza (NASDAQ:PZZA), but I had to drop it because it had a SACI of 8.7. That's 144 followers despite the fact that I bet thousands are probably happy customers. I took the time to look into the company - there is a great investment theme. Comment or direct message me and I will dedicate an article as to why I think that it "dominates" Domino's (NYSE:DPZ) if there is sufficient interest! If you want to go it alone, here's a recent presentation that will get you started.
I recently shared my favorable views on Middleby (NASDAQ:MIDD). This is on my watchlist of 100 stocks, and it's the kind of company that satisfies the goal of this analysis. The stock went on to make an all-time high after my article but is likely going to consolidate in my view. Take the time to get to know it.
Two others are on my watchlist, Dorman Products (NASDAQ:DORM) and Carlisle (NYSE:CSL). I recently shared a negative thesis for DORM if you are interested. Still, I am amazed that a stock can perform so well yet no one cares about it. CSL, too, has been a great stock, but this one has a lot more to go in my opinion. This is a company with a relatively new CEO who has made significant operational improvements, and he isn't likely done.
Now, I have nothing against AAPL, NLY, RIMM or SIRI. Widely followed stocks are going to go up a lot or down a lot, no matter how many people are paying attention. Maybe you are the one who is a lot smarter than the crowd and can win in these stocks. I do hope that you will keep in mind that the time you invest in research will likely be better spent on stocks with less attention, where you might actually be able to get an edge. One thing that you can expect from Seeking Alpha, which created a perverse incentive resulting in even more articles published on these widely followed stocks with its "Premier" program that pays authors by the page-view, is better coverage on more obscure companies. SA recently unveiled a new program, "PRO" that pays authors a fixed minimum that has already started to increase the number of higher-quality articles on less widely followed names. You might make it your New Year's resolution to start reading some of these articles.
I hope that I have inspired a few of you to wander off the beaten path in 2013 as you "seek alpha". If you are going to invest in individual stocks, I encourage you to be an individual, as the rewards over time will likely justify your time.
Disclosure: I have no positions in any stocks mentioned, and no plans to initiate any positions within the next 72 hours. I wrote this article myself, and it expresses my own opinions. I am not receiving compensation for it (other than from Seeking Alpha). I have no business relationship with any company whose stock is mentioned in this article.