In practice, it is common for market participants to avoid investing in junk grade bonds because of the misguided notation suggesting that all of these bonds are directly associated with a high level of default risk. In a handful of scenarios yes this is true, however it is essential to recognize that by investing in a junk grade bond, an investor is merely exposed to the identical risk that is associated with investing in an equity of a company with a balance sheet that is highly leveraged in nature. Barclays (BCS) offers an exchange-traded fund that is highly focused on providing investors with returns that are highly correlated with the returns of high yield corporate U.S. debt through one of its financial products, SPDR Barclays Capital High Yield Bond Fund (NYSEARCA:JNK). This article provides an overview to JNK, highlights its performance relative to the overall market, outlines JNK's top holdings, and concludes with how HYG can be a beneficial asset to add to any portfolio.
Overview
JNK seeks to provide investment results that, before fees and expenses, correspond generally to the price and yield performance of the Barclays Capital High Yield Very Liquid Index. JNK has an expense ratio of 0.40%. Although this may be higher than the expense ratio of what an investor would have to fork over for the expense of an aggregate bond index, JNK's expense ratio is rather favorable in comparison to competing funds. JNK is currently trading at roughly $40 per share and provides an annual dividend yield of approximately 6.85%. I have illustrated its performance over the past five years below in figure 1.
Figure 1: JNK's Five Year Price Graph from Bloomberg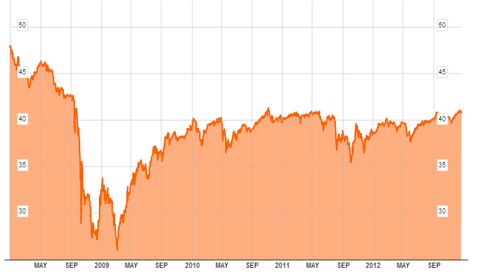 Relative Performance
iShares iBoxx High Yield Bond Fund (NYSEARCA:HYG) is an exchange-traded bond fund that is extremely similar in nature to JNK. The primary difference is HYG has a slightly higher expense ratio of 0.50% and a total asset value of nearly $14 billion. Figure 2 below illustrates the relative performance of JNK and HYG over the course of the past year.
Figure 2: JNK & HYG's YTD Performance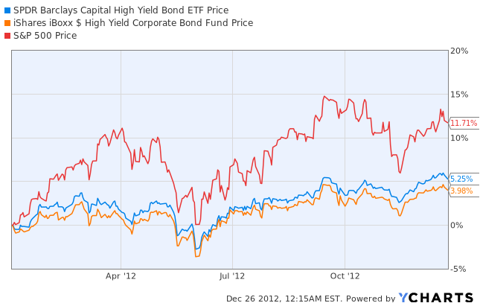 Asset Allocation
Currently, JNK's asset composition includes 225 holdings and through the use of sampling strives to mimic the returns of the underlying index. The credit quality of the JNK's holdings on average is classified as B rated securities. Furthermore, to analyze the sensitivity of the fund's price to changes in interest rates, I calculated the duration of the entire fund. The average duration of JNK is approximately 4.5 years. JNK's top ten holdings as a percentage of its total assets are shown below in figure 3.
Figure 3: JNK's Top Ten Holdings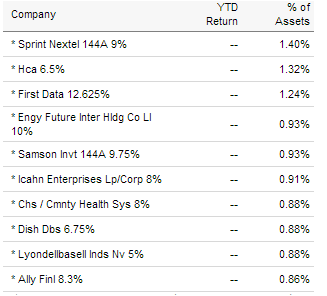 Conclusion
It is imperative that investors have a keen understanding of the overall bond market as a whole because JNK has historically displayed hefty spreads between the premium and/or discount to its net asset value during times when the bond market experienced significant fluctuations over a short duration. In conclusion, for investors seeking an investment in high yielding fixed income securities, JNK provides investors with this exposure through heavy diversification at a low expense.
Sources: TD Ameritrade, Google Finance, YCharts, FinViz, and The Wall Street Journal.
Disclosure: I have no positions in any stocks mentioned, and no plans to initiate any positions within the next 72 hours. I wrote this article myself, and it expresses my own opinions. I am not receiving compensation for it (other than from Seeking Alpha). I have no business relationship with any company whose stock is mentioned in this article.