It is clear to see that REITs today are benefiting from historically low interest rates and that has fueled their growth over the past several years. This growth has also resulted in general improvement in payout ratios, dividends paid, and financial positions across most of the spectrum of REITs.
It appears that there is little sign that interest rates will rise significantly in the near term. That is why valuations of REITs may appear to be expensive relative to historical standards. The current low interest environment, at least in part, justifies the higher valuations, as does the lack of income options from the bond market.
However, as cycles shift - perhaps in two, three, five, or 10 years - this trend will almost certainly reverse and rising rates will become a hindrance to growth for a wide range of different stocks, including REITs. However, as long as the low rate environment remains in place, and credit markets are open, there is a strong likelihood that sound REITs will continue to earn their investors a reasonable total return on capital comprised of both dividends and capital appreciation.
A Harbinger Forming for REIT Investors?
Given the hunger for yield, REITs have been able to fund acquisitions quite easily, and that continues to drive down capitalization rates (cap rates) - or the income generated from a property divided by its value. Accordingly, the driving force behind cap rate compression - strong demand for stable income-producing investments - has made it much easier for REITs to access low-cost debt (or ease of raising equity), and that, in turn, has led to a scarcity of good-quality properties on the market.
Take for example, the recent announcement by AvalonBay Communities Inc. (NYSE:AVB) and Equity Residential (NYSE:EQR) who plan to acquire the assets and liabilities of Archstone Enterprise LP (formerly Lehman Brothers Holdings Inc.) for around $16 billion. As I wrote in a previous Seeking Alpha article, the sale is expected to close during in early 2013 at a weighted average cap rate for the entire portfolio in the high 4% range. As I wrote,
AvalonBay and Equity Residential plan to fund the mega-deal with Lehman by utilizing common stock offerings, the funds of which each plans to use to finance the deal.
AvalonBay and Equity Residential are both trading at premium multiples (P/FFO of 27.81 and 15.39 respectively) and both have under-performed the S&P 500 index. However, both will continue to benefit from the massive economies of scale as AvalonBay has a market capitalization of $15.62 billion and Equity Residential has a market capitalization of $18.39 billion.
As a result of the premium multiples, AvalonBay and Equity Residential are paying some very modest dividend yields (AVB is paying 2.84% and EQR is paying 2.38%) and the yields have fallen by over one-third over the last three years.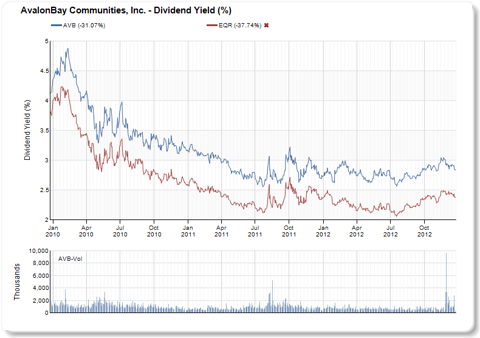 Another example of cap rates compression is in the triple-net sector: On September 6th, Realty Income announced that the company was merging with American Realty Capital Trust (NASDAQ:ARCT-OLD) in a $2.95 billion deal with Realty Income utilizing $1.9 billion of its common stock, the assumption of $526 million of debt and the immediate repayment of about $574 billion of ARCT's outstanding debt and transaction fees.
Like the above-referenced Archstone deal, the American Realty Capital Trust deal is also structured with an extraordinarily low cap rate of 5.9%. In addition, and like the Archstone deal, Realty Income has locked-up ARCT at a price of $11.90 per share (or $2.95 billion) with most of the transaction funded utilizing Realty Income's "low cost" equity shares ($1.9 billion in common stock).
Although several ARCT investors, including Luxor Capital Group (see my article here) have formally opposed the merger, no third-party buyers have approached ARCT or its advisors with an alternative transaction or with a request for information (despite the low break-up fee of 1.7% of the transaction value).
Although the cap rate for the ARCT deal is slightly below market (moderately expensive purchase price), the acquisition is seemingly attractive - especially for Realty Income investors - as the combined enterprise value will be around $11.4 billion, making Realty Income the largest net lease REIT and 18th largest U.S. REIT.
A few days ago, I wrote an article describing "Why Sound Investors Should Consider My Bond-Proxy REIT Picking Strategy." I summarized the article by explaining:
My theory of Realty Income as a "bond-proxy" alternative goes that bonds are meant to stabilize your portfolio and dampen the volatility inherent with the violent swings of the stock market. They are also meant to provide diversification benefits by zigging when stocks zag and vice versa. In this way, bonds can significantly reduce the risk of your portfolio without reducing returns too much. Realty Income seems to meet both of these requirements with higher returns and income than the average bond fund.
It is my view that Realty Income is perhaps the best measure of a bond-proxy REIT as the dividend performance is one of the best in REIT-dom. That consistency is measured by 508 consecutive monthly dividends paid since 1970 and increased monthly dividends of 68 times since listing on the NYSE (in 1994).
With a P/FFO multiple of 18.7x, Realty Income is not the cheapest REIT around; however, the company is definitely a sleep well at night (SWAN) REIT and the dividend yield (4.47%) is considerably attractive given the alternatives and especially the higher-priced apartment REITs referenced above.
This is a snapshot of the dividend yield for AVB, EQR, and O (over last three years).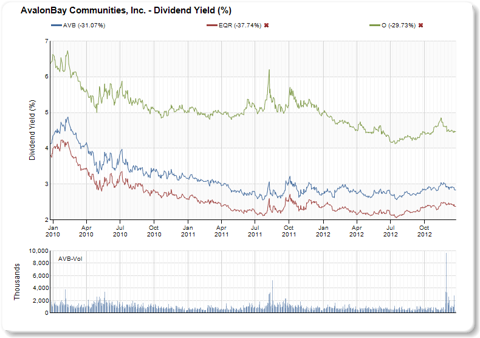 So Could Cap Rates Compress Further?
A few days ago, American Realty Capital Properties (ARCP) - not to be confused with American Realty Capital Trust mentioned above - announced its proposed merger with American Realty Capital Trust III (ARCT III). As I wrote in a previous article:
The combined company will have a $3 billion enterprise value….Under the deal, each outstanding share of American Realty Capital Trust III will be converted into a right to receive, at the election of each stockholder, either 0.95 share of American Realty Capital Properties common stock or $12 in cash. Based on American Realty Capital Properties' closing price of $12.90 per share on Dec. 14, the consideration is equivalent to $12.26 per share.
Upon review of the proposed ARCP/ARCT III merger transaction, I can see the value in the synergies of the two "self-dealing" REITs; namely, the liquidity for the non-traded REIT investors as well as the broad diversification (and a majority of investment grade rated assets) for the merged ARCP entity.
However, unlike the Realty Income/ARCT deal, I do not see the value of ARCP acquiring ARCT III's properties at a 5.9% cap rate (a higher price than the 5.95% ARCT portfolio). As I mentioned above, the driver behind the Realty Income/ARCT deal is Realty Income's tremendously advantageous low cost of capital. There is simply no reason (other than accretion) for Realty Income to grow in size (especially since the company is the Number One triple-net REIT already) and regardless of the ARCT deal, Realty Income has easily acquired over $1 billion in assets in 2011 and 2012.
Alternatively, ARCP is a small-cap REIT ($150 million market cap) and the value proposition for the company has been to invest in medium-term leases with properties leased to mostly investment-grade tenants. By merging with ARCT III, ARCP will essentially be combining ARCT III's long-term leases with ARCP's medium-term leases - however, there is just one primary problem:
This is a 5.9% cap rate and ARCP does not have the track record, experience, or low cost of capital of Realty Income. So, investors should keep in mind that you can't turn a one-year-old ARCP into a "dividend champion" (like O) simply by combining a high-quality portfolio (ARCT III).
Could ARCP go out in the open market and aggregate similar stand-alone assets today at a 7% to 8% cap rate?
Well, maybe not 658 properties, but very possibly 100 or so. So, why would ARCP overpay when there is no real value in acquiring (or merging) the ARCT III portfolio? Is there any "meat left on the bone" or is ARCP simply creating a monetization opportunity for ARCT III (non-traded REIT) investors? Could it be that ARCP is simply hoping it can ride on the "coat tails" of Realty Income? Or, maybe ARCP is hoping to capitalize on Mr. Market's flight toward income stocks and the tailwinds that are creating the extraordinarily low cap rate environment?
Remember that the fundamentals haven't changed; however, cap rates are continuing to compress - mostly driven by the thirst for income. Could there be other mega deals to follow? Maybe Ventas (NYSE:VTR) with its war chest could go gobble up a few medical office REITs next year? Or perhaps Public Storage (NYSE:PSA) - with its golden balance sheet - could consolidate a few smaller self-storage REITs? (Heck, why not even a data storage REIT?)
As we move into 2013, we will see many real estate investors continuing to gravitate towards higher yielding REIT stocks - a more popular option for income-oriented investors in recent years, since traditional fixed-income investments such as bank accounts, CDs, and U.S. Treasuries pay next to nothing.
Investors take caution! Cap rates have compressed to historically low levels and in this low interest rate period, one should consider the continued widening of the risk curve. Remember that investing consists of exactly one thing: dealing with the future.
Translation: Consider principal preservation your mantra for investing. Don't overpay! Focus on the quality of the dividend and make sure the income has a qualitative margin-of-safety.
REIT Investors: My risk-averse outlook is simply a harbinger call and although REITs have been performing well of late, an intelligent REIT investor should recognize the fact that risk control is invisible (and essential) in good times. Accordingly, investors should begin to consider more qualitative factors (such as management, integrity, uniqueness of brand, etc..) to assess value. This, in turn, will lead to a more traditional approach (like Ben Graham) of purchasing securities cheaply, or simply said,
buying a wonderful business at a moderate price.

In summary, I have provided you with a measure of risk control and an outlook that is perhaps the "calm before the storm." Maybe this "trace of wisdom" - a precursor (of sort) - can be best explained by the CEO of this remarkable bond-proxy REIT (Realty Income), Tom Lewis (in his company's 2011 Annual Report and Letter to the Shareholders):
We might think of the past 30 years as being akin to an easy downhill ski run with evenly packed powder and little to block one's progress. Eventually, however, we do get to the bottom of the hill, which is where we may be right now with interest rates and there seems to be no chairlift in sight. A compelling graphic illustration of where interest rates have been, since 1962, is shown in a chart that tracks the history of interest rates for 10-year US Treasury notes, a leading benchmark for what other lenders charge. (See chart below) This chart depicts the story of a steady, downward trajectory of interest rates from their peak of over 15% in 1982 to a low of 1.9% by the end of 2011.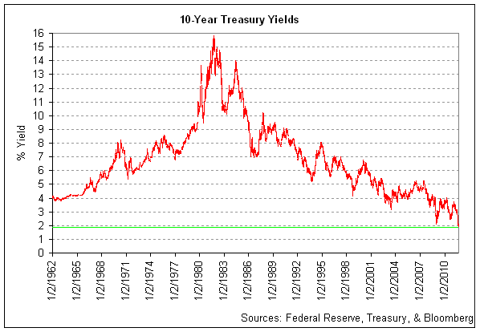 Source: SNL Financial, Bloomberg
Disclosure: I have no positions in any stocks mentioned, and no plans to initiate any positions within the next 72 hours. I wrote this article myself, and it expresses my own opinions. I am not receiving compensation for it (other than from Seeking Alpha). I have no business relationship with any company whose stock is mentioned in this article.