Colt Defense: High-Yield Junk Bonds
Colt Defense exclusively serves military and law enforcement, while Colt's Manufacturing makes weapons for consumers. The two companies operate next door, in property leased by Colt Defense and subleased by Colt's Manufacturing.
We have a license agreement (the "License") with New Colt Holding Corp ("NCHC"), a related party, for the use of certain Colt trademarks... Consideration for the License included the transfer to NCHC's wholly owned subsidiary, Colt's Manufacturing Company LLC ("Colt's Manufacturing"), of the Colt Match Target® rifle line of business...
The company is rated Caa1 by Moody's (NYSE:MCO) and was cut twice this year by S&P, to CCC.
The downgrade reflects the negative long-term impact of increasing competition for Colt's primary product, the M4 rifle. The U.S. Army recently selected Remington Arms Co., owned by Freedom Group Inc. (B+/Stable/--), for an $84 million contract through 2017... Colt had been the sole-source supplier to the U.S. government since 1997, and this represents the first time the Army has awarded the contract to a competitor.
Here are the Colt Defense Corp. bonds:
| | | | |
| --- | --- | --- | --- |
| | rating | price | yield |
| Colt Defense LLC Gtd Sr Nt8.75% 11/15/2017, Cond Put Change Of Control, Cont Call 11/15/13@104.38, Cond Call, Make Whole Call (cusip: 19686TAC1) sinking fund protection | Caa1/CCC | 66.560 | 19.71 |
The Colt Defense bonds' call schedule is as follows:
| | | |
| --- | --- | --- |
| 11/15/2013 | 104.37 | Premium |
| 11/15/2014 | 102.18 | Premium |
| 11/15/2015 | 100 | Par Call |
Recent sales of the Colt Defense bonds, lead me to believe investors are eliminating gun related companies from their portfolios. The price of these bonds experienced a sudden drop after the school shooting in Newtown, Connecticut. Whereas often a bond's trading history will show a week or a month's worth of trades, Colt's is filled with the past couple days'.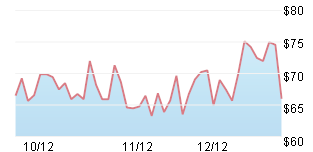 Source: FINRA
Colt's Manufacturing: Peacemaker or Peace-Taker
A well regulated militia being necessary to the security of a free state, the right of the people to keep and bear arms shall not be infringed. -- The 2nd Amendment to the U.S. Constitution
In the mid 1830s Samuel Colt designed a type of revolver, he went on to build a company in Hartford, Connecticut in the 1840s. In the 1870s his company manufactured the Peacemaker revolver.
The company has nearly been run into the ground many times. This L.A. Times article from 1992 provides some background:
HARTFORD, Conn. - Colt's Manufacturing Co., the historic gun maker rescued two years ago in a buyout partly financed with state pension funds, on Thursday filed for federal bankruptcy court protection.
Donald Zilkha saved Colt's, he bought 85% of the company for $12M in 1994:
With school shootings dominating the news, Zilkha's private investors wanted nothing more to do with guns. And if he didn't come up with $4 million in a hurry, the nation's oldest gunmaker would be forced to close its doors. So Zilkha did what he had to do. He and his partner, John Rigas, secretly put up $1 million of their own money so that Colt could hastily build 1,100 modified assault rifles for the civilian market. They knew those guns were in high demand--even though they're banned in several states.

Newsweek April 2000
Reactions to Gun Violence
The NRA appointed Asa Hutchinson (a former federal prosecutor turned defense attorney,) to lead a new initiative, to have armed guards in schools. Hutchinson compared the program to the Air Marshall program, he fought for, to protect airplanes.
Alan Dershowitz (an outspoken Harvard law professor) told CNN he thought people entering schools should pass through a secure room, that checks for weapons. Gun rights supporters claim the answer is more weapons, that are more powerful. While CNN host Piers Morgan slammed some gun rights advocates, Morgan claims severe restrictions on guns would solve the problem.
He points to nations, like England, that are the size of individual American states. President Obama gave a very powerful speech, and commented that one of the students, in Newtown, Connecticut, told his class he would lead the way to safety, "because he knew karate."
Perhaps elected officials, owners of gun companies and the NRA might consider helping "lead the way." Through efforts to reduce gun violence, that are in keeping with the intent of the Constitution. This debate is important for investors to understand, in addition to a prospective company's financials.
Colt Defense's Most Recent 10-Q
Colt's most recent 10-Q states:
On November 10, 2009, Colt Defense LLC ("Parent") and Colt Finance Corp, our 100%-owned subsidiary, jointly and severally co-issued $250,000 of unsecured senior notes (the "Senior Notes"). The Senior Notes bear interest at 8.75% and mature on November 15, 2017. Interest is payable semi-annually in arrears on May 15 and November 15, commencing on May 15, 2010. We issued the Senior Notes at a discount of $3,522 from their principal value. This discount is being amortized as additional interest expense over the life of the indebtedness. No principal repayments are required until maturity.

The Senior Notes are not guaranteed by any of our subsidiaries and they do not have any financial condition covenants that require us to maintain compliance with any financial ratios or measurements on a periodic basis. The Senior Notes do contain incurrence-based covenants that, among other things, limit our ability to incur additional indebtedness, enter into certain mergers or consolidations, incur certain liens and engage in certain transactions with our affiliates
Colt Defense reported $10M less EBITDA of $15.4M for the 9 months ended September 30th 2012 - in the same period in 2011 EBITDA was $25.5M. The 10-Q also shows net sales by region (including Colt's Manufacturing):
| | | |
| --- | --- | --- |
| | 9 Months Ended Sept. 2012 | 9 Months Ended Sept. 2011 |
| United States | $74.1M | $65.2M |
| Canada | $21.9M | $16.6 |
| Asia/Pacific | $30.6M | $25.1M |
| Europe | $11.2M | $30.8M |
| Latin America | $4.9M | $3.4M |
| Middle East | $3.3M | $2.4M |
Our reported net sales in the United States include revenues that arise from sales to the U.S. Government under its Foreign Military Sales program, which involve product that is resold by the U.S. Government to foreign governments and that we generally ship directly to the foreign government... the U.S. Government accounted for 33% of net sales.
The table does indicate that Europe was the only country that saw significantly reduced net sales. Sales in Asia, Canada and the U.S. grew.
"A Free State"
The Colt Defense Corp. bonds have my attention; a nearly 20% yield would be great. It is appealing that Colt Defense focuses on supplying the military and law enforcement.
It is unappealing that Colt Defense is on the lower end of the credit scale. This risk can not be overlooked, because the low rating is indicative of poor management (and business conditions.) It is also unappealing, to me, that Colt Defense operates side by side with Colt's Manufacturing, and appears to include their sales in the 10-Q:
In May 2011, we signed a memorandum of understanding ("MOU") with Colt's Manufacturing to jointly coordinate the marketing and sales of rifles in the commercial market. Accounts receivable for product sales under the MOU were $9,320 and $2,161 at September 30, 2012 and December 31, 2011, respectively.
Colt's Manufacturing promotes an 1877 style Bulldog Gatling Gun that can fire 800 rounds per minute. The company also promotes their LE901-16S for hunting, though it appears to be military style.
Colt's rifles are the only rifles available to sportsmen, hunters and other shooters that are manufactured in the Colt factory and based on the same military standards and specifications as the United States issue Colt M16 rifle and M4 carbine.
There is a market for antique gun replicas, and prop ammunition for movies, however Colt's does not appear to have tapped it. Instead the Colt AR-15 military style assault rifle is promoted by enthusiasts, with a custom pink paint job and a "Hello Kitty" logo, in order to appear "cute."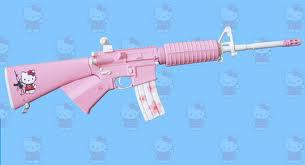 Colt Defense Yield is Uncertain
The rating says it all, investors should be cautious. The National Rifle Association supports the consumer gun industry. Their CEO recently stated:
"I know this town wants to argue about gun control," the group's CEO, Wayne LaPierre, told NBC's "Meet the Press" in Washington. "I don't think it will work."
As an investor, in defense companies, this statement strikes me as particularly cold. I simply do not want to invest in the groups supported by such statements, unless my investment could support safer technology. Though something tells me a letter from an owner of these Corp. bonds would do very little to persuade either the companies, or the NRA.
The NRA's rhetoric might succeed. Their form 990 shows LaPierre pulls in around $1M a year, in a two year period the NRA pulled in upwards of $250M in contributions and grants. The NRA is equating "safer guns" to "gun control," however, I believe technology that could prevent senseless gun violence would be constitutional:
Foolproof gun safes
Software and wearable digital IDs to prevent (line-of-sight) friendly fire (within a few millimeters.)
Guns that can not accidentally go off
Optical / thermal systems to reduce misusage (line-of-sight)
Shot Spotter (gun shot detection system)
For instance, what if Colt could devise a system, with a safety mode, to greatly reduce friendly fire (such as that which killed Pat Tillman) for military clients? There would be a market for this sort of technology, however, it has not happened. Remember the time Vice President Dick Cheney accidentally shot a fellow hunter? Perhaps an optics system in hunting weapons, or a digital system (with wearable IDs) could prevent these accidents in the future.
I believe the Colt Defense 19% yield is very risky. I do not believe they have diversified into profitable alternatives to military style assault weapons, promoted as ordinary hunting rifles. However, I do believe it would be possible for the company to work to restore a stronger credit rating; if they could develop successful and acceptable strategies to prevent senseless gun violence.
If you have any thoughts on the Colt Defense 2017 Corp. bonds please leave a comment.
Disclosure: I have no positions in any stocks mentioned, and no plans to initiate any positions within the next 72 hours. I wrote this article myself, and it expresses my own opinions. I am not receiving compensation for it (other than from Seeking Alpha). I have no business relationship with any company whose stock is mentioned in this article. This article is not a recommendation to buy or sell. Please consult a financial adviser to determine a proper investment strategy, especially regarding small fly-by-night defense companies, with junk ratings.