Over the last two weeks, Williams Companies, Inc. (NYSE:WMB) and its affiliates have been very active in the strategic transaction market. Two weeks ago, as part of Chesapeake Energy's (NYSE:CHK) agreement to sell the bulk of its Chesapeake Midstream Development (CMD) business to Access Midstream Partners, (NYSE:ACMP), WMB partnered with ACMP's general partner, Global Infrastructure Partners (GIP) to finance this transaction. And last week, Caiman Energy II, a JV which was 47.5% owned by WMB subsidiary Williams Partners (NYSE:WPZ), formed Blue Racer, a 50/50 joint venture with Dominion Resources, Inc. (NYSE:D), to provide midstream services in the emerging Utica shale.
As we know, WMB is one of the largest energy infrastructure companies in North America. It owns interests in 15,000 miles of interstate gas pipelines, 1,000 miles of NGL transportation pipelines, and more than 10,000 miles of oil and gas gathering pipelines. WMB has gas processing facilities with a capacity of 6.6 Bcfd of natural gas and NGL production of more than 200,000 Bpd. Most of these assets are owned through WPZ, of which WMB owns the general partner and ~66% WPZ's limited partner units.
WPZ is a leading diversified MLP focused on natural gas transportation; gathering, treating, and processing; storage; NGL fractionation; and oil transportation. WPZ owns interests in three major interstate natural gas pipelines (ex. Transco, Northwest Pipeline, and Gulfstream) that together deliver 14% of the natural gas consumed in the United States. WPZ's gathering and processing assets include large-scale operations in the U.S. Rocky Mountain/Mid-Continent areas, in the Marcellus Shale area, and both onshore and offshore along the Gulf of Mexico.
Though the above mentioned transactions do not give WMB clear control of either ACMP or Blue Racer, by aggregating its influence over an increasingly broad swath of assets, these transactions help WMB with its stated goal of becoming one of the top two operators in a basin. By consolidating influence in this fashion, WMB will be able to drive production from these affiliates onto WMB's existing asset base and increase their utilization. Due to the fixed cost nature of the energy infrastructure business, this increased utilization should dramatically increase incremental cash flow.
ACMP Transaction
The financial impact of the ACMP transaction was in large part covered in an earlier article. But here, we will look at this transaction from a WMB perspective. In aggregate, WMB agreed to invest ~$2.2 billion for a 50% interest in ACMP's GP, and ~25% of ACMP's limited partner units, but this transaction has two parts:
GP Investment. The crux of this transaction is WMB's acquisition of GIP Fund I's holdings in ACMP for $1.823 billion. These holdings include GIP Fund I's 50% interest in ACMP's GP, which includes the GP's 2% general partner interest and incentive distribution rights (IDRs), and 34.5 million ACMP subordinated limited partner units which will convert to common units in 2013. GIP Fund II owns the remaining 50% of ACMP's GP, 34.5 million ACMP subordinate units, and 33.7 million ACMP common units.
Support of CMD Acquisition. In conjunction with the above investment, WMB and GIP supported ACMP's purchase of most of CMD for $2.16 billion by each investing $356 million in newly issued ACMP subordinated and PIK limited partner units.
This transaction will significantly increase WMB's influence in 10 of the largest unconventional oil and gas producing areas in the US. It will expand WMB's influence in the Marcellus and Utica, and give WMB exposure to production from the Eagle Ford, Haynesville, Barnett, Permian, Granite Wash, Colony Wash, Mississippi Lime and Niobrara shales. With 8.7 million acres under long-term dedications, production from ACMP can drive significant natural gas and NGL volumes to WMB's existing asset base.
Clearly these revenue synergies are likely to be significant. However, revenue synergies are also always hard to quantify. Because they are hard to quantify, the presence of revenue synergies alone, significant as they may be, is not sufficient for us to call this a good deal for WMB investors. To do this, we must look at this transaction from a purely financial perspective.
Comparison to GIP's Purchase of Chesapeake's Stake in ACMP
One might question why GIP sold part of its interest in ACMP so soon after last summer's purchase of the other 50% of ACMP's GP from CHK. Last summer, GIP Fund II was able to take advantage of CHK's fire sale of assets, purchasing CHK's 50% GP interest in ACMP, 34.5 million ACMP subordinate units and 33.7 million common units for a total of $2 billion.
Two weeks ago, WMB announced it had agreed to acquire GIP Fund I's interest in ACMP for $1.823 billion. Though Fund I's holdings did not include the 33.7 million ACMP common units which were purchased by Fund II, the rest of Fund I's holdings were similar to Fund II's holdings, and WMB agreed to purchase these holdings for $1.823 billion. After emerging from the darkness of CHK's shadow, ACMP's units have performed admirably since the summer, rising over 20% between the announcements of the two transactions. Using ACMP's common unit price as an approximation for its subordinate units, we can calculate an implied value of ACMP's GP, and we can see the price WMB paid for its 50% of ACMP's GP was a 216% premium over the price GIP paid last summer.
Though WMB paid dramatically more for its 50% of ACMP's GP than GIP Fund II paid, it is unclear if WMB overpaid, or if GIP got an especially good deal by taking advantage of CHK's dire straits.
Implied Valuation of ACMP
The analysis below attempts to value ACMP based on the prices paid in each of the two transactions above. Note: WMB's transaction is part of a larger, transformational transaction which dramatically increased the cash generating potential of ACMP.
A comparison of 2012 valuations is not relevant because WMB would never have done this deal without the CMD deal. However, when we compare 2013 and 2014 multiples, we can see that WMB clearly paid a higher valuation than GIP fund II did last summer. However, while the 2013 valuation is on the high end of its peer group, the 2014 is close to the mean, indicating the price was not unreasonable.
Accretion/(Dilution) to WMB
On its call regarding this transaction, management stated this deal should be mildly dilutive to distributable cash flow in 2013, and mildly accretive in 2014. The following analysis lays out the extent of this accretion and dilution. Given the growth profile of ACMP and the cash flow leverage ACMP's IDRs provide to its GPs, we estimate WMB's investment in ACMP should begin to pay off and directly contribute in 2015 and beyond.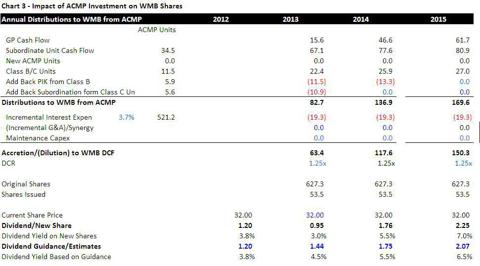 For the ACMP cash flow waterfall which feeds into the above analysis, please see our previous article. Please note the analysis above takes into account the dilution and financing, at both the ACMP and WMB levels, needed to complete the acquisition of CMD. It also includes the capital needed to complete the organic growth projects necessary to support the company's growth in EBITDA and cash flow.
As we can see, WMB's investment is likely to be dilutive to 2013 dividends, generating $0.95 per share in distributable cash on the shares issued to finance this transaction, versus dividend guidance of $1.44 per share. However, WMB should be able to borrow under its revolver to make up for any shortfall in distributable cash. In 2014, we expect ACMP's contribution to WMB to be very mildly accretive, generating $1.76 per share versus guidance of $1.75. In 2015, we expect ACMP's growth and its IDRs will help ACMP to contribute a disproportionate share to WMB's dividend generating capacity.
Small Investment Relative to WMB's Asset Base
Fortunately for WMB shareholders, this investment in ACMP is small relative to WMB's total asset base, and the dilution in 2013 should be easy to manage. Because of the lack of a substantial short and medium term financial benefit, we go back to our earlier premise that WMB's investment might be characterized as being more strategic than financial.
Blue Racer Joint Venture
On the heels of WMB's investment in ACMP, Caiman Energy II, a midstream joint venture between WPZ (47.5%), EnCap Flatrock Midstream (35.6%), and Highstar Capital (11.5%) announced it was entering an equal partnership to develop midstream assets in Utica shale with Dominion Resources, Inc. (D).
D will contribute gathering and processing assets into the JV, and Caiman Energy II will contribute cash as equity. The D assets will include D's East Ohio gas gathering facilities, the Natrium processing and fractionation facility (currently under construction with completion expected in 2013), and a pipeline connecting the Natrium facility to the East Ohio gas gathering system. Caiman Energy II will contribute up to $800 million into the JV, with WPZ's portion totaling $380 million over 2012-14. WPZ's portion of the investment has already been included in WPZ's budget and guidance and D will be the operator of this midstream JV.
From the D perspective, this JV makes a lot of sense for two main reasons:
Winnow the Competition. By combining with a potential competitor, this JV takes a competitor off the table. One less competitor in the Utica will lead to more rational capital spending, as well as more rational pricing for services, increasing returns for all midstream operators in the region.
Capital Efficiency. Additionally, by bringing in a JV partner, D, which has an ambitious capital plan of its own, is able to free up some capital for its other growth projects.
From the Caiman Energy II perspective, this JV makes a lot of sense for three main reasons:
Winnow the Competition. By combining with a potential competitor, this JV takes a competitor off the table. One less competitor in the Utica will lead to more rational capital spending, as well as more rational pricing for services.
Decrease Cash Burn. By combining with a partner who already has operations in the Utica, Caiman II accelerates its entry into the Utica operating area. As expenses have to be incurred before projects are completed and begin generating revenue, this JV will help to decreases the cash burn usually associated with entering a new area. Depending on the project, new builds can take 1-3 years to permit and construct. During that time, no revenues or cash flows are generated, but people and expenses still need to be paid.
Quicker Access to Credit Markets. The presence of operating assets should allow the JV to more quickly access the credit markets, leveraging their equity dollars into additional funding for future organic growth projects.
From the WPZ/WMB perspective, this JV makes sense for the following reasons:
Efficient use of capital relative to WPZ/WMB's total asset base. Like with the ACMP transaction, WPZ's, and thus WMB's, interest in Caiman II and now Blue Racer is small relative to WPZ's $30+ billion enterprise value. This being the case, and because WPZ will account for its interest in Blue Racer using the equity method of accounting, we expect Blue Racer to have a minimal near term direct financial impact on WPZ. However, WPZ expects Caiman Energy II/Blue Racer to quickly reach its inflection point, and that cash distributions from its investment in Caiman Energy II will quickly begin to grow, with ~$20 million (less than 1% of WPZ's EBITDA) being contributed in 2014.
Expanded Influence. This investment, will help to consolidate WMB's influence (but not control) over gas and NGL gathering, processing, fractionation, and transportation in the Marcellus and Utica. Below is a chart showing the operators of planned NGL fractionation capacity in the Marcellus/Utica. As we can see, this transaction will allow WMB to have influence over nearly half the NGL fractionation capacity by scheduled to come on line by 2015. This could give WMB the ability to influence direction of natural gas and NGL flows toward its affiliated companies, thus increasing the utilization of WMB's existing infrastructure.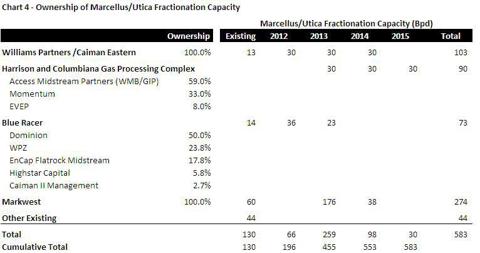 In the medium to long term, WMB's influence, through its control of WPZ, will probably allow it to aggregate enough Marcellus/Utica NGL production to economically repurpose one of Transco's pipes to NGL service. This pipe would also be reversed to bring Marcellus/Utica NGL production to the Gulf Coast, and CHK has already committed to support this project.
Takeaways
Though we do not see much near term financial benefit to WMB from either of these two transactions, we see there are significant medium to long term strategic benefits which are not quantified in the analysis above. Fortunately, neither of these two transactions was done at a price which significantly moves the needle for WMB in an adverse way, and we are left to see if an investment in WMB as a whole is worthy of consideration.
The relative value analysis below compares the EV/EBITDA and dividend yields for the major MLP general partners:

As we can see, in spite of having a faster expected growth rate, WMB is the cheapest when measured by EV/EBITDA, and among the cheapest when measured by dividend yield. While neither of the two deals discussed above would compel us to buy WMB, we believe that energy infrastructure companies are the key to monetizing North America's growing energy production, and that WMB offers the most compelling value and growth prospects of its peer group.
Though another warm winter and the price pressure a warm winter may have on natural gas and NGLs concerns us, should WMB's growth initiatives come online on time and on budget, we expect WMB will trade at valuations closer to its peer group. Trading in line with its peer group could result in WMB shares appreciating to $40-50 in the next 12-18 months.
Disclosure: I have no positions in any stocks mentioned, and no plans to initiate any positions within the next 72 hours. I wrote this article myself, and it expresses my own opinions. I am not receiving compensation for it (other than from Seeking Alpha). I have no business relationship with any company whose stock is mentioned in this article.