McDonald's Corp (NYSE:MCD), the largest fast-food restaurant company in the world, is a very solid company with a good record of creating value for its shareholders, as well as one of the best dividend-raising records in the market. It is also very undervalued at current levels, offering significant upside over the next year and beyond.
McDonald's operates approximately 33,700 restaurants in 119 different countries. Sales totaled $85.9 billion in fiscal year 2011, up 12% from the year before. With U.S. sales of $32 billion, McDonald's dwarfs its closest competitors, and same-store sales are on an uptrend as the economy improves.
McDonald's certainly has had a nice track record over the past decade, with shares climbing almost linearly from $16.17 in 2003 to current levels ($89.16 as of this writing), an average annual gain of 21%. One very interesting fact to take away from the chart (below, top) is that McDonald's has not had a single down year, with the closest being 2008 when it had a sideways year. Note the area of the chart around March 2009, when most of the market was hitting insane lows not seen in years. Comparing it with the chart of rival Yum Brands (NYSE:YUM), it is apparent just how recession-proof McDonald's is, which should give peace of mind to long-haul investors.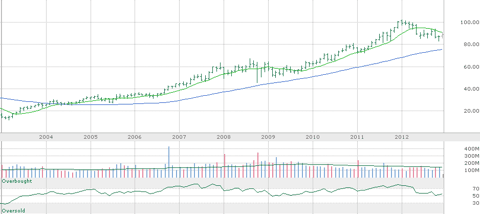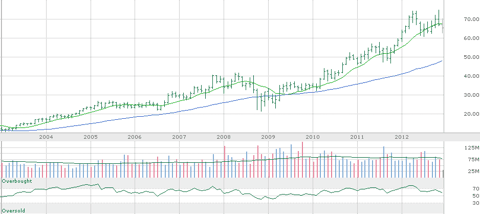 Another good "buy" signal for MCD is its fantastic record of increasing dividend payouts. Over the past decade, the dividend has been increased every single year, from 24 cents per share in 2002 to $3.08 per share currently, a staggering 33% annual increase on average.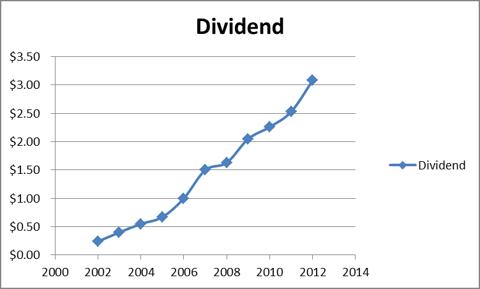 So, aside from past performance, why should a long-term investor buy McDonald's today over its competitors? The answer is simple: valuation. I think MCD's valuation compared to other fast-food companies is the single most attractive aspect of the stock.
First, McDonald's currently trades at 16.8 times TTM earnings of $5.31 per share. Consensus estimates call for earnings to grow to $5.78 per share in 2013 and $6.38 in 2014, a year-over-year earnings growth rate of 8.9% and 10.4%, respectively. So, McDonald's trades at 15.4 times forward earnings, with an average projected growth rate of 9.65%. Let's see how this compares to some of its competitors:
As mentioned before, Yum Brands is probably MCD's most similar competitor, with familiar brands such as Taco Bell, KFC and Pizza Hut. While they are projected to grow their earnings at a slightly higher rate than McDonald's, at 12.9% from 2012 to 2013, I'm not sure this justifies the almost 20 times earnings the company trades for. Additionally, Yum pays a lower yield (2.06% vs. 3.44%), and is not nearly as recession proof as MCD, as illustrated by the charts above.
The only other large-cap quick service name is Starbucks (NASDAQ:SBUX). Although the products are slightly different, the company structure and growth strategies are similar. However Starbucks trades at what I consider to be a very high valuation. Starbucks trades at 30 times TTM earnings, although analysts project a 14% annual growth rate for the next three years, this is simply too generous of a valuation. Additionally, Starbucks has the lowest dividend of the three companies profiled here (1.56%), plus is very susceptible to economic conditions (although how nice would it have been to have bought SBUX at $7.06 in 2008?). While recession-prone stocks can indeed create nice buying opportunities, stock behavior like SBUX during the time period from 2007-2009 is not what long term, buy-and-hold investors want to see.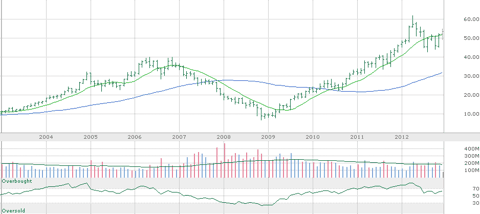 To sum it up, all three of these companies are very good at what they do. However, based on the track record of increasing dividends, recession-resistance, and its current valuation, McDonald's is the clear winner for long-term investors.
Disclosure: I have no positions in any stocks mentioned, and no plans to initiate any positions within the next 72 hours. I wrote this article myself, and it expresses my own opinions. I am not receiving compensation for it (other than from Seeking Alpha). I have no business relationship with any company whose stock is mentioned in this article.