Culp Inc. (CFI) has been moving higher since reporting solid fiscal second-quarter results last month, which included an earnings surprise of nearly 50%. In addition, this Zacks No. 1 Rank (Strong Buy) mattress fabrics company has a compelling valuation, including a price-to-sales (P/S) ratio of just 0.66 and a price-to-book (P/B) multiple as low as 1.86.
Solid Second-Quarter Results
On Nov. 27, Culp Inc. reported fiscal second-quarter earnings of 31 cents per share, topping the Zacks Consensus Estimate by 47.6% and advancing from last year's performance by 72.2%. Looking at the earnings surprise history, the company has outperformed the Zacks Consensus Estimate in three of the last four quarters, with an average surprise of 14.5%.
Net sales of $65.6 million comfortably surpassed the Zacks Consensus Estimate of $60 million and grew 13.0% year over year, reflecting sales increases across Mattress Fabrics (up 12.6%) and Upholstery Fabrics (up 13.6%). Management expects fiscal third-quarter 2013 sales to increase 4% to 9%, vs. the prior-year quarter.
Rising Earnings Estimates
Over the past 30 days, both estimates for fiscal 2013 were revised upward, lifting the Zacks Consensus Estimate by 5.8% to $1.28 per share. This indicates year-over-year growth of 42.2%. The Zacks Consensus Estimate for fiscal 2014 increased 27.7% in the same time frame to $1.43 per share, as both estimates again moved upward. This reflects a year-over-year increase of 11.3%.
Attractive Valuation
Along with low P/B and P/S multiples, Culp trades at a forward P/E ratio of 11.37 (a P/E ratio under 15.0, P/B ratio below 3.0, and a P/S ratio below 1.0 generally indicate value). It has a trailing 12-month ROE of 15.1%, compared with the peer group average of 11.5%.
Chart Showing Consistent Rise
Shares of Culp have been rising since September 2012 and reached a 52-week high of $14.76 on Dec. 12. Moreover, the stock is currently trading above its 50- and 200-day moving averages, which stand at $12.59 and $10.78, respectively.
Volume is averaging roughly 53,000 daily. Culp has outperformed the S&P 500 in the last month. The year-to-date return for the stock is 70.76% compared with the S&P 500's return of 13.72%.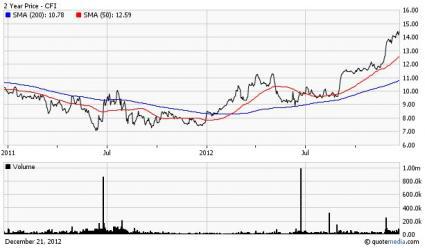 Culp, Inc. is a manufacturer and marketer of mattress fabrics used in covering mattresses and box springs, as well as upholstery fabrics principally used for residential and commercial furniture. The company operates through two segments, Mattress Fabrics and Upholstery Fabrics. Culp, which competes with International Textile Group, Inc. (OTCPK:ITXN), has a market cap of $177.5 million.
Read the full Snapshot Report on CFI (email registration required).