As governments around the world continue with their stimulus programs and loose monetary policies to spur economic growth, gold as a safe haven has seen a record run in its price over the last few years. The precious metal is heading for its 12th straight annual gain. However, gold equities have failed to follow the path of gold prices, with some big companies losing as much as a quarter of their stock price YTD. There are still some stocks which have fared well over the year, and are all set to generate significant cash flows in 2013. New Gold, Inc (NYSEMKT:NGD) is one of those stocks.
New Gold, Inc
New Gold, Inc is a mid-tier precious metals mining company. It engages in the acquisition, exploration, extraction, processing, and reclamation of mineral properties. The company primarily explores for gold, silver, and copper deposits with an operational focus in jurisdictions which are deemed geopolitically stable and mining friendly. The company has operating mines in the United States, Canada, Mexico and Australia and development projects in Canada and Chile.
For reporting purposes, the company manages its operations by operating mines, development projects and exploration projects. Although the Mesquite mine in the U.S. was the biggest contributor (41%) to 2011 production, the Cerro San Pedro (CSP) mine in Mexico contributed the biggest share (42%) of 2011 revenue. Similarly, in the most recent quarter, CSP's share of revenue was the largest (37%).
Source: Company Documents, Price Point Research
Why We Like NGD
We like this Canadian gold miner for the following reasons:
Near-term cash flow generation
Low cost producer
Experienced management and board
Strong operating record
Growth prospects (double gold production by 2017)
Full funded growth projects
Low political risk - Assets in geopolitically stable and mining friendly jurisdictions
Positive outlook on gold
New Gold has a strong operating track record. In all of the last three years, NGD achieved both its production and cost guidance. The company operates in jurisdictions (Canada, United States, Australia, and Mexico) considered friendly and stable for mining. Although the El Morro project in Chile recently ran into some troubles in the form of local opposition and project suspension, Chile as a country is still considered a mining friendly jurisdiction.
Now that New Afton has achieved commercial production (August 2012), the company is expected to generate significant cash flow in the next few years. Moreover, NGD is a low cost producer, and with the start-up of New Afton, these costs are further declining, which will drive better margins in the coming quarters. The company's future lies in British Columbia, which hosts both New Afton and the Blackwater project, although New Afton is going to be the biggest cash flow generator in the next couple of years. Once the Blackwater project starts commercial production in 2017, it will double NGD's production (400 Kozs to 800+ Kozs) and will become the biggest source of revenue for the company.
NGD has a very experienced team, with a strong operational track record, and we expect the same strong execution from this team at both New Afton and Blackwater. NGD is the second lowest by-product cost producer, though YTD cash costs increased to $486 per ounce compared to $409 per ounce from the same period last year. These costs, as mentioned earlier, are set to decrease with New Afton in production. NGD has 2012 cash cost guidance of $410 to $430 per ounce. Compared to New Gold, ABX's YTD cash costs are $584 per ounce and 2012 guidance of $575 to $585, NEM's YTD cash costs are $693 with 2012 guidance of $650 to $675. With $690 to $725, KGC has the highest 2012 cash costs guidance.
Reserves and Resources
New Gold has proven and probable (P&P) gold reserves of 7.9 million ounces, and including reserves, total global resources of ~28 million ounces. The company also had 222.21 million ounces of silver and 6.15 billion tons of copper reserves and resources. With 36%, the British Columbia Blackwater project accounts for the largest proportion of resources, followed by Mesquite, El Morro, and CSP.
While CSP in Mexico is currently the largest generator of cash flow for NGD, the company's future lies in British Columbia (BC), Canada. Below is a detailed analysis of NGD's current and development projects, including cash costs, reserves and resources and future expected contribution to cash flows. Other than the El Morro project in Chile, which is 30% owned, all projects are 100% owned by NGD.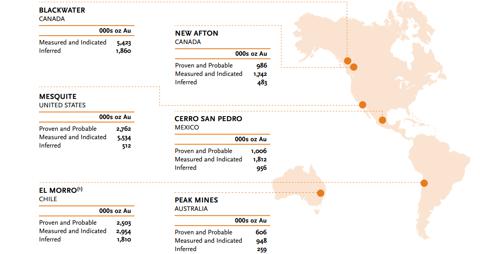 Source: Company documents (2011)
New Afton - the Game Changer
The New Afton gold and copper mine located in Kamloops, British Columbia began commercial production in July, ahead of its August target. On September 21, 2012 New Afton reached full production again ahead of its November target. New Afton is set to become NGD's greatest contributor to cash flows. The Canadian mine is expected to produce 35,000 to 45,000 ounces of gold and 30 to 35 million pounds of copper in 2012 at total cash costs, net of by-product credits, of ($1200) to ($1300) per ounce. Thereafter, the large underground copper-gold deposit is expected to produce on average 85,000 ounces of gold and 75 million pounds of copper annually.
At the end of 2011, the deposit had 1.0 million ounces of proven and probable gold reserves and 1.0 billion pounds of proven and probable copper reserves, with 1.7 million ounces of measured and indicated gold resources, inclusive of reserves, and 1.6 billion pounds of measured and indicated copper resources, inclusive of reserves. We consider New Afton a low risk project and based on NGD's track record and experienced management, we expect the project to deliver excellent results.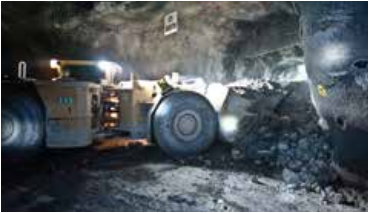 New Afton, British Columbia, Canada
Mesquite Mine
Located in Imperial County, California, Mesquite Mine has a long, successful operating history and has been a strong, steady performer in NGD's portfolio. It is an open-pit, heap-leach operation. Mesquite is positioned to be a key cash flow contributor for years to come.
The mine exceeded gold production guidance in 2011, and cash costs were also within guidance. YTD, the Mesquite mine has produced 112,846 ounces of gold. As a result of lower grade ore being placed on the leach pad, production has been lower this year; this was partially offset by an increase in ore tonnes placed on the leach pad YTD. The company reiterated production guidance of $140,000 to 150,000 ounces at total cash costs of $710 to $730 per ounce.
The Mesquite mine has proven and probable resources of 2.7 million ounces of gold with an average grade of 0.56 g/t. The mine also hosts an additional 3.7 million ounces in measured and indicated resources with an average grade of 0.40 g/t and 0.5 million ounces in inferred resources at an average grade of 0.41 g/t.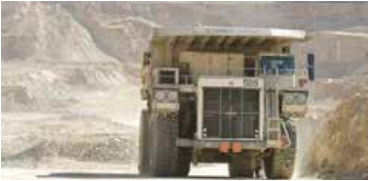 Mesquite Mine, Imperial County, California
Cerro San Pedro
Cerro San Pedro, the current top cash flow generator for NGD, had a record year in 2011 with all-time high production at record low costs. The project is well positioned to again provide NGD with significant gold and silver production at low costs. CSP is an open-pit heap-leach operation located in Central Mexico, about 20 kilometres northeast of the state capital city of San Luis PotosÍ.
CSP is a strong performer in NGD's portfolio. Gold production of 143,747 in 2011 was up 21% from 2010. YTD, CSP produced 105,412 ounces of gold and 1,537,230 ounces of silver, at total cash costs of $205 per ounce. We believe CSP is on track to meet its 2012 production targets of 140,000 to 150,000 for gold and 1.9 to 2.1 million ounces for silver, and beat its cost guidance of $250 to $270 per ounce.
CSP has proven and probable resources of 1.01 million ounces of gold at an average grade of 0.53 g/t and 30.44 million ounces of gold at an average grade of 15.98g/t.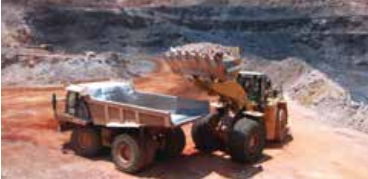 Cerro San Pedro, San Luis Potosí, Central Mexico
Peak Mines
Peak, the underground copper and gold producer located in the Cobar Field of Central West New South Wales, Australia, is NGD's highest cost operation. A higher Australian dollar and labor cost pressures in the Australian mining sectors are the major contributing factors for high cost operations.
With YTD production of 66.7koz of gold and 10.8 million ounces of copper, Peak is on track to achieve 2012 production guidance of 90,000 to 100,000 ounces of gold. However, YTD cash costs of $772 per ounce at NGD's Australian operations are higher than the guidance range of $640 to $660 per ounce.
Peak mines have proven and probable reserves of 606,000 ounces of gold and 66 million pounds of copper.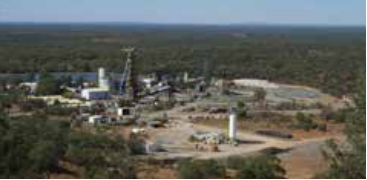 Peak Mines, New South Wales, Australia
Blackwater - the Next Flagship
The Blackwater project in BC, Canada is the company's largest gold resource and has the potential to become the company's biggest producer. The project is expected to become a major, long life gold and silver producer and by 2017 could double NGD's gold production. The company acquired the Blackwater project in a series of three transactions during 2011, beginning with Richfield Ventures Corp. in June, then Silver Quest Resources Ltd. and Geo Minerals Ltd. in December.
Since the time NGD acquired Blackwater, the project's mineral resources have shown significant growth. According to the latest figures, the combined indicated and inferred resources for gold are more than 10 million ounces and 65.2 million ounces for silver. According to the September 2012 preliminary economic assessment (PEA), the project is expected to start production in 2017 and over the initial 15 years of mine life, Blackwater is expected to produce 507,000 ounces of gold and 2,039,000 ounces of silver annually at total cash costs of $536/ounce. At assumed gold and silver prices of $1275 and $22.50 per ounce and 0.94 US$/Cdn$ exchange rate, the Blackwater project generates 5% NPV of $1.1 billion and an IRR (after-tax) of 14%. If we take the spot prices as at September 20, 2012, the date of the PEA, the 5% NPV and IRR shot up to $2.8 billion and 25.8% respectively.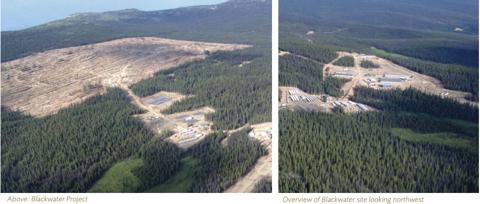 Blackwater, British Columbia, Canada
El Morro - the Ultimate in Optionality
The El Morro copper-gold project is located in the Atacama region, Chile, approximately 80 kilometres east of the city of Vallenar. The project is a joint-venture between NGD and Goldcorp (NYSE:GG), the owner and operator of El Morro. NGD owns 30% of the project.
Under an agreement between GG and NGD, GG has agreed to fund 100% of NGD's funding commitments until the commercial production starts at El Morro. NGD's share of capital funded by GG is carried at an interest rate of 4.58%. The commitment, plus interest, will be repaid out of 80% share of NGD's cash flows.
Construction was scheduled to commence in September 2012; however, the field work is temporarily suspended following Chile's Supreme Court ruling against approval of the El Morro project's environmental permit.
Commenting on the issue, NGD's CEO, Randall Oliphant, said that the court ruling that froze construction at El Morro may be lifted within a year. "We think it will be about 12 months. I think this is more an issue for the Chilean government than it is for our company," said Mr. Oliphant. "I think, given the importance of mining in Chile, and the scale of the projects that they have, they've got probably a greater vested interest in solving this than we do."
NGD's 30% share of proven and probable reserves include 2.5 million ounces of gold and 1.9 billion pounds of copper.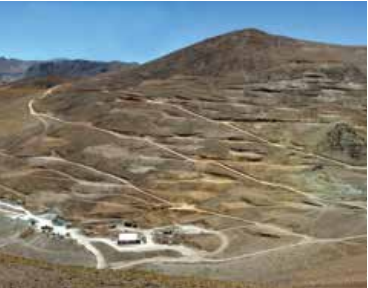 El Morro, Atacama Region, Chile
Financial and Credit Analysis
NGD's margins have increased from only $297 an ounce in 2008 to a record $1014 an ounce in 2011. With declining costs and New Afton adding to the production (2013: first full production year) these margins are expected to increase further in the next few years.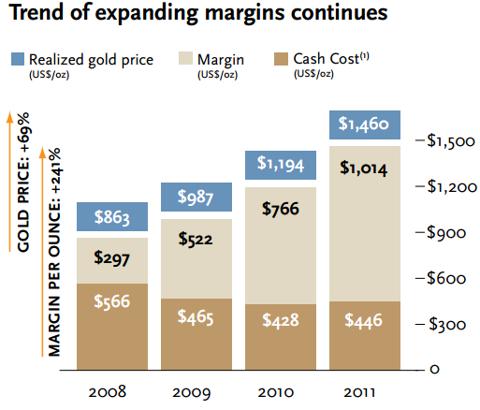 Source: Company documents
NGD has a long term earnings growth rate of 8% and an excellent PEG ratio of 0.20. PEG ratio is a better indicator of stock's potential value as it takes into account the company's expected growth rate. GG has a PEG ratio of 21.92, ABX of 12.4s3, and NEM of 2.0.
NGD is trading at $10.51; the stock is up 47% from its 2012 low of $7.13. YTD the stock has gained 5%, performing much better than its Canadian counterparts and the big players of the gold industry Barrick Gold (NYSE:ABX), Goldcorp, Newmont (NYSE:NEM) and Kinross (NYSE:KGC). ABX, GG, NEM and KGC are all down YTD.
NGD has a median 12 months price target of $15 and high target of $18.5, representing upside potential of 42% and 76% respectively. We believe the recent decline in the stock price following third quarter results represents a good entry point especially when the start-up risk for New Afton fritters away with time and production increases, bringing in more revenue. The stock is trading at a forward P/E of 14.2 compared to 45.58 trailing P/E, representing significant upside in earnings and price. According to CS, New Gold is trading on less expensive end relative to its peers, and its 2013E free cash flow yield is the second highest among its peers. We believe the market is pricing in New Afton's start-up risk, which is reflecting in NGD's multiples, but as the production increases at New Afton and start up risk fritters away, the stock will appreciate in value. 2013 is set to generate significant cash flows for the company.

Source: Google Finance
While some of the biggest gold miners (such as ABX) are struggling with the increasing loads of debt, which has increased the prospects of rating downgrades and the potential for higher financing costs to fund projects for the gold miners. ABX's debt is more than tripled to ~$14 billion from $4.5 billion in 2008, largely due to its $7.7 billion purchase of Equinox Minerals, a copper producer.
NGD at the same time is boasting a strong balance sheet. NGD has total debt outstanding of $856 million, on the other hand ABX, GG, NEM, and KGC have combined debt of $25 billion, significantly higher than the early 2000s when gold's latest 12 years bull run begun.
Both Standard and Poor's (S&P) and Moody's have a stable outlook on NGD. S&P in its recent press release on NGD said "The stable outlook reflects our view that New Gold's expanding production profile at declining cash costs should support financial flexibility and credit measure generation in the next 12-18 months".
The recent senior debt financing of $500 million provides NGD with additional financial flexibility. "Our financing initiatives have culminated in New Gold having the highest cash balance in its history," stated Randall Oliphant, Executive Chairman. "The company was able to successfully access the high yield market to secure long-dated debt in a historically low interest rate environment. We are proud to have increased our cash position by over $650 million with less than three percent dilution to our shareholders."
New Gold has debt/equity ratio of 0.17 compared to the industry average of 0.18, and better than the debt/equity ratios of ABX (0.55), KGC (0.2), and NEM (0.46). NGD's debt/asset ratio of 0.11 is also better than the other three gold miners. The company has EBITDA/Interest ratio (higher the better) of 42.7 compared to industry average of 18.46 and ABX, KGC, and NEM EBITDA/Interest ratios of 31.07, -39.68, and 10.25 respectively. Similarly, NGD's CFO/Total Debt ratio and Debt/EBITDA ratio are both stronger than its peers. The company has $856 million of total debt outstanding, out of which $800 million matures in 2020 and beyond.

Management and Board
We also like New Gold because of its experienced management team (more than 20 years of average experience), which has extensive mining sector knowledge and successful track record. NGD's Executive Chairman and Director, Randall Oliphant, has over 32 years of operational and 20 years of management and financial experience.
From 1999 to 2003, he was the President and Chief Executive Officer of Barrick Gold Corporation, the largest gold company. During his time at ABX he led an international expansion for Barrick into South America, Australia, and Africa, and created a pipeline of new mines that positioned ABX for future growth.
Since 2003, Mr. Oliphant has served on the boards of a number of public, private, and non-profit organizations. From 2006 to 2009, he was the Chairman of Western Goldfields Inc. Until the spring of 2011 he was also the President and Chief Executive Officer of Silver Bear Resources Inc. of which he remains a director and Chairman. Mr. Oliphant is also on the Advisory Board of Metalmark Capital LLC (formerly Morgan Stanley Capital Partners), and serves on the boards of WesternZagros Resources Ltd. and Franco-Nevada Corporation. Mr. Oliphant is a Chartered Accountant.
Robert Gallagher, CEO & President, has worked in the mining sector for more than 32 years and spent 15 years with Placer Dome Inc. From 2000 to 2007 Mr. Gallagher was with Newmont Mining Corporation, most recently as Vice President, Operations, Asia Pacific.
Before the business combination of Peak Gold, Metallica and New Gold, Mr. Gallagher was the President and the Chief Executive Officer of Peak Gold from February 2008. Mr. Gallagher holds a Bachelor of Applied Science in Mineral Processing from the University of British Columbia.
Brian Penny, Chief Financial Officer (NASDAQ:CFO), has over 23 years of mining sector finance and accounting experience. Since June 2009 Penny has been the Executive Vice President and CFO of NGD. In his previous roles he has worked as the CFO of three other companies (Western Goldfields from 2006 to 2009, Silver Bear Resources from 2005 to 2011, and Kinross Gold Corporation from 1993 to 2004). Mr. Penny is a Certified Management Accountant.
Other senior officers of NGD also have vast experience and knowledge of the mining sector. Ernie Mast, Vice President, Operations, has over 23 years of mining experience throughout the Americas. Armando Ortega, Vice President, Latin America, has previously worked at Southern Copper (NYSE:SCCO), Grupo Mexico, and Mexican federal government where he participated in trade negotiations with the US and Canada (NAFTA) and the European Union. Barry O'Shea, Vice President, Corporate Controller, has over 15 years of finance and accounting experience across multiple industries and countries. Mark Petersen, Vice President, Exploration, is an economic geologist with over 28 years of experience in precious and base metals exploration throughout the Americas.
Along with an exceptional management team, NGD also has a high-caliber Board of Directors, with many members offering years of management experience. The board members have vast mining, investing banking, and financial industry experience.
NGD's experienced management team and board have delivered results in the past and we expect the strong execution to continue in future especially with the new projects New Afton and Blackwater.
Recent Results
NGD reported adjusted third quarter EPS of $0.09, missing consensus analysts' estimates by 1 cent. This comes after 2Q12 beat by 1 cent. The miss was largely due to lower production at New Afton than the market had anticipated. However, one thing that should be kept in mind about initial production is that producers in order not to waste good high grade ore normally use lower grades as the mill and plant ramps up to full design rates.
The company reported 3Q12 total gold production of 104.6K ounces at total cash costs of $443/ounce sold. The combination of low cost and high average realized gold price per ounce of $1560 resulted in record margin of over $1100/ounce.
Revenues for the quarter increased to $195.5 million, an increase of 11% YoY and 4% YTD. Higher sales volumes across all metals and two months of commercial production at New Afton largely drove the increase in revenues.
CSP with $41.1 million contributed the largest earnings by any mine. With New Afton in production the total gold production increased by 16% to 95.2 million tons. On the other hand total copper production increased by ~450%, again largely due to New Afton. Total cash costs (net of by-product sales) decreased by $85 per ounce, a decline of 16%. NGD's total cash costs of $443 for 3Q12 were well below the industry average.
Company's cash generated from operations before working capital changes also increased YoY to $91 million from $80 million in 3Q12.
Gold Update
We believe a number of factors point to higher gold prices in coming months. Central bank buying across the globe continues and so do loose monetary policies and stimulus programs to spur economic growth. The Fed has converted Operation Twist into open end purchases of long term securities at a rate of $45 billion per month, meaning the Fed balance sheet will expand at a rate of $85 billion per month. Uncertainty lingers over the fiscal cliff negotiations and U.S. debt ceiling, and the Eurozone debt issue that just refuses to go away all point towards factors that contribute to uncertainty and higher gold prices. Moreover elections in European countries next year most notably in Germany can give further air to uncertainty. Gold-backed ETFs demand is also at record highs. Higher gold prices will further support our case on NGD; even at the current prices, NGD posts very handsome margins. With declining costs, increasing production, and increasing gold prices these margins will only expand. We maintain our positive outlook on gold prices.
Conclusion
For its high quality, low cost, safely located assets, combined with experienced management with a strong operating record, near term cash flow generation and long term growth profile, we have a buy rating on NGD. We expect strong near-term cash flows from this Canadian miner. Although the production at New Afton was light in 3Q12, we expect the company to put higher grade ore through the process plant in 4Q12 and 2013, resulting in higher production. As most of the pre-production capital expenditure is behind New Afton, the costs will also continue to improve as production ramps up, resulting in better margins. New Gold operates in stable jurisdictions; it has an experienced management team and a strong operating record. We expect nothing different from the company at its next flagship project Blackwater and new money spinner New Afton. While New Afton will continue to increase cash flows through 2015 at least, the Blackwater project will almost double the production by 2017.
New Gold is headquartered in Canada and is listed on both the New York Stock Exchange and the Toronto Stock Exchange with the same ticker NGD.
Risks to our analysis
Although NGD has very decent and increasing margins, a sharp decline in gold prices would negatively impact NGD's earnings. Gold prices can be volatile and are highly sensitive to macroeconomic factors including central bank policy, government fiscal policy, growth rates, and economic confidence. Moreover, any unexpected delay or issue related to NGD's growth projects can also put a downward pressure on the stock price. Variability in ore quality and structural issues related to company's mining operations can reduce production volume and can have a negative impact on earnings. Since NGD has operations in many countries, a volatile exchange rate also presents a risk to NGD's earnings.
Disclosure: I have no positions in any stocks mentioned, and no plans to initiate any positions within the next 72 hours. I wrote this article myself, and it expresses my own opinions. I am not receiving compensation for it (other than from Seeking Alpha). I have no business relationship with any company whose stock is mentioned in this article.