Rhino Resource Partners LP (NYSE:RNO) (hereafter "Rhino" or "the Company") is a coal producer operating in both the eastern, central and western United States. On November 7, 2012 (the day before election day), Rhino opened at $14.58; on December 14, it closed at $12.63 - a loss of $1.95/share, or 18.9%. During that period, Rhino traded down 18 days and up nine. More significantly, on October 24, Rhino closed at $17.02 (its most recent high), which, compared to its current valuation, means the Company's stock has dropped almost 25% in value in less than two months. Its 52-week trailing high was $21.67 on December 22, 2011.
In short, Rhino has been trending somewhat alarmingly downwards.
Some of the loss Rhino has sustained can be attributed to the political climate, particularly since President Obama's reelection. The current administration has been upfront in its commitment to more stringent environmental standards, and coal has frequently been a convenient whipping boy for environmentalists (not to mention labor-rights activists) - and, historically at least, perhaps rightly so.
At the same time, the market for coal (especially the "steam" coal used for generating electricity) has been depressed, in part because of the milder weather experienced in the winter of 2011-2012, but perhaps more significantly because of the increased use of natural gas for producing electricity. To further complicate matters, there has been a global decrease in demand for iron ore, the processing of which involves the use of metallurgical grades of coal; consequently, demand for metallurgical-grade coal has been depressed.
In this article, I intend to show that even though the current administration has set new standards for particulate emissions, coal is an environmentally viable source of energy. I also intend to show that while demand for coal may not reach the heights it enjoyed in the past, the demand is projected to increase above current levels. Finally, and most directly relevant to our purposes here, I will show what Rhino Resource Partners LP has been doing to position itself to be prepared for the future.
The Company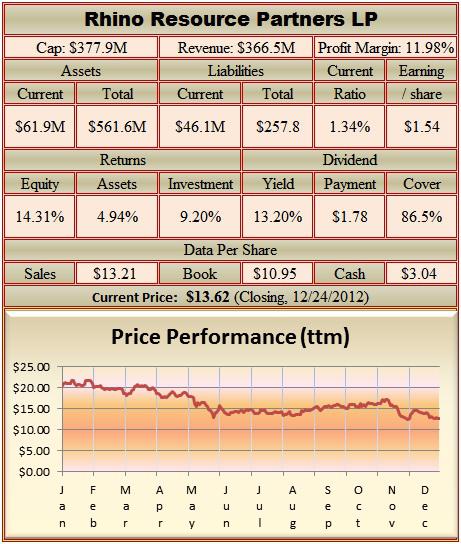 Rhino was initially formed as CAM Holdings LLC by Wexford Capital LP in 2003. CAM Holdings would eventually become known as Rhino Energy LLC, which is now a wholly owned subsidiary of Rhino Resource Partners LP. Wexford holds 74% interest in Rhino Resource Partners through its Rhino Energy Holdings LLC; the Rhino General Partners hold 2% interest; the remaining 24% interest is held by public shareholders.
Since inception, Rhino has pursued a strategy of gradually acquiring mining operations as well as purchasing land used for leasing rights to property having both proven and probable coal reserves as well as non-reserve coal deposits. The primary focus of the Company's operations is in the Northern ("NAPP") and Central ("CAPP") regions of the Appalachian coal region, along with operations in Utah and Colorado (referred to as "Rhino Western" or "Western") - the area in general is called the Western Bituminous Region.
In 2011, Rhino acquired the Elk Horn Coal Company of Eastern Kentucky, which has 156,000 acres of owned mineral and 14,000 acres of owned surface properties - a substantial portion of which is adjacent to Rhino-owned properties. Elk Horn has been principally a leasing operation, with a 100-year history of revenue generation, and is intended to provide Rhino with royalty revenues (currently approximately 8% of gross sales price).
In May 2012, the Company purchased two sites in the Illinois Basin, both with undeveloped but fully permitted reserves.
Rhino has also acquired 51% partnership in (and is manager of) a joint venture with Patriot Coal Corporation known as "Rhino Eastern Mining Complex" (hereafter, "Rhino Eastern" or "Eastern").
[NOTE: On July 9, 2012, Patriot Coal Corporation (OTCQB:PCXCQ) filed for bankruptcy under Chapter 11. In its 10-Q for Q3, 2012, Rhino acknowledged that the future of the joint venture may be uncertain; however, at present, operations continue as normal.]
In terms of tonnage, Rhino has access to 884 million tons of coal deposits, plus its 51% interest in 61 tons of deposits through Rhino Eastern. Of the 884 million tons it controls exclusively, 437 million tons are proven and probable reserves, with the remaining 447 million tons being non-reserve deposits. For Rhino Eastern, 43 million tons are proven and probable and 18 million are non-reserve.
[NOTE: Non-Reserve coal deposits have been examined and analyzed in terms of the size of the sampling, but have not yet been determined to meet SEC standards concerning the legal and economic feasibility of mining the coal; Reserve deposits are legally and economically extractable. Proven reserves have been clearly determined as to their quantity as well as their grade and/or quality. Probable reserves are determined to have a certain quantity and grade and/or quality, but due to the sites used to analyze the coal samples being too far apart, there is less degree of assurance of continuity of the reserves between test sites.]
The following graphic shows the distribution of Rhino's operations (the figures for Rhino Eastern reflect 100% resources, of which Rhino owns 51% interest):
In addition to its holdings in coal-bearing properties, Rhino has also acquired oil and gas mineral rights to two properties: the Utica Shale region in Ohio, and the Cana Woodford region of Oklahoma. The acquisition of rights in these properties included a portfolio of leases; it is the intent of Rhino to augment their income with the royalty revenues from these properties. Completed wells in the Utica Shale region have brought $7.4 million in lease bonus payments thus far, and Rhino will receive 20% royalties on gross sales. The drilling in Cana Woodford is still exploratory.
Returning to the Company's coal-producing operations, the company has the following mines in their management:
CAPP
Tug River (high-wall mine - Kentucky and West Virginia)
Rob Fork (underground mine - E. Kentucky)
Bevins Branch Mine (surface mine - Kentucky)
Deane (2 active underground mines - E. Kentucky)
NAPP
Hopedale (underground mine - N.E. Ohio)
Sands Hill (2 active surface mines - S.E. Ohio)
Western
Castle Valley (underground mine - Utah)
McClane Canyon (projected to be in operation in 2013 - Colorado)
Rhino Eastern (Joint venture with Patriot Coal - under Rhino management, with Rhino holding 51% interest)
2 active mines in West Virginia
Thus far, for the first three quarters of 2012, the Company's total revenue has been $265.5 million, with $225.7 million from coal sales, $4.9 million from freight and handling revenues, and $34.9 million from other sources. The chart below breaks down the sales according to region.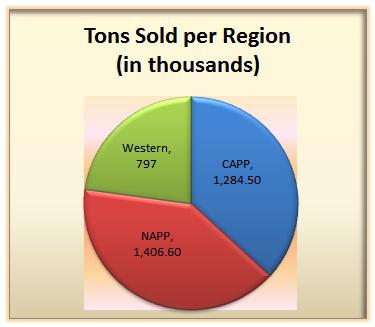 Based on the tonnage indicated above, the revenues for Q1 - Q3, 2012 are shown below. (Note: the region "OTHER" represents revenues from operations not involved with coal production. No data for Rhino Eastern is included. NAPP includes figure for Freight and Handling - "F&H.")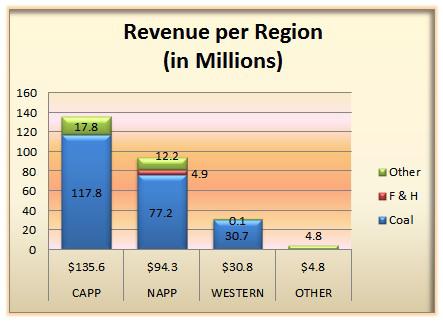 At this point, one might notice that while CAPP sold fewer tons of coal than NAPP, its revenues were more than 40% greater than those of NAPP. Moreover, where Rhino Western sold more than half of the tonnage of either NAPP's or CAPP's amounts, Western's revenues were one-third those of NAPP and less than one-fourth those of CAPP.
To understand the reasons behind this apparent incongruity, we must look at the type of coal produced in each region, and the costs associated with production. There are various grades of coal, but Rhino's coal production is involved with the two principal types: steam coal and metallurgical coal. Steam coal is the quality of coal that is used in power plants for the generation of steam or heat. Metallurgical coal ("met" coal) is used for the production of coke, coal from which impurities have been removed, leaving a product that burns hotter than steam coal, and is used in the production of iron from iron ore.
Metallurgical coal is categorized in four grades, the difference between grades being the level of "volatiles" (non-carbon minerals - principally sulfur - contained in the coal that gasify or vaporize during combustion) in relation to carbon content. The four grades are: Low Volatile, Mid Volatile, High Volatile and PCI. The first three met coals are used for producing coke, while PCI is used as a heating component in blast furnaces. Rhino focuses production on mid-volatile, high-volatile and PCI coal in three locations: Rhino Eastern produces met coal exclusively, while the Tug River and the Rob Fork mines in CAPP produce both met coal and steam coal.
Steam coal has a lower-volatile content than the met coals, thus burns cleaner, and is better suited to the pollution-control devices employed in power plants. It is produced in each region of Rhino's operations (except for Rhino Eastern, which is strictly met coal), but costs for extraction affect the selling price, and are dependent upon the region from which the coal is mined.
The following chart shows the difference between the costs and sales prices for both met and steam coals (per ton), broken down by region. (Note: costs for CAPP are based on both steam and met coals.)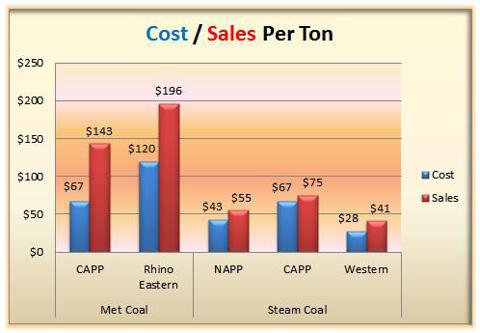 As one can see, the sales price for Western steam coal is 25% less than that for NAPP, and 45% less than that for CAPP - hence the difference in revenue. The lower price for Western coal is due to the substantially lower costs involved in Western operations.
It is important to note that with coal bought for domestic use the buyer pays for shipping; thus, it would be economically unfeasible for eastern users to buy the less-expensive western coal - the shipping costs would raise the overall cost of the coal to a point where it would not be competitive with coal mined in the east. Coal produced for export is transported to the carrier at the seller's expense, with the buyer paying for the transportation from the U.S. to its destination.
By way of summarizing this section and getting a better sense of Rhino's income-generating capacity, the following chart shows Rhino's most recent twelve-month income and adjusted EBITDA, according to their 10-Q for Q3, 2012. Over the past 4 quarters (Q4 2011 and Q1 - Q3 2012), Rhino's adjusted EBITDA was $93.1 million, as illustrated in the chart below (Rhino Eastern data reflects only the 51% interest held by Rhino):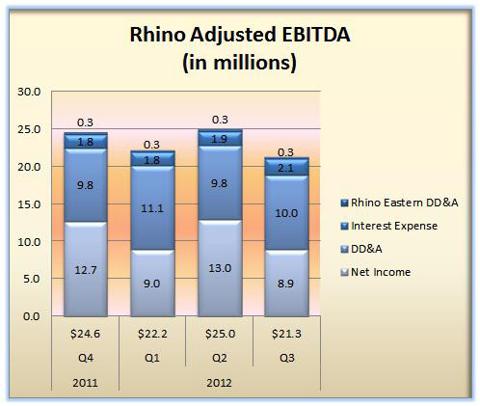 Demand
Rhino has been able to get contracts on all of its steam coal - and most of its met coal - for 2012; in fact, almost all of its steam coal production is under contract through 2013. Steam coal production from the Hopedale (NAPP) and Castle Valley (Western) mines are sold out through 2014. Rhino currently has contracts for steam coal for the next two years, with over 3 million tons contracted for 2013 and over 2 million tons under contract for 2014. The following charts reflect the breakdown of these totals and the prices per ton for each year: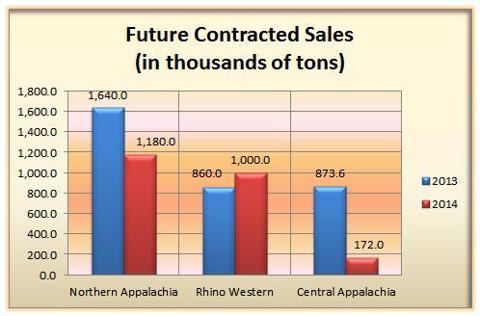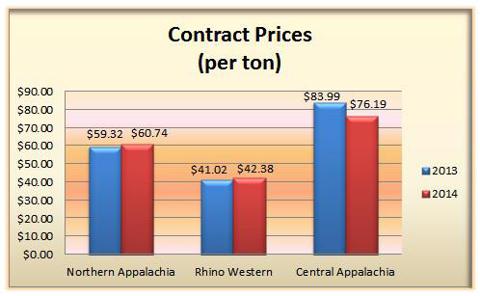 There are a few contracts for steam coal extending as far as 2016. Demand for 2013 met coal production has been determined by Rhino to be sufficient to enable Rhino to maintain its current workforce levels through next year.
While the above information is promising, and indicates that Rhino will be able to continue operations for the near future, there have been some signs of weakness: some of the Company's customers had to delay shipments of steam coal due to excessive stocks; for five consecutive weeks in the summer of 2012 (June - July) the majority of operations at CAPP were idled because customers delayed portions of their contracts. Idling the mines enabled Rhino to lower their inventory levels. Operations were resumed on July 9, 2012, customers have resumed shipments, and the majority of mines are now operating with full crews. In addition to idling the mines in CAPP temporarily, the McClane Canyon mine in Colorado has been temporarily idled until sufficient contracts can be secured to warrant a resumption of operations at that location.
The demand for coal is subject to a variety of factors: weather, economic conditions, metallurgical needs, power production and the use of natural gas. Overall, the winter of 2011-2012 was unusually mild, decreasing demands for both gas and coal. Economic conditions made natural gas a more attractive alternative where possible, as its price is lower than coal. There has been a global decrease in demand for iron ore - particularly in China, which had been a major importer of ore. China's demand for iron ore has been weak, although demand increased by 17% in November, 2012, according to Reuters.
Data from the Department of Energy expresses their belief that a brief decrease in demand will be followed by several years of gradual growth in the coal market. Their 2012 Annual Energy Outlook paints a fairly nice scenario for coal overall, although it is their opinion that Appalachian coal may become more difficult to mine. They see demand and supply rising in the interior regions (such as the Illinois Basin) and the west (the Western Bituminous Region) - particularly in the west, which they see as eventually producing more coal than Appalachia and the interior regions put together. The following charts illustrate the data the DoE is projecting through 2035.
The first gives us an overall view of their expectations: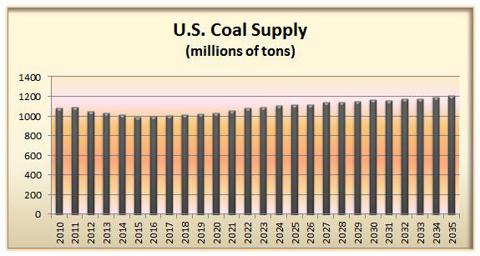 They are projecting a more productive year for Appalachian coal in 2013, to be followed by several years of diminishing production, leveling off after 2020: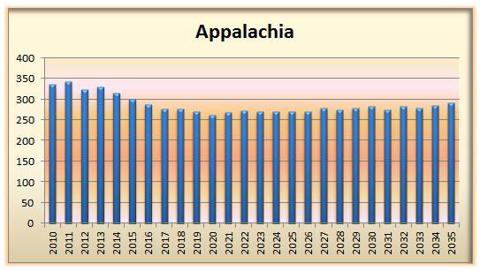 The interior region is seen beginning an increase in production beginning in 2013 through 2035: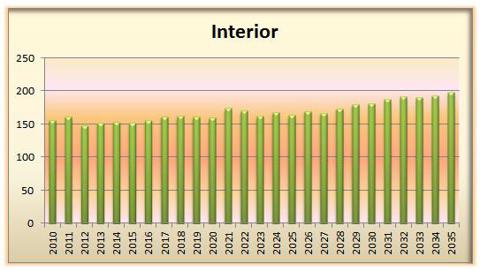 DoE's projections for the west have subdued production for the next few years (although still out-producing the other two areas combined), followed by a spurt of growth from 2016 - 2025, with slower growth from that point until 2035: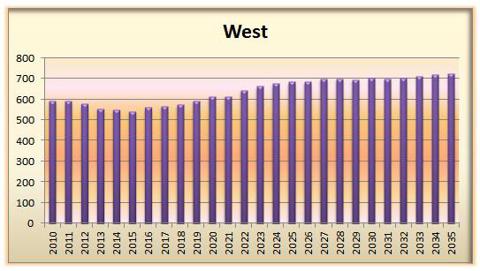 It should be mentioned that DoE's use of the term "Supply" refers to the result of production, rather than the amount of coal available. According to Rhino management, as long as they are able to keep a full, experienced workforce in their mines, they are able to produce according to need.
The most interesting projection offered by DoE is the price for coal. It is expected that coal will continue a gradual rise in price for the foreseeable future, nearly doubling its price in the interval from 2010 through 2035, as shown in the following chart:
DoE's price projections average together the prices for coal produced for coking (metallurgical coal), coal for other industrial uses (PCI, for instance), and steam coal. It should also be noted that, on the whole, the Department of Energy predicts increasing prices for all fossil-based fuels, so that similar (although not necessarily proportional) increases would apply to the prices for gas and oil.
[NOTE: of interest in DoE's itemized projections (not included herein for space considerations) is the inclusion of coal supplies to be utilized in the coal-to-liquids (or CTL) production. Projections show an expectation that this technology will be in use in the U.S. beginning between 2015 - 2017. The technology being developed - notably by Sasol Limited (NYSE:SSL) in South Africa - would enable the use of coal to produce gasoline and diesel fuel. This added demand could provide the incentive needed to further increase coal production.]
For its part, Rhino's management, in a presentation to Raymond James Coal Investors Conference, postulated that lower prices for natural gas was resulting in a decrease in production, and that that decrease in production would put natural gas at a disadvantage during winter months as residential demand increased. The argument presented was based on the thesis that with reduced production and increased demand from residential and industrial users, this would drive natural gas electric generation down, while at the same time driving up the cost of natural gas. The result of increased gas prices - as well as increased residential and industrial demand - would result in an increased demand for coal-based electric generation, with the resultant increase in demand for coal. Current inventories would be available for increased demand, and the effect on coal prices "should be positive." (The argument presumes a more normal (that is, colder) winter in 2012-2013 than the winter of the previous year.)
The above argument may be the product of Rhino's expectations for increased demand; it is also possible, however, that this reasoning reflects exposure to, and discussions with, the gas and oil producers working on Rhino-owned property. The argument, then, would seem to be a product of informed estimations.
With the above in mind, these are the projected near-term prices Rhino has estimated: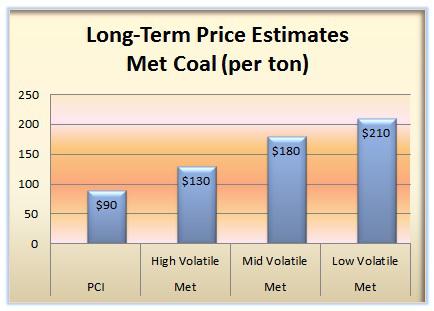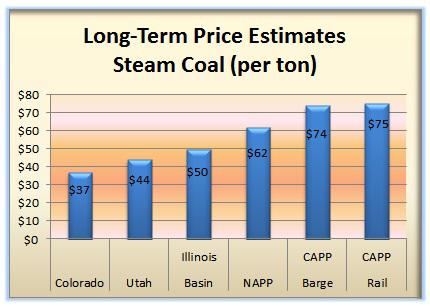 Comparing these prices to those projected for 2013 by the DoE, Rhino's projections seem appropriate and in keeping with a scenario of generally increasing coal prices for the foreseeable future. The bone of contention would be the dynamic involving the natural gas price and production scenario envisioned by Rhino, but even here, there does not seem to be significant deviation (in general conception) from projections by DoE but for the demand for natural gas in power generation.
Rhino's ability to sustain its operations through contracts for its steam coal, and the levels of its 2013 met coal production, enable it to maintain a full, experienced workforce in its mines, enabling the Company to pursue additional short-term and spot contracts, an approach that will persist until global needs for iron ore and the coke needed to process it increase - something that will require global economic conditions to improve. Such improvement is, perhaps, inevitable; when it occurs, however, is still uncertain. The flexibility of Rhino's operations will enable it to adjust as needed to satisfy coal demand as it arises, as we shall see later.
Environment
There are three areas we can consider under the heading of "environment": (1) the working environment in Rhino's operations; (2) environmental concerns about the mining process; (3) general environmental concerns about the use of coal. I will consider each in turn.
(1) Mining can be a dangerous occupation, and the history of coal mining is replete with stories of tragic mine collapses, sometimes hazardous working conditions, injuries and long-term effects (such as coal workers' pneumoconiosis - often called "black-lung" disease). Congressional legislation, as well as standards established by the Department of Labor and the Occupational Safety and Health Administration, have served to make mining as safe as practicable, and national trust funds have been established addressing the particular hazards faced by coal miners (the Black Lung Disability Trust, for instance).
For its part, Rhino recognizes the need for maintaining an effective, experienced and full labor force, and perceives that labor to be essential to the flexibility in operations that Rhino is trying to maintain. As an indication of its commitment to safe working conditions for its miners, Rhino has received seven "Sentinels of Safety" awards from the Department of Labor this year alone, directly attributable to several Rhino operating locations. In addition, Rhino's mines have had substantially fewer days lost for incidents than the national average (45.5% fewer), and the Company's operations have received fewer citations than the national average (32.6% fewer).
(2) Each of the three types of coal mining - underground, surface, and high-wall mining - presents certain challenges to the environment. Most obviously, surface and high-wall operations involve removing layers of soil to expose coal reserves, which reserves are then stripped from the exposed surfaces; and although underground mines may be, for the most part, invisible, they can impact the land around them - collapses and/or weaknesses that result in sinkholes, and underground fires that can be virtually impossible to extinguish, are dangers that persist even after the mines involved have become inactive.
Rhino has established a wholly owned subsidiary responsible for establishing a safe and environmentally responsible mining site, and for the environmentally sound reclamation of inactive mining sites. The subsidiary was formed to provide experienced teams of professionals to set up mines in which it was safe to work and which were begun and shut down in such a manner as to minimalize any damage to the environment, and leave the working site safe and reusable for non-mining purposes. The Company's efforts in reclamation have won an award sponsored by the Kentucky Department for Natural Resources and the Kentucky Coal Association. The subsidiary is available for engagement by other mining firms.
(3) Most environmental standards for emissions involve facilities that burn coal; however, for coal to be used most efficiently and effectively in the properly equipped facilities it must be prepared for use, and this is done before the coal is shipped from the mining company. Preparation (or, "prepping") plants are facilities that separate coal from various other materials that are collected with it in the mining process - dirt, rock, metal, etc. The process of prepping makes it possible to deliver to the customer a product that can be burned as effectively and efficiently as possible. Prepping coal also cuts shipping costs for the customer, as it removes substantial amounts of waste material that would otherwise increase the shipping weight - and the shipping cost - of the coal being purchased.
With the addition of a new preparation plant at the Tug River mining complex, Rhino currently has seven preparation plants and/or loadouts, where coal is cleaned, blended and loaded onto shipping conveyances. Prepping can be done in various ways, some effective for cleaning coarse coal, others more effective for fine coal. Each of Rhino's prepping plants are equipped with up-to-date facilities, and are capable of treating both coarse and fine coals.
Strategy
The key to Rhino's success is its business strategy which seems to involve three general principles: operational flexibility, financial responsibility, and diversification in acquisitions.
Rhino had its beginnings firmly in the traditional coal-mining regions of central and northern Appalachia, but its pattern of acquisitions shows its acknowledgement that an exclusive focus in that general area would have its limitations, although it has strengthened its revenue flow in the region by purchasing the Elk Horn properties for leasing purposes. Its acquisitions have spread out, however, to include the Interior Region (the Illinois Basin properties) and the Western Bituminous Region (Rhino Western), and these moves have enabled the Company to position itself well for increased demand (as noted above, the DoE projects both the interior and western regions to be areas of significant growth in coal demand).
As well as preparing itself for expanding its coal operations, Rhino has also acknowledged the realities of gas and oil demand, and the impact these resources will have on coal demand. The purchase of the Utica Shale and the Cana Woodford regions represent an effort to involve the Company in the development of fuel resources beyond coal.
The true value of Elk Horn, Utica Shale and Cana Woodford are the potential they have of providing Rhino (and its shareholders) with a long-term, stable, income stream. These investments represent revenue to be gotten for minimal investment and little to no operational involvement. Given Rhino's desire to grow responsibly, and within its limits, these plays make sense: investments such as these provide Rhino with the long-term cash resources needed to make further acquisitions without incurring excessive liabilities in the process.
Indeed, the Company's management has taken some pride in its performance in terms of the minimal liabilities they have undertaken, with regard to both funds borrowed to underwrite acquisitions and with the assumption of legacy liabilities associated with the properties they have acquired. In its presentation to Raymond James, the Company compares itself to six of its competitors: Alliance Resource Partners (NASDAQ:ARLP), Alpha Natural Resources (ANR), Arch Coal (ACI), CONSOL Energy (NYSE:CNX), Peabody Energy (NYSE:BTU) and Walter Industries (NYSE:WLT). In terms of debt/equity (mrq), Rhino leads its competitors with a 0.56 ratio, as shown below (in its presentation, Rhino compared "leverage," while I have opted for comparing debt/equity ratio):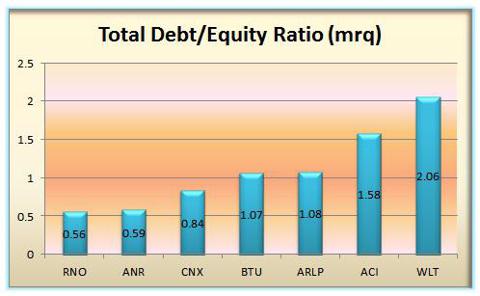 In terms of legacy liabilities compared to total tangible assets (legacy liability/total tangible assets), Rhino has the next-to-lowest percentage (8.8%), comparing with the competition as shown below: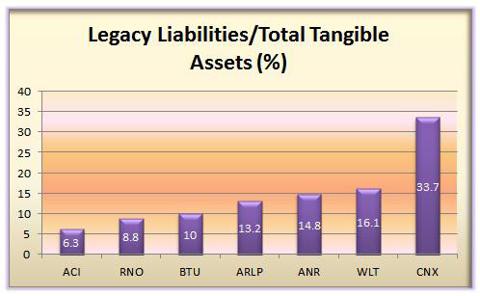 Without doubt, the involvement of Wexford in Rhino's management has enabled Rhino to gain access to potential acquisitions, although Rhino's activity in this regard - and Wexford's cooperation in this regard - is not obligatory or binding. Rhino has a $300 million senior secured credit facility with PNC Bank, N.A., of which approximately $170 million has been accessed; the credit facility expires in July, 2016. Rhino seems committed to funding its own way through expansion, however, and seems averse to using credit as an easy means to grow.
In terms of operational flexibility, Rhino expresses the importance of maintaining a full workforce, which it feels gives it the ability to adjust production to meet not only their currently contracted needs, but also to be able to take advantage of short-term and spot opportunities.
At the same time, the Company recognizes that it is not feasible to develop or operate a mine the product from which cannot be sold right away. The McClane Canyon mine in Colorado is one example: Rhino has idled the mine until it has acquired sufficient contracts to justify the placement of a full crew. Idling its CAPP mines for five weeks in the summer of 2012 in response to reduced production demands - and enabling the Company to draw down its production inventories - is another example of Rhino's ability to recognize variations in demand and respond accordingly.
In the Illinois Basin, the Pennyrile mine (western Kentucky) is being developed with a target of being in production by mid-2014. This is in response to increasing demand in the area as power plants add new pollution-control technology which is providing Rhino with a source of long-term, consistent-volume customers. The area provides advantages for transportation of coal, as it sits adjacent to the Green River which enables barge transport - and would even enable easy access to export markets. The other Illinois Basin location (Taylorville) is not scheduled for development until sufficient contracts can be secured for its product.
Besides its direct mining activity, Rhino has endeavored to establish a presence in other areas of mining operations (including those operations involved in gas and oil drilling):
Rhino Trucking was formed as a subsidiary to provide transportation and hauling for mines with no ready access to trains or barges; Trucking works primarily in Kentucky and southeastern Ohio.
Rhino Services is a wholly owned subsidiary that is responsible for mine construction, maintenance and reclamation; this gives Rhino the means to provide experienced, professional engineers and craftsmen for all aspects of mining that are peripheral to actual mining activities.
When it acquired the gas and oil plays at Utica Shale and Cana Woodford, Rhino established Razorback - another wholly owned subsidiary responsible for the construction of drill pads. It has constructed at least four drill pads this year.
Summary
Two things are most impressive about Rhino Resource Partners LP. The first is the Company's "tripartite" approach to diversification: it is stretching out beyond its Appalachian foundation to establish a national presence; it seeks to secure revenue not only through mining operations but through ancillary activities as well as through leasing/royalty revenues; it seeks to expand beyond coal to oil and gas opportunities.
The second impressive aspect of Rhino's operations is its persistence in the careful pursuit of its growth. As its management pointed out in a recent presentation, its intent is to "(e)xercise patience in developing assets since costs are low to carry mineral reserves." The Company sees wisdom in the concept of growth that is directed by opportunities that indicate the existence of a need that must be met, rather than developing on speculation. This approach has enabled Rhino to grow its business without growing its debt disproportionately.
Thomson/First Call has given Rhino a target price of $17.50. Assuming that the target takes into consideration the reduced demand coal has experienced recently, and assuming that Thomson's estimate is based on attributing the decreased demand for coal to electric production by natural gas, that price may be a reasonable estimation for the next year. It would seem almost certain that the target takes into account the expectation that increased air-pollution standards would be disadvantageous to coal use.
In the event of a more normal (or colder) winter, though, I can see where Rhino's expectation of an increase in demand in the short run would significantly raise the value of coal - and predictions have warned of a harsh winter. Further, any assumption that natural gas is going to diminish the use of coal in electric production is contrary to evidence provided by Rhino's initiating development of the Pennyrile mine in response to demand from power plants that have upgraded their scrubbers.
Rhino's predictions, moreover, accord with DoE estimations that coal demand - and price - overall will be increasing. The implementation of more advanced pollution-control technology, and the fact that the increased environmental standards do not take effect for several years (giving power plants more time to adapt) substantially negates fears that coal could become environmental anathema.
Considering the Company's conservative approach to growth, the target of $17.50 may also reasonably be taken as representing the value of a company that is pursuing its growth slowly. This is a difficult call to make. Rhino's approach to its operations and its growth is to eschew wasteful practices and ensure that its debt load does not exceed its ability to comfortably meet its obligations. This is a company that is committed to seeing its overall net worth increase - both in the way it conducts day-to-day operations, and in the way it grows itself.
Near term, I think it plausible that Rhino assume full ownership of the Rhino Eastern operation - particularly given the financial weakness of its partner. Mid-term, the development of its gas and oil properties means the generation of cash flow with minimal expense. Also, the increase in its operations at the Pennyrile location signify readiness to aggressively pursue upcoming increases in demand. Long term, I think it most likely that Rhino's acquisitions in both the Interior Basin and the Western Bituminous Region will grow - albeit at a measured pace, so as not to outstrip demand.
These activities would mean that while $17.50 may constitute an attractive valuation for the next six to nine months, a return to its values in the area of $20 is certainly no more than 12 - 18 months away (when Pennyrile is fully operational) - and even closer if spot demand, the demand for iron ore, and the demand for steam coal increase any more than modestly.
I do not see anything that would constitute a terminus for Rhino in the foreseeable future - therefore valuation significantly greater than $20 is a distinct possibility, although five years may be required to reach that point, given the time it takes to make a mine operational (approximately 18 - 24 months, using Pennyrile as a measure).
With these considerations in mind, Rhino might make for a challenging short-term play, but overall, I think it is better pursued as a long-term holding, both for its growth potential and for what it offers to an income-generation portfolio. Its generous dividend (which the Company seems committed to maintaining, and which should increase as revenues do) should keep shareholders happy as they wait for the long-term growth in value this company promises.
In conclusion, Rhino's potential is not a baseless ideal scenario. Rhino is actively developing its potential in a reasonable fashion as outlined in the first two paragraphs of this summary that will reap benefits for the Company and its shareholders for years to come.
Disclosure: I am long RNO. I wrote this article myself, and it expresses my own opinions. I am not receiving compensation for it (other than from Seeking Alpha). I have no business relationship with any company whose stock is mentioned in this article.
Additional disclosure: Unless otherwise indicated, data has been drawn from Yahoo! Finance and Motley Fool. Company data has been drawn from their 10-Q for Q3 2012 as well as company news releases and presentation materials available at the company website.