At the end of this month we'll be releasing our 2013 outlook piece -- The Bespoke Report -- which will have a section on commodities as usual. Below is a chart highlighting the year-to-date performance of ten widely followed commodities.
As shown, three of the ten commodities in the chart are down in 2012, while seven are up. Corn has posted the biggest gain in 2012 at 17.33%, which isn't that much for the top performer relative to some of the huge gains for commodities that we've seen in recent years. Natural gas and platinum are the only other commodities that are up more than 10%. On the downside, coffee has declined the most at -34.76%, followed by orange juice at -21.42% and oil at -7.97%. If oil's decline holds, it will be the commodity's first yearly decline since 2008 and just the second over the last ten years.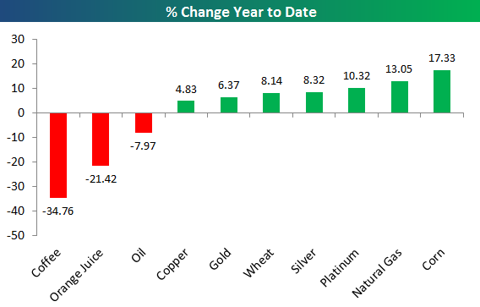 Below are our trading range charts for the two most widely followed commodities -- oil and gold. As shown, oil has actually moved to the top of its trading range (green shading) over the last few weeks, and it's also right at the top of its long-term downtrend channel. A break out of this downward sloping channel would be a bullish technical signal. Gold, on the other hand, is at the bottom of its trading range. While it may be due for a short-term bounce off of oversold levels, gold's technicals aren't looking so great here.