This is Part III of a series of four articles on building upon a dividend growth portfolio's core to attain custom results to suit your particular circumstances. Like the companion article on utilities, this aims at the older retired person who wants to add stocks for a high and steady income from their holdings.
The first article targeted the person just starting retirement, who needs to increase yield to meet current expenses and maintain a healthy dividend growth rate. Build On Your Dividend Growth Portfolio's Core To Meet Current Retirement Goals, Part I, is linked here.
The second article targeted the younger investor, the person looking to increase future yields, with less concern for immediate income. Increase Future Returns By Adding These 10 High DGR Stocks To Your Portfolio Core, Part II, is linked here.
The forth article is on Utilities and is a companion to this one. 5 Utilities To Add To The Core Of Your Portfolio For Bond-Like Returns, part IV is linked here.
The person this article targets might be a retiree of 5 to 25 years whose goal is to maintain or increase a hearty current return. The article gives a quick review of a portfolio's core and presents REITs as lucrative investments to increase the yield and provide steady, slowly increasing income. This article will equip the reader with information needed to add one or more REITs to their portfolio.
The Core of Your DGR Portfolio
We start with a core of strong blue chip stocks that are income-creating machines with consistent growth of their earnings and dividends. These powerhouses are some of the strongest blue-chip companies in the world. These range from Coca Cola (NYSE:KO) with its worldwide thirst quenching beverages, producers of household and healthcare items, Proctor & Gamble (NYSE:PG) and Johnson & Johnson (NYSE:JNJ) and two solid banks from Canada, the Bank of Nova Scotia (NYSE:BNS) and the Bank of Montreal (NYSE:BMO). All of these firms have a history of paying increasing dividends year after year. This collection of 20 companies, in which we will invest the bulk of our money, produces a yield of 3.9% and has a dividend growth rate (DGR) of 9.6%.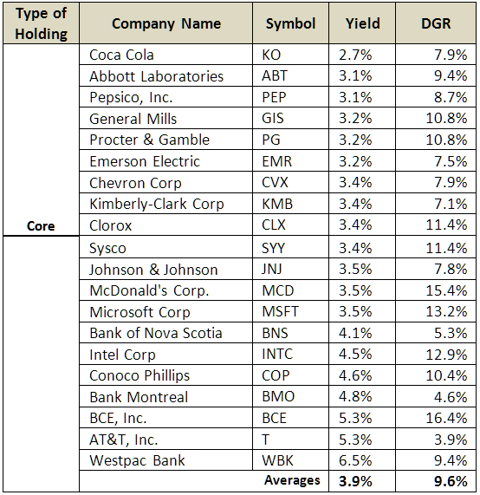 REITs and Utilities
In his 2012 letter to shareholders, Warren Buffett referred to U.S. Treasuries as currently offering investors "return-free risk." Real Estate Investment Trusts, REITs and utilities are types of equity holdings that can serve as "bond replacements." REITs provide high returns and often inflation beating Dividend Growth Rates, DGRs. Utilities, perhaps less risky, have slightly lower yields and slightly lower DGRs. A plus is that they also have lower betas. That is, they are less volatile. The next article in this series will feature utilities. I own both.
Real Estate Investment Trusts - REITs
A Real Estate Investment Trust is a way of owning income producing real property without the hassle of being a landlord. In addition, REITs offer liquidity because their shares, often referred to as units, trade like stocks on major exchanges. REITs offer reliable and sustainable income and strong potential for capital appreciation. Accordingly, with all of the uncertainty investors face, they are a safer haven than most equities. REITs own and sometimes operate income-producing real estate or are involved in the financing of real estate as mortgage REITs, or mREITs. Governed by special tax laws, they do not pay income taxes at the business level and must pass through 90% of their earnings to their unit holders. Therefore, they are the source of high yields. However, income from REITs is taxed at the ordinary income rate, not the 15% special dividend rate in effect in 2012.
REITs often specialize in one kind of real estate. That is, there are office REITs, and those who specialize in apartments, storage units, medical buildings, shopping centers, warehouses or lodging. One specialty is the area of triple net leases, where a tenant assumes all responsibility for a building. Stand-alone retail operations, drug stores, fast food are often in long term, 20 year or more, triple net leased buildings. Typically, this kind of REIT pays a high dividend. Another kind of REIT which typically pays high yields is the healthcare REIT. Some of these also lease properties on a triple net basis. We include these types in our selection of 5 REITs below.

In evaluating REITs for inclusion in this article, my short list came down to 11 companies. Six of the 11 names on that list had DGRs under 2.0%. Pushing the average DGR way above the norm, Digital Realty Trust has a DGR of 22.9%. *Throwing out that outlier, the average drops from 7.5% to 3.5%.
Digital Realty Trust (NYSE:DLR) - St. Louis Data Center, 7 minute Video
This company provides highly specialized space for data centers. This space meets high power requirements, and has power backup systems not only to keep the electronic equipment running but also the climate control. When you access the web site of large companies to order online or store your data in "the cloud" it might be in a Digital Realty building. Digital Realty is the largest of three public companies in this niche market. They have data-centers in more than 100 properties in over 30 markets around the world.
I see this company as a great way to keep up with technology with a bricks and mortar investment. This article in Forbes tells more about it.
As the company expands and matures, it would be unusual if they maintained such a high DGR. In the last 6 months, the stock eased back from a high of 80 and now stands at 68. This translates into a possible buying opportunity. They are ahead 1.5% in the last 52 weeks.
HCP, Inc. (NYSE:HCP)
This $20 billion market capitalization company is large when compared to the average REIT. HCP was the first healthcare REIT selected to the S&P 500 and the only REIT included in the prestigious S&P 500 Dividend Aristocrats Index following 27 consecutive years of dividend increases. They acquire, develop, lease, sell and manage healthcare real estate and are a capital partner to the leading healthcare providers. High barrier to entry markets, favorable demographic trends and solid real-estate fundamentals characterize their portfolio.
Their nearly $20 billion of assets under management is split into Senior Housing (30%), Post-Acute/Skilled Nursing (31%), Life Science (18%), Medical Office (17%) and Hospitals (4%). These are geographically diverse and located in 40 states and Mexico with the highest concentrations in California, Texas and Florida. HCP is up 8.7% in the last 52 weeks.
National Retail Properties (NYSE:NNN)
This company specializes in triple net leases to retailers in stand-alone buildings. It invests primarily in high-quality properties subject to long-term net leases. A net lease generally places substantial financial and operating responsibilities of property ownership, maintenance, utilities and taxes on the tenant rather than the landlord. Their leases typically provide for attractive initial yields and potential growth in cash flow through a combination of base rents, periodic increases in these base rents and/or percentage rents based upon tenant sales.
They own a diversified portfolio of 1,530 investment properties in 47 states with total gross lease area of approximately 18.3 million square feet. These properties are leased to more than 300 tenants in 36 industry classifications. This company built its reputation on being a reliable business partner and a reliable investment. NNN is up 18.5% for the year, besting the S&P 500 by 5%.
Senior Housing Properties (NYSE:SNH)
Senior Health Properties owns independent living and assisted living communities, continuing care retirement communities, nursing homes, wellness centers, medical office, clinic and biotech laboratory buildings located throughout the United States. The majority of their properties are triple net leased.
SNH owns 369 properties located in 38 states and Washington, D.C. The value of these properties is $4.7 billion. Their portfolio includes 249 senior living communities, 2 rehabilitation hospitals, 118 properties leased to medical providers or related businesses. This totals 8.4 million square feet of space. They are an investment grade rated company and a member of the Russell 1000. This high yield stock is up 4.5% for 52 weeks.
Omega Healthcare Investors (NYSE:OHI)
The Company owns or holds mortgages on 460 skilled nursing facilities, assisted living facilities and other specialty hospitals with approximately 53,269 licensed beds located in 33 states. These are operated by 47 third-party healthcare operating companies. This makes it nearly a pure play on nursing homes; it is the largest REIT in that business. The over 65 population is exploding as the boomers reach retirement age and another fast growing segment of the population is the over 85 group. The demographic outlook is good for this business.
One of the highest yielding major healthcare REITs, OHI is up 20.7% in the past 52 weeks, 7% ahead of the S&P 500.
Summary Financial Statistics Table - 5 REITs
(click to enlarge)

One-Year Chart - 5 REITs
(click to enlarge)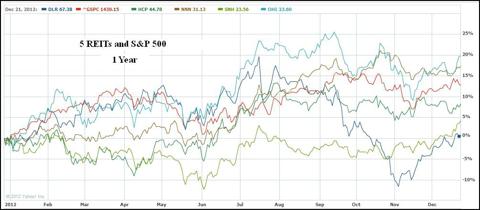 Conclusions
Both REITs and Utilities offer the investor the opportunity to increase the yield of their portfolio with steady income producers. REITs offer a better yield, often about 1% better than utilities. REITs also offer a higher DGR and better 5 year projected earnings. REITs are the clear winners when it comes to returns, both now and in the future.
However, Utilities come out ahead in other measures, those that point to lower risk. Those factors are a much lower beta, often in the 0.33 range, and a larger average market cap. Many have been in business 100 years and they provide regulated services in concert with state regulators.
Higher rewards or lower risks and a smoother ride? It is up to you.
The companion article on utilities makes further comparisons. Part IV of this series is linked above as are Part I and Part II.
Another related article is, Improve Your Dividend Growth Portfolio By Lowering your Risk.
I also suggest the articles of Brad Thomas, Seeking Alpha's Number 1 author on REITs. His recent article on NNN was an editors' pick.
Disclosure: I am long NNN. I wrote this article myself, and it expresses my own opinions. I am not receiving compensation for it (other than from Seeking Alpha). I have no business relationship with any company whose stock is mentioned in this article.