This is Part IV of a series of four articles on adding to a dividend growth portfolio's core to obtain custom results to suit your particular circumstances. Like the companion article on REITs, this is aimed at the older person who wants to add stocks for a high and steady income from their holdings.
The first article targeted the person just starting retirement, who needs to increase yield to meet current expenses and maintain a healthy dividend growth rate, Build On Your Dividend Growth Portfolio's Core To Meet Current Retirement Goals, Part I, is linked here.
The second article targeted the younger investor, the person looking to increase future yields, with less concern for immediate income. Increase Future Returns By Adding These 10 High DGR Stocks To Your Portfolio Core, Part II, is linked here.
The third article is on REITs and is a companion to this one. 5 REITs To Add To The Core Of Your Portfolio For High And Steady Returns, part III is here

.
The person this article targets might be a retiree of 5 to 25 years, whose goal is to maintain a superior current return. The article gives a quick review of a portfolio's core and presents utilities as lucrative investments to increase the yield and provide steady, reliable income. Of all the kinds of common stocks that exist, utilities are the most bond-like. As a distinct sector, they also add diversity to your holdings. This article will equip the reader with information needed to add one or more utilities to a portfolio.
The Core of Your DGR Portfolio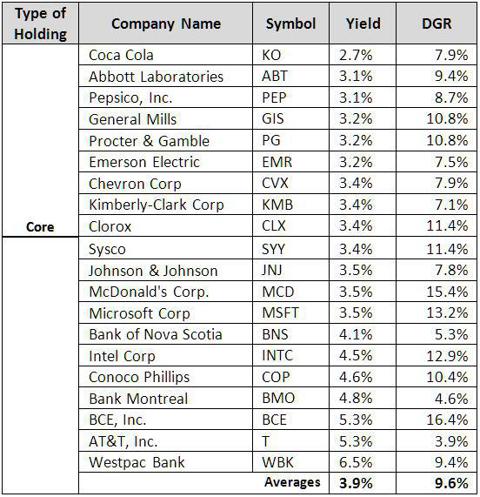 These strong stocks are the backbone of our economy. They have consistent growth of their earnings and dividends year in and year out and some have paid dividends for over 100 years.
These blue chips are some of the strongest companies in the world. Proctor & Gamble (NYSE:PG) for example has an annual budget larger than the GDP of New Zealand. Abbott Labs (NYSE:ABT) makes more than 50% of its sales in 120 countries outside the United States. It has operations in 40 of these. Our core stocks come from many different sectors and some headquartered outside the US. That is, a Canadian telephone company and an Australian bank, top players in their industries that have economic moats. All of these firms have a history of paying increasing dividends year after year. This collection of 20 companies, in which we will invest the bulk of our money, produces a yield of 3.9% and has a dividend growth rate (DGR) of 9.6%.
Utilities
The utilities we selected below are probably much like the one that provides you with your electricity and cooking and heating gas. They all serve end user customers and to one extent or another are in the business of power generation and distribution. All are electric companies - in addition, some are also gas companies. A utility has a monopoly with the retail users in a geographic service area. Usually it is a state utility commission that serves to protect the public interest by making sure the utilities do not overcharge the customers. They also set the rates high enough so that these private corporations can make a profit and invest in new plant and equipment. Called regulated utilities because of this involvement of state regulatory agencies most of them, however, also engage in non-regulated activities. These include selling power on the open market from excess generating capacity to trading in oil and gas commodities. Below are five candidates for your portfolio.

Dominion Resources (NYSE:D)
Dominion, based in Richmond Virginia, serves retail electric and gas customers in 15 states. It is a $29.5 billion market cap company with 15,000 employees. It is a major generator of electricity for its customers and distributes 28,000 MW of generation with approximately and 6,300 miles of electric transmission lines. It sells electricity wholesale and on the merchant market. Dominion serves its retail customers with 56,800 miles of electric distribution lines. The gas operations include 11,000 miles of natural gas transmission, gathering, and storage pipeline and distribution pipelines of 20,800 miles.
This company is in a favorable regulatory environment. It has able management that continues to add focus to the business by divesting non-core businesses and unprofitable operations. The stock is down 1.9% in the past 52 weeks. It is fairly valued by some measures but the high P/E of 25 means you pay a premium to the market and to the industry.
Consolidated Edison (NYSE:ED)
Founded in 1884, this $16 billion company keeps the lights on in Manhattan. It provides electric services to approximately 3.3 million customers in New York City and Westchester County; gas to approximately 1.1 million customers in Manhattan, the Bronx and parts of Queens, and Westchester County; and steam to approximately 1,735 customers in parts of Manhattan. It also has customers in nearby parts of New Jersey and Pennsylvania. It is a sold, stable and enduring corporation. It suffered damage from the storm Sandy, but that should not have a long-term effect.
Regulatory issues seem manageable. This company will doubtless continue its slow growth for the foreseeable future. Con Ed began the year greatly overvalued, but its stock is down nearly 10% for the year bringing it into fair value range.
Southern Company (NYSE:SO)
I have read that this $38 billion firm with over 500,000 shareholders is the most widely held equity in the United States. With 4.4 million customers and more than 43,000 megawatts of generating capacity, Atlanta-based Southern Company is the premier energy company serving the Southeast. It owns electric utilities in four states and is a growing competitive generation company, as well as a fiber optics and wireless communications provider.
Southern is on good terms with its regulators, partly because of its low-cost generating fleet, predominately powered by coal. It is relatively popular with its customers and has good relations with business partners. Southern continues to capitalize on still above-average population and economic growth in the Southeastern U.S.
Southern's stock is down 5.6% for the last 52 weeks, bringing it near or at a fair valuation.
Duke Energy (NYSE:DUK)
Duke is a $30 billion company and is now the largest regulated utility in the United States, following its merger with Progress Energy. Duke battled with regulators for months concerning the terms, and the press had a heyday with unexpected leadership changes. Finally, that is over. (I am a customer of Progress Energy.) The combined companies have 58,000 megawatts of generating capacity and about 7 million retail customers.
Duke has a history of conflict with several environmental groups. I consider this a risk factor. Duke has the potential to realize considerable economies of scale, the benefits sought in the merger with Progress. I believe that it will realize them and that it will remain a faithful dividend payer. Duke's price is down 1.8% for the year but it is still slightly overvalued. It has a P/E of 20.4.
PPL, Corp. (NYSE:PPL)
The headquarters of the $17 billion company is in Allentown, Pennsylvania. PPL has over 10 million customers and it is one of the faster growing companies in the utility sector. One of its seven operating companies is UK based, where it serves customers in the Midlands, the Southwest and parts of Wales. Besides its retail operations, it has a competitive position in market generation and trades in electricity, petroleum products, coal and renewable energy credits, from trading centers in Allentown and Butte, Montana.
PPL's financials look very good for the past three years, after a bad 2009. There is no reason to believe that its young management team will not continue to grow the top and bottom lines. This is the only undervalued stock in this group.
Summary Financial Statistics Table - Utilities

5 Utilities - 1 Year Chart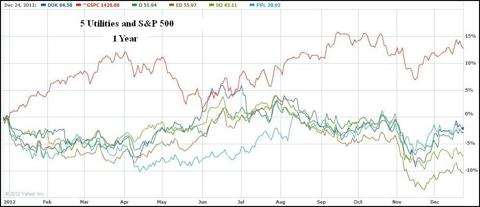 Both REITs and utilities offer the investor the opportunity to increase the yield of their portfolio with steady income producers. The utilities are clearly the more bond-like of the two offerings. Traditionally known as "widows and orphans" stocks, they are usually trouble free long-term investments. They have low betas and small price swings. The REITs discussed in Part III offer 1.1% better yield than these selected utilities. REITs also offer a better DGR at 7.5% compared to 3.6% and better 5 year projected earnings, 5.1% to 3.6%. REITs provide larger returns, both now and for the future.
However, Utilities come out ahead in other measures, those that point to lower risk. They are the most stable of any common stock investments. The ones shown, and these are typical, have a 5-year beta of 0.33 compared to 0.99 for the REITs. And, because market volatility has decreased in 2012, the 3 year betas are lower than the 5 year betas presented above. Larger market caps, $22 billion compared to $5 billion on the REITs discussed, lend stability. The ROE is better with the utilities too, 10.3 on average compared to 7.5 for the REITs. Utilities are the anchors of many portfolios.
If you buy REITs you get higher rewards, but the utilities offer you lower risks and a smoother ride. It is up to you.
Utilities and REITs, Compared

Part I, Part II and Part III are linked at the beginning of this article.
Another related article is, Improve Your Dividend Growth Portfolio By Lowering your Risk.
Disclosure: I am long PPL. I wrote this article myself, and it expresses my own opinions. I am not receiving compensation for it (other than from Seeking Alpha). I have no business relationship with any company whose stock is mentioned in this article.