LeapFrog (NYSE:LF) is exactly the type of stock we love. It's cheap, has optionality that could create meaningful upside, is gaining significant market share, has an underappreciated margin of safety, and with significant short interest, is not uniformly loved by the street. Given the company's significant insider buying, outstanding track record over the last 2 years - including 7 consecutive earnings beats - we are shocked shares currently trade at $8.03 and have experienced a recent spike in short interest. With $3+ in projected cash per share at the end of 1Q and $4 of NOLs per share based on NPV value (we have not seen this mentioned in sell-side reports), we see limited downside. We believe shares should double or more, over the next 12 months, and would not be surprised by a positive 4Q earnings preannouncement.
When we first wrote a bullish piece about LeapFrog last January, shares were trading at $5.57. Since then, they more than doubled to a high of $12.28, but have since pulled back to $8.03 - a 44% gain. Our thesis at the time was that LeapFrog's LeapPad tablet represented a game changer, with LeapFrog having identified and claimed the educational/entertainment tablet segment for ages 3-9. Further, like Apple (NASDAQ:AAPL), it had the potential to create an ecosystem with strong IP/content partners and high margin apps. To date, this thesis is playing out ahead of our expectations.
As we assess LeapFrog today, we think it's a compelling story. Specifically, we like LeapFrog because it:
Is gaining market share
Has significant optionality, with several initiatives that could make this not just a double, but a multi-bagger
Has a cash-rich/debt-free balance sheet and NOLs that create a substantial margin of safety
Would be extremely accretive to multiple potential acquirers
Trades at a low multiple, under 10x consensus 2012 EPS of $0.83 - we expect EPS to ultimately be closer to $1.00
Consistently beats analyst estimates (7 consecutive quarters) and should do so again in 4Q
Has had widespread insider buying.
We detail several of these points below.
LeapFrog is Gaining Significant Market Share
LeapFrog's revenue is up 37% y/y through the end of 3Q, in the backdrop of a toy industry that has seen revenues decline versus 2011. There has been an ongoing shift from traditional games and toys toward tablets.
We believe LeapFrog has achieved a truly extraordinary accomplishment in what they have done in the tablet market. They have established a clear identity in the market by defining themselves as the educational/entertaining tablet platform for ages 3-9. The magnitude of this accomplishment should not be underappreciated. When we look at Microsoft's (NASDAQ:MSFT) Surface, Amazon's (NASDAQ:AMZN) Kindle or Barnes and Noble's (NYSE:BKS) Nook, we wonder what their consumer proposition is. Originally the Kindle and Nook existed as outstanding e-readers. Now, other than lower price, it is hard to identify why a consumer would choose Kindle or Nook versus Apple's iPad. Apple has created a perception, some would say undeserved, of a superior, more innovative product, with a better ecosystem. Similarly, in its niche, LeapFrog has become the de facto leader - and with over 325 apps from dozens of partners that now include Disney (NYSE:DIS) and Hasbro (NASDAQ:HAS), LeapFrog is developing an ever expanding ecosystem.
To put it in perspective, by our estimates, Microsoft's 2013 Surface sales are likely to be lower than LeapFrog's LeapPad 2 sales - despite the fact that Microsoft is spending $400 million on Surface advertising, almost 20 times LeapFrog's entire annual advertising budget.
Optionality
While LeapFrog is enjoying strong organic growth, we believe there are several things that could materially accelerate their story.
LeapFrog has announced a partnership with Lionsgate to release 4 films starting in 2014. While it is unclear precisely what will develop from this, the move into content creation offers asymmetric possibilities - with limited cost and risk, while potentially becoming a large new profit center.
In addition, while the LeapPad 2 is growing significantly, LeapFrog is not stagnating. Just like the LeapPad 2 quickly replaced the original LeapPad, it appears that LeapFrog has something exciting in the works in 2013
"And as we sit and looked at it, we got a couple of things we're working on that we're investing some money on for the future. But we're really excited, and you guys will see all of those when we launch them in April of next year."
Source: LeapFrog CEO John Barbour, 3Q earnings conference call
Finally, the development of the LeapPad 2 ecosystem creates very exciting possibilities. The more the ecosystem develops, the more insulated LeapFrog becomes from emerging competition. Further, the more LeapFrog may look like a software company, with expanding margins and better cash cycle dynamics.
Excellent balance sheet - could support buyback - and significant NOLs
Superficially, LeapFrog does not appear to be a cash rich company - at least at the end of 3Q. However, LeapFrog operates in a highly seasonal business, and we believe the best metric to measure continued cash improvement is by analyzing growth in working capital - or looking at quarters on a y/y basis. Given the expected growth in cash, we believe at these levels, a share repurchase program would be compelling and could be instituted in 1Q.
As of the end of 3Q, LeapFrog had $49 million of cash, almost $217 million in working capital, and no debt, versus $25 million and $150 million of working capital in the same period a year earlier. In 4Q 2011, LeapFrog used $35 million of its $75 million credit facility to support growth, whereas management said it would not need its credit facility this year. Given the extreme seasonality of LeapFrog's operations, cash peaks in 1Q as receivables are collected and inventory is low. For example, at the end of 1Q 2012, LeapFrog had almost $135 million of cash. By our estimates, at the end of 1Q 2013, cash is likely to exceed $210 million - over $3 of cash per share. We believe that in 1H 2013 LeapFrog will be in a position to announce a $50-$75 million share buyback (approximately 10% of shares outstanding), should shares remain significantly undervalued.
LeapFrog 4 quarters trailing balance sheet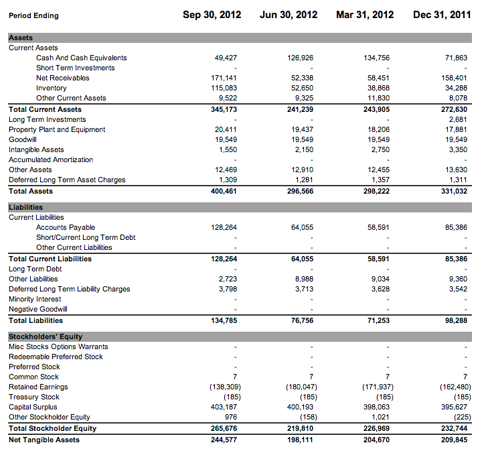 Source: Yahoo Finance
In addition to its cash, LeapFrog also has significant NOLs. We calculate the NPV of NOLs based on LeapFrog's 2011 10-K which indicates that at the end of 2011 the company had $202 million of Federal net operating loss carryforwards, and $220 million on the state level. Considering the profits in 2012 and the allowed usage based on the IRS 382 limitation, by our estimates, the NPV of the amount of NOLs usable by an acquirer is approximately $4 per share - in the event LeapFrog remains standalone the value is closer to $5.

Source: LeapFrog 2011 Form 10-K
In total, between its cash and the value of its NOLs, we believe LeapFrog's downside is $7+. Since we have not seen NOLs discussed in sell-side research, the significant upcoming cash balance or the potential for buybacks, we believe short sellers must be missing these points as we are mystified as to what they're playing for.
Attractive to acquirers
We believe LeapFrog would make a very attractive bolt-on acquisition to several acquirers. Specifically, we think both Hasbro and Mattel (NASDAQ:MAT) would be very interested in LeapFrog.
According to leading toy industry analyst Sean McGowen of Needham, discussing current toy industry dynamics with The Financial Times, "The top two guys, Mattel and Hasbro, they are terrified. They should be terrified, but the official party line is they're not terrified."
Neither Hasbro nor Mattel has an entry in the tablet space. To develop, advertise, find partners, and take share could be a long, costly and uncertain process.
By our estimate, LeapFrog will have approximately $70 million of operating income in 2012, and $160-$170 million of operating expenses. We estimate that approximately $40 million of op-ex could be eliminated in an acquisition - duplicative executive management, headquarters, sales operations, accounting/audit/public listing, etc. We believe realistically a buyer could expect $110 million in "normalized" trailing operating income. In addition, top-line would likely continue to enjoy rapid organic growth in 2013 and benefit from a broader sales capability. We think a buyer could easily pay 8x "normalized" operating income, or $880 million (approximately $13 per share). In addition, the buyer would buy $3 per share in cash and $4 of NOLs. Therefore we think LeapFrog could be acquired for $19-$20.
Consistently beats estimates
According to Zacks research, LeapFrog has now exceeded analyst earnings estimates 7 quarters in a row. We expect this pattern to continue in 4Q as well. Management guided full year revenues of $535-$550 million, implying 4Q revenues of $198-$213 million. The street is at $217 million and $0.47 (3Q was $0.60, including approximately $0.08 of tax benefits). Revenues of $217 million represents a deceleration to 12% y/y growth versus the 37% y/y growth achieved through the first 9 months. While management cited the potential for some pull-in into 3Q on its 3Q earnings call negatively impacting 4Q, we think they were being quite conservative - especially considering the magnitude of recent earnings beats. Management also attributed caution about the economy in providing 4Q guidance. At the same time, they noted that they had a far stronger inventory position than 2011 to service upside, should there be upside demand.
Looking at LeapFrog's year-to-date results is striking. When they reported 4Q11 results they guided 6-8% y/y revenue growth and EPS of $0.40-$0.45. After 3Q12 their full-year guidance stood at 18-21% y/y revenue growth and EPS of $0.75-$0.81. Not only has LeapFrog beaten, they continuously revised higher by a significant magnitude.
We think any 4Q caution from management has proved unwarranted as all evidence points to the LeapPad 2 being virtually sold out throughout the holiday season despite higher initial inventory and a supply chain far more prepared to replenish inventory.
Despite constant restocking, the top selling green LeapPad 2, and pink LeapPad 2 princess bundle was unavailable at Walmart (NYSE:WMT) on December 22nd.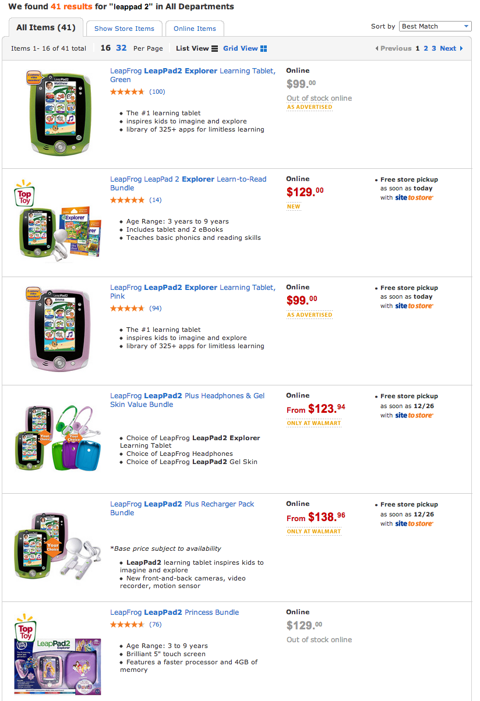 Source: Walmart Website 12/22/12
In addition, the pink was sold out and no longer listed on the LeapFrog website and the green was limited to 2 per purchase because of demand.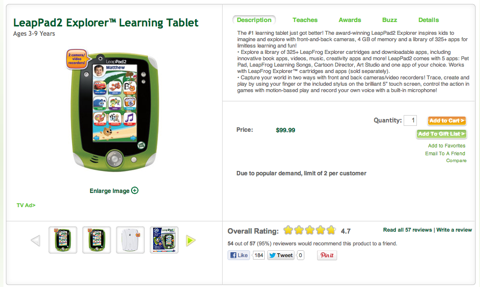 Source: LeapFrog Website
Whether at Target (NYSE:TGT), Amazon, Toys R Us, or elsewhere, the LeapPad 2 has been consistently sold out. An exploration of top education or learning toys on Amazon was filled with a wide variety of LeapFrog products throughout 4Q.
In addition, momentum appears robust internationally as well, including in the UK, where the LeapPad 2 was the number 1 selling tablet device in early December.
Unquestionably, LeapFrog continues to enjoy substantial business momentum. We believe 4Q revenues could approach $240-$250 million and EPS could be $0.60-$0.65, resulting in full year EPS of approximately $1.00.
Widespread insider buying
Over the last 6 months there has been widespread insider buying. Notably, following 3Q earnings in early November, CEO John Barbour, CFO Arthur Raymond and Chief Marketing Officer Greg Ahearn purchased, 15,000, 12,600, and 6,570 shares, respectively. In addition, Board directors Owen Rissman and Stanton McKee bought 50,000 and 25,000 shares respectively. In fact, since July 9, other than a sale of 50,000 shares by Board member Thomas Kalinske in August at $11.60, there has been consistent buying - including 10,000 shares by Arthur Raymond at $10.35 on August 3rd. Any other sales were to pay taxes associated with option exercises. Clearly management and the Board appear quite confident regarding the company's prospects.
Consistent Insider Buying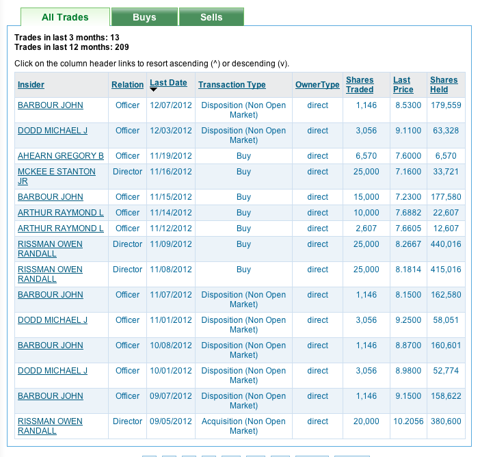 Source: Nasdaq.com
Growing short interest
In recent months, LeapFrog's short interest has grown dramatically, from 2 million shares in July, to 11 million shares on November 30th.
We are mystified as to the reason for this sharp increase in short interest. While we are well aware of the many toy, gaming, and electronics companies that have gone out of business over the years, and the potential for fad products, we think the shorts are getting it wrong. We have already covered LeapFrog's accelerating momentum and an expanding ecosystem. However we think the shorts are taking a static view of the balance sheet. With cash likely to exceed $3 per share at the end of 1Q and $4 per share of NOLs, we don't know what shorts are playing for. We see no more than $1 of downside and the potential for a buyout anytime at 2x the current price, in a transaction that would be accretive for the buyer.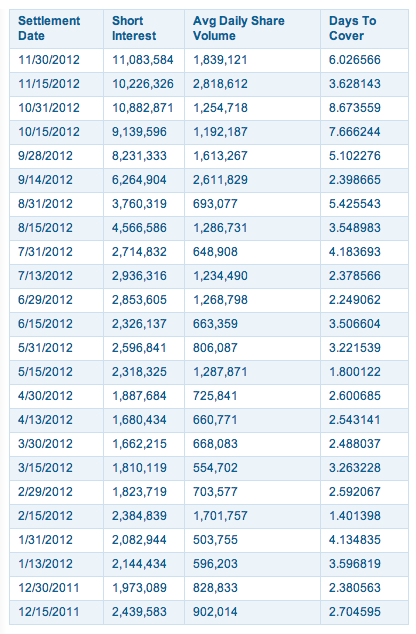 Source: Nasdaq.com
Conclusion
We believe shares of LeapFrog will double (or more) in 2013. LeapFrog has numerous leading educational products, but clearly LeapPad is the key growth driver. We are aware that the fortunes of a hot toy can change quickly - which is probably the main thesis among shorts - but having successfully defined their tablet, we see LeapFrog's growth prospects as exceptionally solid - especially considering the secular interest and growth in tablets. In our view, upside significantly outweighs the risk, with downside protected by cash and NOLs.
In our view, the biggest near-term risk is simply that LeapFrog will provide conservative 2013 guidance when they report 4Q. We believe they may guide to 5-8% revenue growth and $1.05-$1.15, versus our expectation of $1.50 in 2013 and versus $1.00 for 2012 - street is at $0.83 for 2012 and $0.84 for 2013.
In our opinion, 2013 EPS is likely to be at least $1.50 which may seem like a significant variance from potential guidance and the current street estimate. However, recall that LeapFrog guided 2012 to be $0.40-$0.45 and the Street now sits at $0.83 - on revenue only 12% (approximately $50 million) higher than original guidance. This model has tremendous leverage, and we expect the company to continue to under promise and meaningfully over deliver. We would not be surprised to see LeapFrog acquired at a huge premium. Should they continue as a standalone, we believe that 12 months from today shares should sit at 10x-15x 2013 EPS of $1.50, or $15-$22.
Disclosure: I am long LF. I wrote this article myself, and it expresses my own opinions. I am not receiving compensation for it (other than from Seeking Alpha). I have no business relationship with any company whose stock is mentioned in this article.
Additional disclosure: We conduct thorough research on our ideas, but our views are our own. Please do your own research.