Few sectors have suffered as much as the rural landline telecommunication companies. While AT&T (NYSE:T) and Verizon (NYSE:VZ) have both successfully shifted away from landlines to cellular phones for revenues, other telecom companies have not been as fortunate. Three companies in particular are especially reliant on landlines for revenues: Frontier Communications (NYSE:FTR), Windstream Corporation (NASDAQ:WIN) and CenturyLink, Inc. (NYSE:CTL). Clicking on their name will lead you to a more in-depth analysis on each of these stocks. Below, I will be comparing these three companies, and looking at revenue and earnings trends and other metrics.
Price Action
First I would like to take a look at the price action for these stocks over the past 5 years: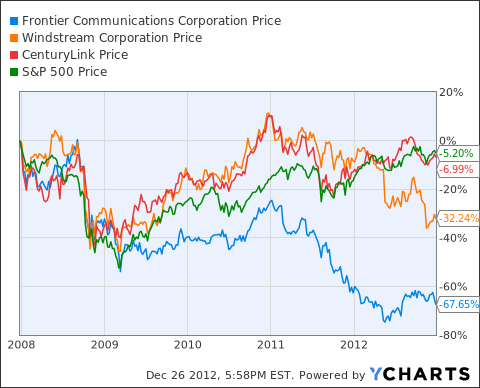 FTR data by YCharts
We can see that all three companies have underperformed the S&P in this time frame. CenturyLink has by far been the best performer, only losing 7%. Windstream has lost 32%, while Frontier has lost a staggering 68%.
TTM PE
Now let's take a look at TTM PE for each company: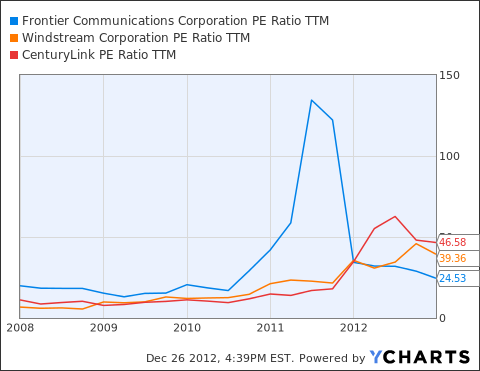 FTR PE Ratio TTM data by YCharts
Even with the sharp decline in share prices, all three of these stocks still have sky-high PE ratios. The cheapest is currently Frontier; which has a 24.5 PE. The priciest is currently CenturyLink, which has a 46.5 PE. Right in the middle stands Windstream, which sports a 39.4 PE. These PE ratios are nothing to write home about, none of these companies are cheap in terms of earnings.
TTM EPS
Now that we looked at the PE ratio, let us take a look at actual EPS and see if any of these three have been able to grow it: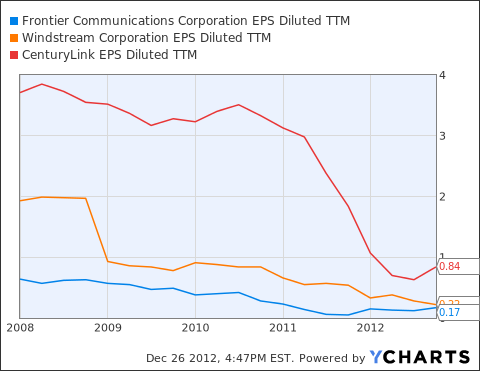 FTR EPS Diluted TTM data by YCharts
Instead of EPS growth, we see EPS contraction. All three have suffered declines in TTM EPS of over 70%. Windstream in particular has seen its EPS contract by a ghastly 88%. In terms of EPS, this sector has seen better days.
TTM Revenue Per Share
Now that we have looked at earnings, we can focus on revenues. Here are the TTM revenue per share numbers for these three stocks: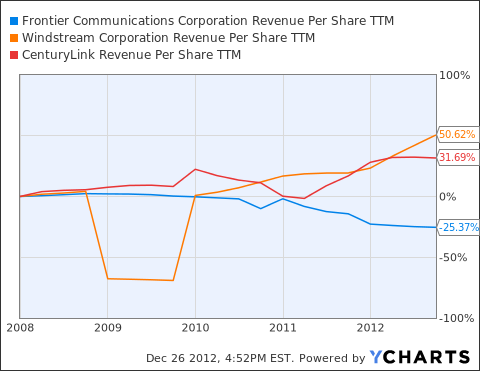 FTR Revenue Per Share TTM data by YCharts
Finally, we find some growth. Windstream has seen its revenue per share jump by over 50% since 2008. CenturyLink has seen its revenue per share increase by 32%. Frontier however, has seen its revenue per share decline by 25%.
Shares Outstanding
Let us now take a look at the share count for these three companies: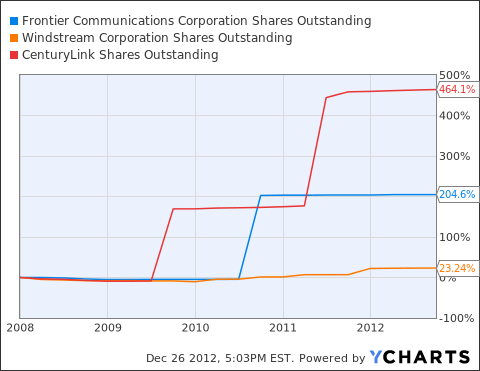 FTR Shares Outstanding data by YCharts
We can see how each of these companies has issued shares to fund acquisitions. CenturyLink in particular has grown rapidly, increasing its share count by over 460% since 2008. Frontier more than doubled its share count when it acquired landlines from Verizon in 2010. Windstream by comparison has only modestly increased its share count by 23%.
Long-Term Debt
Now, let us look at the Long-Term Debt for each of these three companies: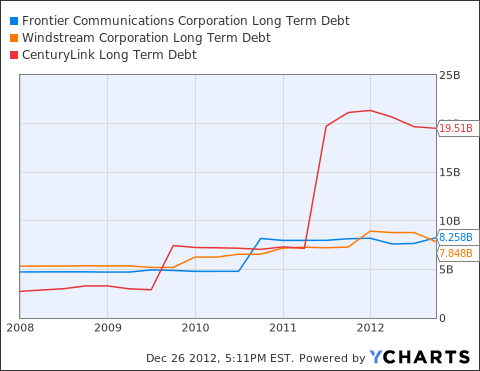 FTR Long Term Debt data by YCharts
We can see that the biggest user of debt to fund acquisitions has been CenturyLink. CenturyLink has grown its Long-Term debt by an incredible 600%, to $19.5 billion since 2008. Frontier has also increased its debt by 74% to $8.2 billion. Windstream has increased its debt modestly over this time frame, increasing it by 47%, to $7.8 billion. However, please note that Windstream came into 2008 with an already high debt load.
Dividend Yield
Now that we looked at some of the fundamentals, let us now take a look at the primary reason investors look into this sector-- its high yield: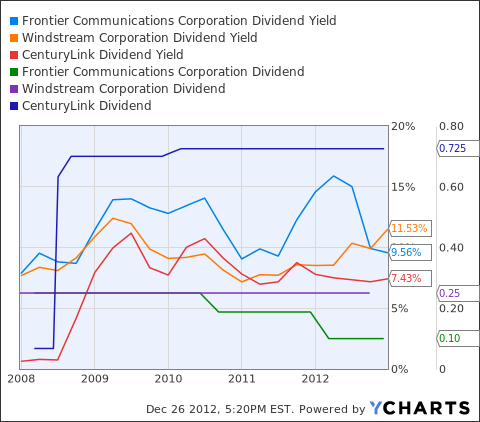 FTR Dividend Yield data by YCharts
All three companies offer above average yields. Windstream currently offers the highest yield, at over 11.5%. CenturyLink is the lowest, at slightly under 7.5%. Frontier offers a yield in between these two, of 9.5%. Note that the dividend for CenturyLink has remained frozen since 2010. For Windstream, it has remained constant throughout this time frame (however, I do not think it is sustainable), while Frontier has reduced its dividend twice in this time frame.
Conclusion
I would entirely avoid this sector. I do not see any compelling reason to own any of these names. Earnings for these companies have been in decline for years, revenues have grown only due to acquisitions, while the debt that these companies carry is overwhelming.
Disclosure: I have no positions in any stocks mentioned, and no plans to initiate any positions within the next 72 hours. I wrote this article myself, and it expresses my own opinions. I am not receiving compensation for it (other than from Seeking Alpha). I have no business relationship with any company whose stock is mentioned in this article.