Note to self: next time when analyzing a stock in a downtrend as a potential value play, check for major pending litigation.
Exactly one week ago, on December 19, I held Marvell Technology (NASDAQ:MRVL) aloft as a cheap stock primed for investment primarily based on MRVL's expressed confidence in the business with massive buybacks over the past two years (see my now ill-timed piece "Marvell Technology Continues Fighting Its Downtrend By Increasing Stock Repurchases"). On Wednesday, December 26th, investors got an awful belated Christmas gift in the form of a jury punishing MRVL for $1.17B based on its conclusion that MRVL infringed upon two patents held by Carnegie Mellon University (NYSE:CMU). The penalty could grow to as much as $3.5B based on the decision that MRVL's infringement was willful. For reference on the significant context of this judgment, note that MRVL has $2B in cash on its balance sheet, a market cap of $3.96B after Wednesday's 10% sell-off, 9-month revenue that declined 9.7% year-over-year to $2.4B, and 9-month GAAP net income that declined 52% year-over-year to $256M. It is no wonder that investors sold as soon as the news hit the wires.
Since I never sell in a panic, I am taking a deep breath and taking some time to understand the details of this case and potential outcomes. A lot can happen since the judge in the case will not issue a final ruling until May 1, 2013. In the meantime, investors who chose to cling for dear life can buy puts or sell calls to help themselves sleep at night.
Remarkably, the options volume on MRVL was relatively light given the enormity of the news. Then again, the open interest put/call ratio has remained below 0.50 since May, 2011; even a 50% haircut from this year's peak did not motivate put purchases (relative to calls). For Wednesday's trading, the volume on the May $7 puts was only 247 compared to open interest of 962. The most popular puts were all near-term, expiring this Friday, December 28th (weeklies) and January 19th, 2013. While this action suggests that the few traders interested in MRVL options are betting on a continuation of sharp selling, the dollar value of these options is very small relative to the dollar value of MRVL's trading volume (at least $222M on Wednesday). The 10,149 puts (versus open interest of 1785) that sold across the weekly $7, $7.5, and $8 strikes were worth at most $247,302 based on the closing prices of the options. Put traders for January expiration spent even less money on the most actively traded puts (the $6 and $7.5 strikes).
The premium on puts did soar. For example the implied volatility on the May $7 puts soared to 47.5% compared to a historical volatility of 29.6%. This translates to a theoretical value of $0.36 per contract compared to a close of $0.62.
Putting the stock and options trading together I am guessing investors chose to just dump shares rather than bother hedging them.
This trading also suggests that very few people were bracing for such a poor outcome in the court case. This case was filed almost 4 years ago on March 6, 2009. MRVL most recently described the case in its 10Q filing on November 29th - three days after jury selection began in the trial. Under Note 9, Contigencies, MRVL states:
"In pre-trial proceedings, CMU alleged past damages in the amount of approximately $1.2 billion through July 2012, and also seeks enhanced damages, ongoing royalties, pre-judgment interest and attorneys' fees. MSI and the Company strongly dispute their liability and the damages claimed by CMU, and further believe that they do not infringe any valid and enforceable claims of the asserted CMU patents in suit and intend to litigate this action vigorously (including any potential appeal, as necessary). Based on the nature of the litigation, the Company is currently unable to predict the final outcome of this lawsuit and therefore cannot determine the likelihood of loss nor estimate a range of possible loss."
In another sign that investors expected a favorable outcome, or at least not a damaging one, MRVL rallied 3.5% the day jury selection began. While there was some intra-day churn when the 10Q was released, MRVL's bounce from November lows continued for another week.
So now that these legal proceedings matter a lot, there are several scenarios to consider for investors who choose to stick around to hear the final judgment in May.
MRVL wins an appeal to either reduce or eliminate the jury award. This scenario is of course the best outcome and would cause an immediate rally in the stock. It is also the low probability outcome not likely given MRVL's constant setbacks in this case.
MRVL cuts the dividend to help preserve cash in preparation for massive payments to CMU. MRVL drops until the yield returns to "attractive" levels.
CMU agrees to a manageable payment scheme that keeps MRVL a viable business. Instead of an injunction, CMU and MRVL agree to royalty payments. I think CMU has an incentive to go this route, but I am not familiar with the rest of their patent portfolio or other technology partners who are already helping them commercialize patents such as the ones under dispute with MRVL. MRVL's profits will certainly fall and/or prices on impacted products will likely increase, driving sales downward.
CMU wins a multi-billion award and decides to enforce an injunction. This is the worst outcome, and I am not sure whether MRVL could survive such a draconian scenario.
This is an incredibly wide range of potential outcomes, making MRVL's shares a higher risk than ever. It is hard to imagine much upside to the stock from here beyond a reflexive relief rally until a palpably positive catalyst materializes. Until then, I am looking for the stock to stabilize between $6.50 (February, 2009 lows) and $7.50. A break below this range will immediately get me into a fistful of puts, but I am hoping to buy some protection (May expiration) after things have calmed down and premiums drop closer to previous levels.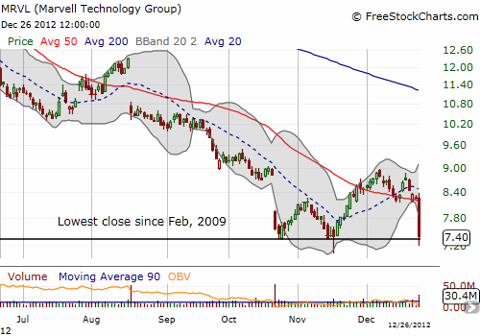 Marvell comes tumbling right back to earth and near 4-year lows
Source: FreeStockCharts.com
Be careful out there!
Disclosure: I am long MRVL. I wrote this article myself, and it expresses my own opinions. I am not receiving compensation for it (other than from Seeking Alpha). I have no business relationship with any company whose stock is mentioned in this article.