Stocks To Trade:
Today, we are looking at an earnings trade in Monsanto (NYSE:MON), longs in American International Group (NYSE:AIG) and Deckers Outdoor (NASDAQ:DECK), and shorts in Lennar (NYSE:LEN) and Apple (NASDAQ:AAPL).
For an earnings trade, we are looking at Monsanto. The company is slated to report earnings on January 9th, and we continue to like the stock to build into the report. The company looks to have the potential for a big report. Expectations are that the company will report around 60% growth in earnings and 8% growth in revenue. Those types of earnings in a tough growth market excite investors, and the stock has been performing well into earnings. Agricultural stocks are looking quite solid after a hot summer in which farmers took advantage of high prices due to higher prices. That meant more of Monsanto's seeds being sold in the September month over previous months.
Additionally, we believe these earnings will set up for a big 2013 for the stock. MON is expected to see around 20% growth in earnings in the FY13 as well as 8% sales growth. We like the stock's recent action with a weak market, and we believe it will continue to move well into earnings. We like playing long MON, short SPY moving forward. The fiscal cliff will continue to hold the SPY in check, and if resolved will send all equities soaring. We like MON to continue to outperform the market moving forward.
Trade: MON, Long and SPY, Short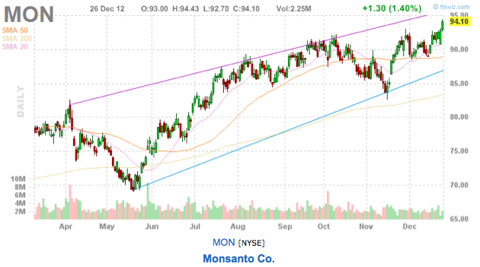 For longs, we like the looks of American International Group and Deckers Outdoors. AIG looks ready to breakout and DECK looks to be showing a near-term bottom that can be used for a bull put spread. For AIG, we believe the stock could be primed for a nice breakout if it can get over a resistance area at 36.00. The stock has been looking very good over the past several months due to solid value, major growth in earnings in 2012, and high expectations for 2013. The stock is currently sitting with a 2 PE ratio, and AIG is expected to see its first growth in sales in 2013 in many years.
On top of that, the stock is looking quite attractive with the CEO considering buybacks and a large dividend payment next year. Many investors are attracted to this stock not because of its solid growth potential in share price, but due to the fact that the company is a return to capital story. The stock is dirt cheap right now with its low PE. With the upcoming sale of its stake in AIA, the company expects to create a lot of flexibility with rating agencies. The company believes it may be able to buy back $10B in shares in 2013, greatly increasing the value of its current stock. Additionally, it wants to reintroduce a dividend in 2013, according to the company CEO. All things are looking very good for AIG right now, and we like buying them on a break of strong resistance at 36.
Another company that looks to be moving out of the negative spotlight is Deckers Outdoors. After a rough 2012 that saw the company's UGG business dry up in popularity, DECK stock was crushed. It dropped over 50% in share price this year, but the stock has started to show signs of bottoming. First off, the future PE for the stock has gotten all the way to 9, which is well under the sub-15 level for value. The market has priced in a ton of weakness for the stock, and we expect downside to be limited from here. The company, though, is dropping inventory, working towards better margins in 2013, and increasing new products. Stern Agee recently commented they expect a solid 2H of 2013. The stock has shown very solid support at $30 on multiple tests, and we like that level to hold moving forward. Expectations are extremely low for DECK right now, and we can use that to our advantage for a smart bull put spread. We can make 20% on the 30/27.50 spread right now, and earnings will not be out until after January expiration.
Equity Trade: AIG, Long
Breakout Point: Break of 36.00
Options Trade: DECK, Jan19, 30/27.50 Bull Put Spread
Max Gain: 20%
For shorts, we like the looks of Lennar and Apple. While weaker stocks have looked better in the recently downward moving market, one of 2012's best has looked weak in LEN. AAPL has looked weak for some time and does not seem to be pushing for a major bounce back anytime soon as well. Housing made a stellar comeback in 2012, with many companies moving back into profitability and showing a solid backlog of orders. LEN, for example, saw over 500% growth in earnings in the current FY as well as 30% growth in revenue. These companies have made great comebacks, but we are afraid they may slow in 2013.
The problem is PE ratios show a lot of growth is priced in for these stocks. LEN, for example, has a future PE at 24, which is fairly overvalued. The company is looking weak right now as well and could lose an upward channel it has been in if it fails the 50-day and 20-day MAs. High priced stocks like LEN that would be very negatively affected by an increase in taxes and spending cuts will see the brunt of a fiscal cliff disaster. Watch LEN and short on a break of those key support levels.
Apple is also looking quite weak right now. The company has been disastrous since it failed its 50-day MA back in October. The stock has lost its footing as a lot of investors took money out of the market heading into the holidays and fiscal cliff scenario. One of the first stocks to be liquidated is AAPL due to its large share price. It ties up a lot of capital for most investors. With the market looking weaker into the cliff, AAPL has been weak, and it has not had a catalyst to get it going.
For one, many investors fear that the company may be losing its innovative streak. The re-releases of iPhones and iPads at some point will have more limited impacts. Apple has not brought out a bold new idea in some time, and some investors are growing fearful of that. Analysts agree-- Bernstein dropped its PT from $800 to $750 on lower growth prospects due to this issue. While ideas like Apple TV have been floated as well as an expanded PC lineup, they are just ideas. Without a new innovative idea and extremely solid earnings, the stock is losing some footing. We do not see that returning at least until the company's next earnings report shows some signs of solid growth still with margin expansion or a new product is released. With earnings after January option expiration, we like them for a bear call spread.
Stock Trade: LEN, Short
Breakout point: Below 50-day MA
Options Trade: AAPL, Jan19, 565/570 Bear Call Spread
Max Gain: 14%
Thursday's Outlook:
For Thursday, the only thing that matters is the fiscal cliff. The market will be looking at developments surrounding the cliff with President Obama returning home early. Senator Harry Reid and Obama are supposed to come up with a modified plan on Thursday / Friday to get passed through the Senate. The take is that it will be much more stripped down and will try to compromise more to both sides. The cliff will destroy the market in the short-term, so its avoidance will definitely help stocks pop back up. Look for it to continue to keep stocks in check today, and we would be shocked to see upside unless some progress is made. There is some economic data on the plate with Jobless Claims, Consumer Confidence, and New Home Sales. All three reports can definitely move the market, but they should be held in check in their influence by the situation. Look for the market to key off the fiscal cliff almost entirely.
Chart courtesy of finviz.com.
Disclosure: I have no positions in any stocks mentioned, and no plans to initiate any positions within the next 72 hours.
Business relationship disclosure: The Oxen Group is a team of analysts. This article was written by David Ristau, one of our writers. We did not receive compensation for this article (other than from Seeking Alpha), and we have no business relationship with any company whose stock is mentioned in this article.