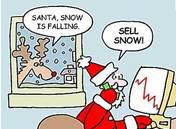 The last few weeks have been much better than expected given the fiscal cliff uncertainty. One could say that Santa showed up early this year. Days like last Friday could have been much more prevalent from the fear that pervades the market, but it has not been. Clearly the continued zealousness of Ben Bernanke and the Federal Reserve initiating yet another round of economic stimulus with QE Ridiculous has calmed investors, for now. However, old Saint Nick deserves some of the credit as 'tis the season for the phenomenon known as the Santa Claus Rally where stock prices rise in the final week of trading prior to the new year in anticipation of the January effect.
Naturally the fiscal cliff is on top of every everybody's mind, and falling over it would be catastrophic. However, it appears that investors don't believe that our politicians are stupid enough to allow this to happen. My 28 plus years in this business managing money has taught me otherwise and to never underestimate our politicians. That said, even skeptical and always cautious me does not think that will happen either, and when a deal is inked, the market will celebrate.
The coming years will be a difficult one for investors again, leaving many scratching their heads when it goes up, and hiding under their bed when it declines. There are two big indicators I will be watching closely for my clients: Corporate earnings and complacency. Earnings have steadily beat expectations for the last 4 years until last quarter. Be wary if they disappoint again.
Complacency is what I fear most. The best thing this market has had going for it is that no one believes in it. With half a trillion dollars running from stock funds, and over $1 trillion being added to bond funds this year alone, investors are clearly weary. That alone is cause for celebration as one thing is almost always certain, markets don't crash when everyone expects them to! This is changing quickly as low yields on bonds, and the lack of a stock market crash, has caused people to think the waters are safe, or at least think that there is no place else to go.
Investor Strategy
Although we're down to the wire on the fiscal cliff issue, once we have a solution we will see a good, strong rally rally. Most investors must still be cautious but take advantage of the many ways to make money in this market and in the dangerous market ahead, but without all the risk. Aggressive investors should position themselves for a strong rally and buy high quality tech companies with a strong brand. These would include: Apple (NASDAQ:AAPL), Google (NASDAQ:GOOG), Intel Corporation (NASDAQ:INTC), Qualcomm (NASDAQ:QCOM), Microsoft (NASDAQ:MSFT), Cisco Systems (NASDAQ:CSCO), Yahoo (YHOO), and VMware Inc. (NYSE:VMW). The funds with more diversification and less individual company risk are also the ones to buy, like the SPDR S&P 500 (NYSEARCA:SPY), PowerShares QQQ Trust Series 1 (NASDAQ:QQQ), and iShares Russell 2000 (NYSEARCA:IWM). Commodities are still screaming buys with continued stimulus, such as Goldcorp Inc. (NYSE:GG), Barrick Gold Corp. (NYSE:ABX), SPDR Gold Shares (NYSEARCA:GLD), Power Shares Double Gold (NYSEARCA:DGP), Market Vectors Gold Miners ETF (NYSEARCA:GDX), Newmont Mining Corp. (NYSE:NEM), Freeport-McMoRan Copper & Gold Inc. (NYSE:FCX), plus Silver Wheaton Corp. (SLW), ProShares Ultra Silver (NYSEARCA:AGQ), and Fortuna Silver Mines (NYSE:FSM).
Disclosure: I have no positions in any stocks mentioned, and no plans to initiate any positions within the next 72 hours. I wrote this article myself, and it expresses my own opinions. I am not receiving compensation for it. I have no business relationship with any company whose stock is mentioned in this article.