I am saddened to note that I fell for what has been a classic example of a value trap. While I and other value investors (most prominently David Einhorn) saw long-term value in Marvell's (NASDAQ:MRVL) business and believed that the headwinds that the company faced were mostly macroeconomic, it appears that the problems facing the company are now much more severe than previously thought. The key points for the long thesis are the following:
As PC demand improved with improving macroeconomic conditions, Marvell's core disk drive controller business would recover.
The company's cash position of nearly $2.1B provided ample valuation support during the PC slump.
The company has been re-targeting its wireless/mobile efforts in a bid to continue to capture a significant portion of the booming TD-SCDMA smartphone market to drive growth.
Unfortunately, after losing a patent infringement trial to Carnegie Mellon University, Marvell has now been ordered to fork over $1.17B with damages, potentially tripling to $3.57B should the court find Marvell guilty of willful infringement of the patents. Valuation support is now all but gone.
To illustrate why the cash buffer was so important to shares of Marvell, it is critical to note the following negative drivers to the business over the last several quarters:
Warned on revenues last quarter.
Completely missed the low end of guidance in the previous quarter without a warning.
Recently lost its CFO (the question now lingers: did he know?).
Has been experiencing extremely negative earnings and revenue growth.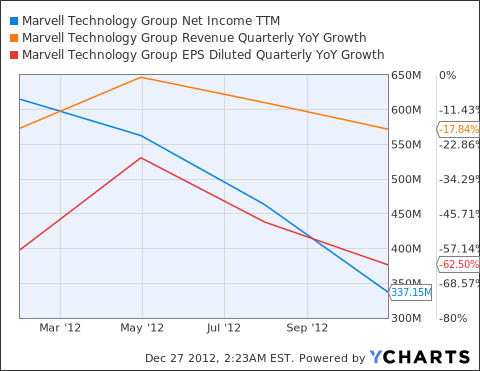 MRVL Net Income TTM data by YCharts
While there is hope that an appeal could help lower the damages, the risk that the ruling could essentially put Marvell into bankruptcy is non-trivial (although not great). Further, it is likely that Marvell may attempt to issue equity in a settlement rather than pay the fine in cash. This would save the company and the cash position (which may be subject to repatriation taxes), but it could very seriously dilute current shareholders.
An Opportunity For LSI?
Marvell operates in a duopoly in the hard disk controller market with competitor LSI (NYSE:LSI). Both are fabless, so their cost structures are similar. Should it be proven that LSI did not infringe on the patents in question, then LSI can fairly opportunistically scavenge market share from Marvell by having a slightly better cost structure in what is essentially a commodity market. I will be covering LSI in more depth in a future article.
Conclusion
The trial loss is bad, but the chance for actual bankruptcy is probably low. However, not only does it add to the series of unfortunate negative catalysts surrounding the company, but it is the final nail in the coffin of shareholder trust for the firm. SA's marky motor made a VERY insightful comment (this is a must read) on one of my previous articles about Marvell in which he pointed out that the firm went to great lengths to "hide" from the average investor that the litigation would be taking place and that the firm really had no idea how bad the damages could be.
The conclusion is, unfortunately, this: Marvell has proven itself to be untrustworthy and a landmine of negative surprises. Unless you're willing to wait for a long, long time, and unless you're comfortable with the prospects of things getting much worse from here, forget about buying this stock if you are not already trapped. If you are long, then I advise you to do what you feel is best to manage risk (I don't want to give specific advice here for obvious reasons) and keep the damage to a minimum (as is always the case).
Disclosure: I have no positions in any stocks mentioned, and no plans to initiate any positions within the next 72 hours. I wrote this article myself, and it expresses my own opinions. I am not receiving compensation for it (other than from Seeking Alpha). I have no business relationship with any company whose stock is mentioned in this article.