For those that were busy getting ready for Christmas, they might have missed the announcement that Cisco (NASDAQ:CSCO) CEO John Chambers plans to sell 2.8 million shares. This represents about a third of his position, when counting all of his un-exercised stock options. For those that didn't see this, it might be a major concern that their company's CEO is selling a large portion of his holdings. However, there have been rumors that Chambers is expecting to retire in a couple of years, and this share selling might be the start of that process. The question is, with Cisco stock near the upper end of its recent range, should investors start to bail on this name as well?
Cisco shares have risen nicely since the company reported its fiscal first quarter results. The company did beat on both the top and bottom line, and guidance was decent. As I had stated going into the report, Cisco needed to prove itself. That's because the previous quarter's report was overshadowed by the huge dividend raise. Cisco shares have risen nicely since the mid-November report, as you can see from the chart below. As of Wednesday's close, Cisco shares are just 7% from their 52-week high, and up more than 33% from the 52-week low.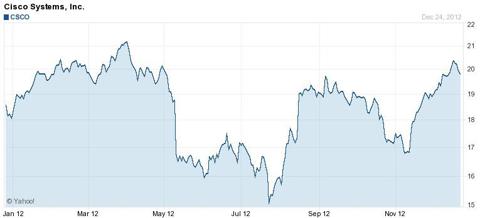 (Source: Yahoo Finance)
In terms of where expectations stand, for fiscal Q2, Cisco guided to revenue growth in a range of 3.5% to 5.5%. On the day that earnings were reported, analysts were looking for 4.2%. Currently, analysts are looking for 4.6% growth. In terms of earnings per share, Cisco guided to a range of $0.47 to $0.48, non-GAAP. Analysts were expecting $0.47 then, and are expecting $0.48 now. I don't think that the guidance is that worrisome at the moment. However, we have more than a month until Cisco reports that quarter, so if expectations continue to climb, I might worry then. Fiscal cliff issues could cause business spending to be weak, and I think Cisco could be in trouble then.
So where does that leave Cisco? Well, in the following table, I've compared Cisco against a few other names. On one hand, you have networking names like Riverbed Technology (RVBD) and Juniper Networks (JNPR). On the other hand, you have Cisco being seen as a top tier tech name, like Microsoft (MSFT) and Apple (AAPL). So the table below shows the revenue and earnings growth forecast for each, as well as the price-to-earnings multiple. For Cisco, Microsoft, and Apple, I am using the current fiscal year that ends sometime in 2013. For Riverbed and Juniper, I'm using the 2013 full year, which is their fiscal year.

*Adjusted for normal 52-week period. Apple had an extra week in its previous fiscal year.
So what are the key takeaways? Well, when it comes to top tier tech names, Cisco is a bit overvalued. Cisco offers a bit less revenue growth than Microsoft, but trades at a higher price to earnings, based on their fiscal year forecasts. Additionally, Microsoft is spending more on its buyback program, and Microsoft's dividend yield is about 60 basis points per year higher currently. While Apple doesn't have the yield or buyback size of Cisco currently, Apple is still growing at a tremendous rate, and only trades for a 3.5% premium to Cisco. You may argue that Apple is undervalued, but you could also argue that Cisco is overvalued.
In terms of Cisco versus Juniper and Riverbed, Cisco offers a lower amount of growth than Riverbed, which is why you get a significant discount on the stock. Juniper is in the midst of a turnaround, with revenues forecast to decline in 2012, then rebound in 2013. Juniper is also expected to see a huge decline in earnings this year, followed by a substantial rebound in 2013. Thus, investors are looking to pay up for what they think will be an earnings turnaround.
In terms of just Cisco, the valuation has certainly expanded over the past few months. As you can see from the table below, Cisco is up more than 7.5% in the past three months alone, and expectations really haven't changed. Cisco has done quite well in the short term, but over the longer term has been a bit of a dog.

This is why I would encourage caution with Cisco at current levels. Cisco has had a nice run lately, and I don't want investors to buy at the peak again. Cisco popped tremendously in August to over $19 after the earnings report, but slowly faded back to under $17. While those that bought at $19 are up now, they could have tripled their gains had they waited for the pullback.
So this brings me back to the original question. Should Cisco investors bail? At this point, if you are concerned about rising tax rates and want to lock in your gains at a lower tax rate, you might want to consider selling your Cisco position with Cisco up 10% over the past year and 21% in just 6 months. Cisco has had a nice run, but it might be time to take profits.
The valuation doesn't fit here, so let's look at two ways to find a better entry point. The first is price-to-earnings. Cisco is currently trading at 10.16 times this year's expected earnings of $1.96. Given how I've stated the name is overvalued against other tech names, two potential entry points would be 9.5 and 9.0 times expected earnings. Those price points would be $18.62 and $17.64, respectively. The other method is to use dividend yield. Cisco's current yield is 2.81%, so the next logical entry points using the yield would be 3.00% and 3.25%. The prices for those entry points would be $18.67 and $17.23, respectively. I think those would be much better entry points for Cisco than at the nearly $20 shares fetch currently.
The Christmas Eve timing of this announcement from Cisco was interesting in the sense that most probably did not see it. If Chambers was selling a small portion of his shares, I don't think I'd be as worried, but he's selling a large portion of his shares, which gives me some pause. I'm not recommending a short position here, because if we get any good news on the fiscal cliff issue, U.S. markets will shoot higher. But for those looking to jump in on Cisco, I think you can find a better entry point. For those already in the name, you might want to take some profits here and buy back at a lower price.
Disclosure: I have no positions in any stocks mentioned, and no plans to initiate any positions within the next 72 hours. I wrote this article myself, and it expresses my own opinions. I am not receiving compensation for it (other than from Seeking Alpha). I have no business relationship with any company whose stock is mentioned in this article.
Additional disclosure: Investors are always reminded that before making any investment, you should do your own proper due diligence on any name directly or indirectly mentioned in this article. Investors should also consider seeking advice from a broker or financial adviser before making any investment decisions. Any material in this article should be considered general information, and not relied on as a formal investment recommendation.