As we finish off 2012, it is time to start looking forward to 2013. What will the new year bring? Unless the federal government can get its act together, we appear to be headed over the fiscal cliff. Markets are on edge as tax rates could shoot up and politics trump sensibility. Going over the fiscal cliff could have a tremendous impact on the economy, and Washington is looking to avoid such a debacle. As we approach the new year, it is time to make 2013 predictions. Today, I'll briefly cover this year's predictions before I make some new ones.
Looking back at 2012:
As 2011 ended, I made four predictions regarding individual stocks for 2012. This was my first stab at yearly predictions, and overall, I think I did a fairly decent job. Let's start by looking at what didn't come true, then work to what did.
My prediction that Netflix (NASDAQ:NFLX) CEO Reed Hastings would be fired did not come true, although it could have. First, the CEO received a Wells notice for a potential violation of the fair disclosure rule. Second, the company's goal to add 7 million domestic streaming subscribers this year is going to wind up missing by a huge amount. Based on the company's latest guidance, it will be lucky if it adds 5.5 million. That, combined with the killing off the DVD segment, has completely eroded profitability. Back in mid 2011, analysts were looking for about $6.50 in earnings this year. Analysts currently expect a four cent profit. Reed Hastings might not have gotten fired this year, but there would have been plenty of justification had the company made such a move.
The other prediction that wasn't quite right, but wasn't exactly wrong in a sense was one about Apple (NASDAQ:AAPL). I said that Apple wouldn't hit $500 this year without a major change such as a dividend, buyback or split. Apple hit $500 before it announced the dividend and buyback. I consider this prediction incomplete because Apple did hit $500 first, but investors did also get the buyback and dividend. I'll have more on Apple later on.
My third prediction that was mostly on target was one that social media stocks would struggle. Other than LinkedIn (LNKD), these stocks mostly have. Several of these names have lost investors a ton of money. Pandora (NYSE:P) is down 10% on the year, Angie's List (NASDAQ:ANGI) is down almost 27%, and Groupon (NASDAQ:GRPN) and Zynga (NASDAQ:ZNGA) have each lost around 75%. Facebook is more than 30% below its $38 offer price. A couple of these names may not be trading a year from now if their struggles continue, which is why I was never a big fan of the social media hype.
My fourth prediction was dead on, and I hope investors listened when I stated that Mastercard (NYSE:MA) and Visa (NYSE:V) would be up more than 25% each. I've been a fan of credit card stocks over the past few years, as a shift to more online banking and retailing plus increased rewards programs have made credit cards cool again. I thought Mastercard could reach $500 if the stock was split, and it's almost hit that level without a split. Investors in these two names had a very good 2012. As of Wednesday's close, Mastercard is up 30.78% on the year and Visa is up 48.77%.
Predictions for 2013:
When it comes to this market, everyone wants to know about Apple, and since it is a stock I write about extensively, I feel I must do some kind of Apple prediction.
When it comes to Apple for 2013, I think that Apple will only return to $700 if it does about $52 in earnings per share for the fiscal year. I think that Apple's stock price will be extremely correlated to the company's earnings per share amount. You might think that's rather obvious, but a number of questions have come up about Apple lately. My earnings per share to price prediction has to do with one of the biggest issues with Apple currently, and that is the worry about declining margins. Apple's margin guidance scared many because it launched so many new products at once, many of which were more expensive than previous versions. Apple believes that margins will rebound over time, and so do I, and that will go straight to the bottom line. I put together the following chart to show an Apple target based on earnings per share figures for the fiscal year. Obviously, as Apple does more in earnings per share, it should deserve a higher price-to-earnings multiple based on the higher growth. I've given what I think is a fair P/E based on that growth amount.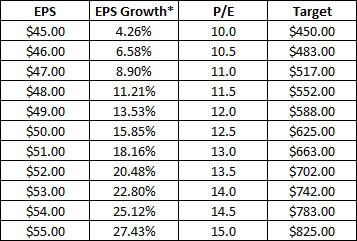 *Adjusted figure - Apple had a 53-week fiscal year last year. This figure is normalized for a 52-week period and normal 13 week fiscal first quarter, as opposed to Apple's 14-week period in Q1 of fiscal 2012.
Current expectations call for about $48.81 in earnings this year, which would only be about 13% earnings growth. My table might look a bit bearish to some, but unless Apple does $50 or more in earnings this year, I think some will start to question the long-term growth prospects. That includes worries over competition, whether it be in the tablet or smartphone race. Remember though, this prediction is based on current information, including the current dividend and buyback. Should Apple raise the dividend and or buyback amount, I think you could push up the valuation numbers by about 0.5 to 1.0 for each earnings per share level. But for now, this is where things stand.
My second prediction is about Netflix again, since it is one of the names I follow most. My prediction is that Netflix will add between 3 million and 4 million U.S. streaming subscribers in 2013 (total subscribers, not paid). That will most likely represent a decline in the growth rate from 2012, and I think competition will have something to do with it. Netflix's competition has increased, and unless it reconsiders the DVD, reduced profitability and cash flow will impact future content purchases. Netflix's deal with Epix ends in 2013, and it will be interesting to see if a new deal is reached, and potentially at what price. Based on my domestic streaming prediction, Netflix might not hit 30 million streaming subs next year if 2012 finishes toward the low end of Q4 guidance at 26.4 million. That is probably a large disappointment for the company, which before the events of 2011, was probably hoping to be at 30 million by the end of this year or early in 2013. Netflix will have some tough questions to answer in 2013. For instance, will the move to original content be so expensive that further international expansions cannot occur?
My third prediction is that SodaStream (NASDAQ:SODA), the company that allows to make your own soda at home, will generate more than $525 million in 2013 revenue. This prediction is a little bolder than the rest, considering current expectations call for $498 million in revenue, and the high estimate is for $524 million. Why am I so bullish on SodaStream? The first reason is that it beat expectations fairly handily so far this year, and I expect that momentum to continue. The second reason is that the company has embarked on a huge global ad campaign, which includes a Super Bowl commercial. The commercial will show what the company is all about, which should definitely help sales. The company is also looking to enter China, and India, during 2013, which are the two most populated countries on the planet. The company is currently working on a new production facility that will greatly increase production capabilities. My prediction represents about 23.9% revenue growth in 2013 (based on the current estimate for 2012), which isn't too much of a stretch since analysts expect 46.7% revenue growth this year. This prediction doesn't necessarily mean that SodaStream's stock will rise, as this name has been heavily hurt by short sellers in the past. It's more of a trading stock than an investing stock at this point, so I'm not providing a price target for the name. But in terms of revenue, I think the company does quite well.
My fourth prediction is that Amazon's (NASDAQ:AMZN) 2013 earnings will disappoint, missing current expectations for $1.76. I think there are a couple of issues at play here. Amazon's margins have been dropping lately and I don't see them rebounding. Content purchases will be expensive as Amazon tries to rival Netflix and the recent debt issue will add significant interest expenses (significant by the time you get to them on the income statement). I've released a number of Amazon articles recently discussing these issues in more depth, so you might want to check them out here.
But here's another issue and people don't realize the scale of. It is the sales tax issue. Amazon is only required to collect sales taxes in a small number of U.S. states, but those states have a significant portion of the country's population, so that means more Amazon customers are subject to the tax. Collecting sales taxes makes Amazon a less competitive retailer, and if Amazon discounts items even more in an effort to make up for the sales tax, it is just killing its margins. Amazon currently collects sales taxes, on items sold by Amazon.com LLC, or its subsidiaries, from just eight states, which doesn't seem like much. But of those eight states, three of them are the most populated states in the country, California, Texas, and New York. Based on the July 2012 estimate, Amazon collects sales taxes in states that have approximately 111.3 million people, or 35.45% of the U.S. population. Additionally, two more states, New Jersey, and Virginia, are expected to join the sales tax list in 2013. That would push the sales tax list to 10 states, or 20% of the number of states, but approximately 41% of the total population. Three more states that could be added in January 2014 could bring the total to 13 states and 46% of the population total. This issue is larger than most realize in my opinion.
My final prediction regards the overall markets. I think markets are going to be a bit more volatile in 2013. I think that fiscal cliff issues will linger into early 2013, and the economic impact will create some more volatility in the markets. Add in the continued Fed involvement and problems in Europe, and I think the phrase "futures limit up/down" could become more prevalent next year. My actual prediction is that the S&P 500 (NYSEARCA:SPY) will move more than 1% in either direction in more than 25% of trading days. The table below shows the last three years. As you can see, 2010 and 2011 saw a large number of days where the S&P 500 moved more than 1 %. Likewise, 2012 wasn't as exciting.

So these are my five predictions for 2013. While I'm not really predicting any year-end closes for stocks or major indices, I think you can extrapolate some of that data from the predictions. The next part of my 2013 preview will be my growth and value stocks for the year, which will either come out later this week or sometime next week.
Disclosure: I have no positions in any stocks mentioned, and no plans to initiate any positions within the next 72 hours. I wrote this article myself, and it expresses my own opinions. I am not receiving compensation for it (other than from Seeking Alpha). I have no business relationship with any company whose stock is mentioned in this article.
Additional disclosure: Investors are always reminded that before making any investment, you should do your own proper due diligence on any name directly or indirectly mentioned in this article. Investors should also consider seeking advice from a broker or financial adviser before making any investment decisions. Any material in this article should be considered general information, and not relied on as a formal investment recommendation.