Whether you are new to dividend investing or you are a seasoned pro, it's likely that your main goal is to build a long-term portfolio that generates consistent income over time with as little volatility as possible. That said, over the next few weeks we will continue publishing our 10-part series which should help you build your own 6% DIY Dividend Portfolio for 2013.
In part 1, we highlighted the investment plan and strategy for the portfolio and parts 2-10 will highlight each sector in the S&P 500, including high-rated stocks with in each sector that you should consider for your portfolio. Below is a schedule of the entire series. Please make sure to "follow" us so that you will be notified when each new article is published.
Part 2: Consumer Staples (2a) / "Buy Zones" (2b)
Part 3: Utilities
Part 4: Healthcare
Part 5: Consumer Discretionary
Part 6: Financials
Part 7: Technology
Part 8: Industrials
Part 9: Materials
Part 10: Energy
UTILITIES
While the Utilities sector has barely kept pace with the broader market over the past 5 years, it has by far the highest average dividend yield (4.1%) of any sector in the S&P 500.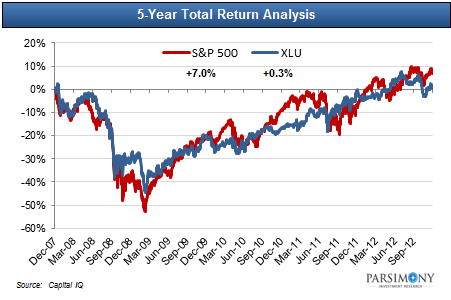 From a risk-reward perspective, the Utilities sectors has the lowest average beta (0.48) of any sector in the S&P 500. Stocks with low betas tend to be less volatile than the general market, which will help dampen overall portfolio volatility.
That said, below is a list of some our top-rated dividend stocks in the Utilities sector. Note that our composite rating ranges from 0 (lowest) to 99 (highest).

The stocks on the list above have an average current dividend yield of 3.7% and an average 5-year beta of 0.35. Also, all of these stocks have significantly outperformed the S&P 500 over the past 5 years (on a total return basis), despite the sector as a whole underperforming. The tables below highlight some of the key data points that we analyze when ranking our dividend stocks.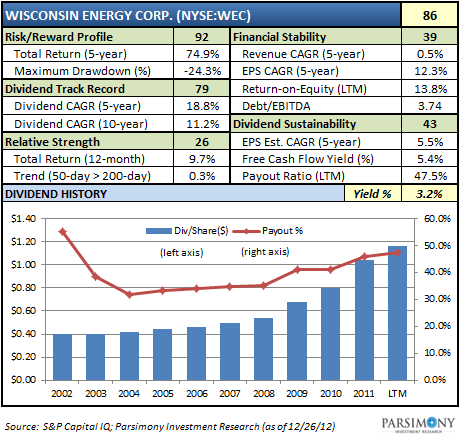 Wisconsin Energy (NYSE:WEC) has delivered shareholders a 75% total return over the past five years, and it has increased its dividend at a compound annual rate of 18.8% over that period. In addition, the company still has a very modest payout ratio of 47.5%, so it has plenty of room to continue to increase its dividend in the future. In fact, the company recently announced that it is planning to raise its quarterly dividend to $0.34 a share in the first quarter of 2013, which would represent a 13.3% increase over the current quarterly rate.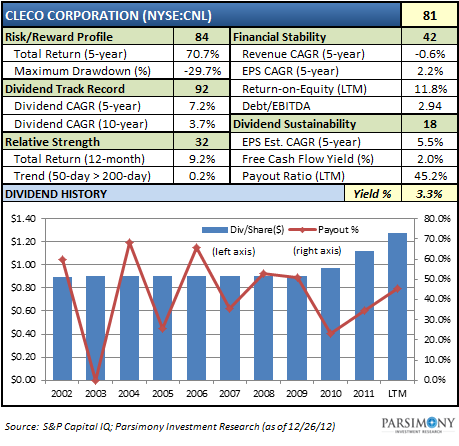 Cleco Corporation (NYSE:CNL) has a long and stable dividend track record. In fact, the company has paid dividends to its shareholders since 1935. That said, up until 2010, CNL had not increased its dividend since 2002. However, the company seems to have turned over a new "dividend growth" leaf recently as it has increased its dividend at a compound annual rate of 12.3% over the past 3 years.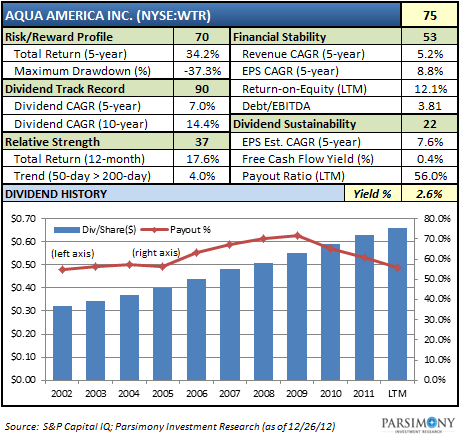 While Aqua America (NYSE:WTR) has the lowest dividend yield of this group, the company has increased its dividend at a compound annual rate of 14.4% over the past 10 years. WTR recently increased its quarterly dividend by 6.1%, which was its 22nd dividend increase in 21 years. Aqua has paid a consecutive quarterly dividend for more than 65 years.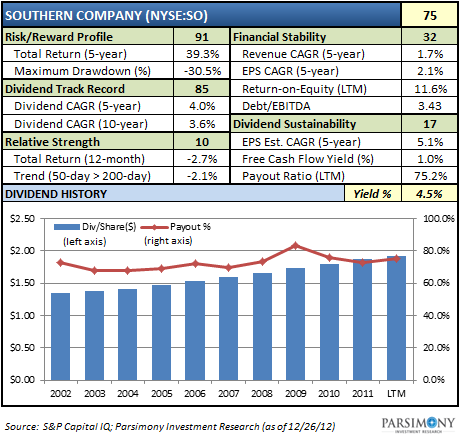 Although Southern Company (NYSE:SO), has grown dividends at a slower pace over the last 10 years than many of its peers, the company's 10-year dividend growth rate (3.6%) has still exceeded the rate of inflation (which is important for dividend growth investors). In addition, Southern Co. has one of the higher current dividend yields (4.5%) in the space.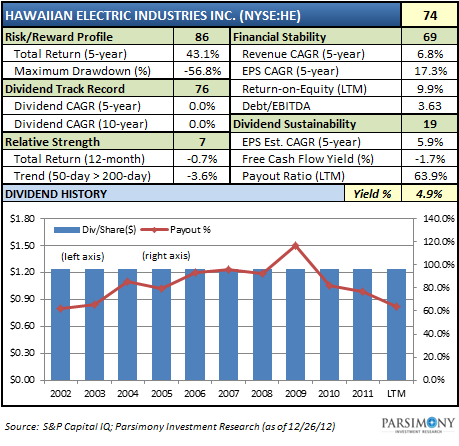 Many dividend growth investors may have overlooked Hawaiian Electric (NYSE:HE) because it hasn't raised its dividend in 15 years. However, the company has paid a stable dividend since 1901 and it has delivered shareholders a very respectable 43% total return over the past 5 years (thanks in part to its hefty 5% dividend yield). While HE may not raise its dividend in the future, we think that dividend investors should still consider it for their DIY Dividend Portfolio because its certainly a dividend you can count on!
Conclusion
In general, Parsimony ratings for the Utility sector as a whole are relatively low, but there are definitely some companies that have pulled ahead of the rest of the pack. While we believe that all DIY Dividend Portfolios should have a few Utility stocks sprinkled in, its critical to choose your investments in the sector very carefully.
In Part 3b of this series, we will highlight our specific "Buy Zones" for each of these stocks, so please make sure to "follow" us.
Disclosure: I am long WEC, CNL, SO, HE. I wrote this article myself, and it expresses my own opinions. I am not receiving compensation for it (other than from Seeking Alpha). I have no business relationship with any company whose stock is mentioned in this article.