BG Medicine (NASDAQ:BGMD) engages in the discovery, development, and commercialization of novel cardiovascular diagnostics to address significant unmet medical needs, improve patient outcomes and contain healthcare costs. The company went public on February 4th 2011, at $7 a share. The stock has been under pressure since that time due to lackluster sales for their FDA/European approved manual Galectin-3 test. Delays with garnering FDA/European approval for their CardioSCORE test has also not helped. However, just recently BG Medicine saw a welcome reprieve for patient shareholders when they obtained the CE Mark for CardioSCORE Test in Europe, which sent its shares up to a 3 month high of $4.48 before retreating. If the large volume is any indication, many investors are watching the stock now, and so they should be. Here's an excerpt from their latest 10-Q filed on November 13th:
"New Commercial Strategy
On November 13, 2012, we announced a new commercial strategy to speed the adoption and increase the sales of our cardiovascular diagnostic tests. As part of this strategy, we launched a new campaign at the American Heart Association (AHA) Scientific Sessions 2012 focused on the urgent need to reduce rates of unplanned hospital readmissions. The Centers for Medicare & Medicaid Services (CMS) guidelines that went into effect on October 1, 2012 will impose financial penalties on hospitals and other healthcare providers expected to reach an aggregate of nearly $300 million in 2013 and nearly $1 billion by 2015, if improvements are not made. Because heart failure patients with elevated levels of galectin-3 are two-to-three times more likely than other heart failure patients to be readmitted to the hospital within 30 days of discharge, we believe that identifying these high-risk patients through galectin-3 testing is a potentially valuable and cost-effective tool in a hospital's strategy to reduce unplanned 30-day readmissions. Also as part of our new strategy, we are transforming our current field sales force from an awareness- and education-focused organization into one with a sales mission and growth strategy. Our new field sales force will focus initially on promoting galectin-3 testing at a core group of hospitals with higher-than-average readmission rates, which are at risk of incurring significant financial penalties due to the new CMS rules."
Products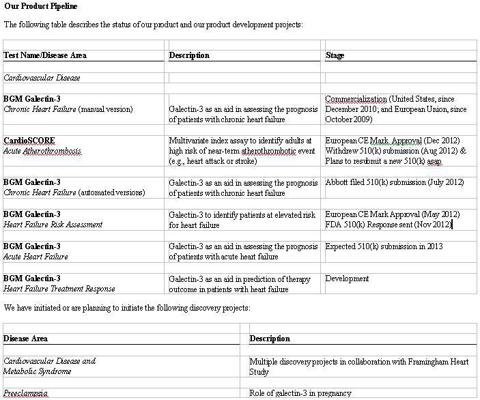 Galectin-3 Test
This is BG Medicine's first commercialized product for use in patients with heart failure. This manual test received FDA approval in late 2010 and is commercially available in the US and in Europe under a CE Mark. Just recently the company signed an agreement with Kindstar to provide testing services in China. Revenues in their latest quarter saw an increase of 258% YOY from $179K to $641K. In May 2012, BG Medicine submitted a 510(k) to extend the label indication for this test to include individuals in the general adult population who are at risk of developing heart failure based on elevated levels of galectin-3. In July 2012, they received a letter from the FDA requesting additional information and the company responded last month in full. Were the company to receive US approval for this additional indication, they expect the market potential for this test to increase significantly. Investors should note that BG Medicine have already obtained European CE Mark approval for this indication and are currently working with partners to begin commercialization.
The company is also working on an automated version of this test that they believe, if approved, would bring broad customer acceptance and clinical adoption. This belief is driven by the fact that it would reduce the time for doing the galectin-3 test from three hours to 15 minutes. They have already partnered with four leading diagnostic instrument manufacturers including Abbott (NYSE:ABT) and Siemens (SI). Currently, Abbott are in the process of responding to a FDA letter regarding the 510(k) filed in July, for their ARCHITECT® galectin-3 assay. If BG Medicine were to gain approval it would be the first fully automated Galectin-3 test in the US. It is also important to note that Abbott will begin marketing, within the next few months, an automated version of this test in the EU under a CE Mark.
CardioSCORE Test
CardioSCORE is an easy-to-use blood test designed to identify adults at near-term risk of heart attack or stroke before their first cardiovascular event. On February 13th the company announced Positive Pivotal Validation Study Results of a large, U.S.-based study of 6,600 subjects, in which CardioSCORE combined with traditional risk factor assessment more than doubled the sensitivity for detecting near-term risk. BG Medicine, on behalf of the HRP initiative, partnered with Humana to establish this study and they believe it will be critical in garnering FDA approval. Unfortunately, due to time constraints, they withdrew the 510(k) on August 8th, but they will continue to be in dialogue with the FDA and are confident of the viability of the test. Updates will be provided regarding FDA discussions and strategy going forward.
Just recently they gained approval, enabling the commercial sale of the CardioSCORE test in the EU, and other countries that recognize the CE Mark. This is what management had to say:
"We are thrilled to bring the benefits of the CardioSCORE test to patients and physicians in Europe. We believe this test will be a pivotal and disruptive game-changer in the primary prevention of major cardiovascular events and treatment of disease, representing a major advancement over the diagnostic tools clinicians have used for the past 15 years," said Eric Bouvier, President and Chief Executive Officer of BG Medicine. "The majority of cardiovascular events occur among patients who are asymptomatic, and current risk factor assessment methods simply miss too many patients with hidden subclinical risk, delaying appropriate therapy and effective monitoring of response to such therapy. The CardioSCORE test will identify individuals at elevated risk for heart attack and stroke, enabling preventive intervention. We are working aggressively to launch the test in the first half of 2013 in Europe in collaboration with specialty laboratory partners."
The American Heart Association estimates that in the United States alone, over one million people die annually from complications from atherosclerosis and atherothrombosis cardiovascular diseases, and that the total annual cost of treating these conditions exceeds $360 billion.
Funding
BG Medicine has $17.6m cash as of September 30th plus a loan facility of $15m ($10m already drawn down) with GE Capital and Comerica Bank. If they use the additional $5m they would have enough funds until end of 2013.
Institutional/Insider Holdings
47.20% held by Institutions. (Net institutional purchases in the latest quarter of 652,121 shares, or a 6.31% change from prior quarter.)
47.13% held by Insiders. Note: On November 15th, company officer Bancel Stephane purchased (Open Market) 100,000 shares for approximately $126,000.
Risk
Even though I believe BG Medicine represents a high probability investment from these levels, the company naturally has risks inherent in all small cap, speculative stocks. Also, until resolution, the fiscal cliff adds an additional element of uncertainty.
Conclusion
With the recent guidelines imposed by CMS, management has now sensed the urgent need for their disruptive tests, and this new aggressive commercial strategy should help them drive rapid revenue growth going forward. I expect the imminent launch of the CardioSCORE and Glalectin-3 (additional indication) tests in Europe to serve as major catalysts in the days and weeks ahead. Add to that the recent insider buys, large institutional holdings and strong partnerships, it is clear BG Medicine is heading in the right direction and looks very undervalued with a market cap of just over $50m.
Disclosure: I am long BGMD. I wrote this article myself, and it expresses my own opinions. I am not receiving compensation for it. I have no business relationship with any company whose stock is mentioned in this article.