China and Free Trade: A Failureto Recognize Externalities
As the current financial crisis deepens and talk of Chinese cooperation in bailing out the US and world economies becomes a reality, many economists and policy analysts expect the Obama administration to effectively turn a blind eye to what have previously been contentious issues in US-China relations, such as human rights, Tibet, Taiwan and Chinese military expansion. At the same time, President Bush has been extolling this crisis as an opportunity to recognize the need for increased free trade. Although there are those not only on the Chinese side, but also in industry, government and academia in the US who cheer this "maturing" of relations between the two countries as evidence of the success of the economic integration and interdependence that liberalized trade and investment has brought, it is important to consider carefully the true nature of the costs of free trade.
First it is necessary to define what is meant by "free trade." It is used here to cover both the governmentally unrestricted and unhindered flow of goods and services, as well as what is often considered a corollary, the free flow of capital and investment across national borders. In addition, it is taken to also mean such related concepts as the free flow of information, freedom of access to markets, and the absence of any policies that function to influence, distort or limit trade and investment. To be sure, free trade in this sense is truly a derivative of laissez-faire economic philosophy. The US does not yet have what is strictly speaking "free trade" with China (there is no US-China free trade agreement), however, US-Chinese trade relations are substantially approaching that extreme.
Although neoclassical economic theory recognizes that free-trade does result in the picking of individual "winners" and "losers" within a given economy, it can be shown analytically, through the use of simultaneous equations or charts (such as the one below) that it results in a net overall economic gain (in practice measured as GDP) for the economy.

Figure 1: Depiction of deadweight loss to society as a result of imposition of a tariff: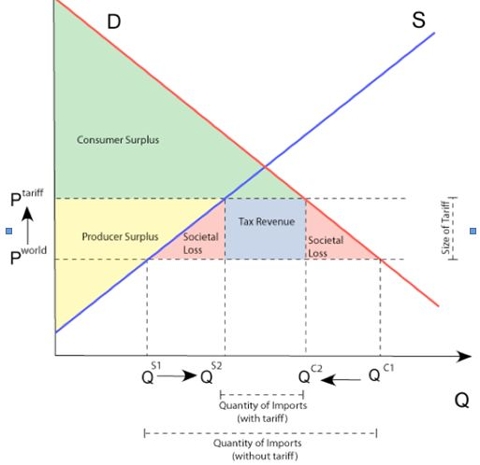 To the extent that this may result in an undesirable redistribution of wealth, disappearance of some industries, or rendering of some skills obsolete, the use of selective tax regimes, social and welfare programs and other such policies is often accepted by promoters of free trade as a trivial trade-off for increasing the overall size of the "economic pie." It is ironic to note that these aforementioned solutions are inherently non-laissez-faire in nature.
There are a variety of good criticisms that can be made regarding the general simplicity of many free trade and capital flow models, such as the reality of labor markets, the relative difficulty of trading services as compared to goods, arguments for protecting "developing industries" and a number of issues pertaining to fiscal stability and currency speculation, but what is surprising is the extent to which the current combination of industry and academia has been successful at casting as nothing more than unenlightened populist fear the idea that we should worry about something other than GDP and income distribution. For these model's biggest flaw is that they completely ignore a non-economic, yet very real externality: the loss of national sovereignty.
It should be noted that both modern economics and popular awareness have come to clearly recognize externalities in the form of environmental impact, public health, safety, and quality of life as imposed by many industries, and that we have accordingly enacted policy to regulate and limit them. We recognize, for example, that although free markets might determine as efficient the felling of our forests at a faster rate than what is current, we have imposed restrictions on logging because we understand the external costs imposed on a society that is tree-less. Likewise most human beings enjoy the ability to breath fresh air and drink clean water to an extent greater than what unregulated industrial economies have historically provided.
There would be few free trade economists who would deny that the ultimate theoretical result of true free trade is not only increased GDPs for all participants, but truly integrated economies, as inseparable as, for example, those of New York and New Jersey. Large-scale free trade and the resulting economic integration, by definition, leads to a loss of national independence, which in turn results in the loss of political independence. It is often remarked by such economists that borders are after all artificial creations and the disappearance or at least de-emphasis of national borders is a natural outcome of economic progress.
Artificial creations that they may be, borders serve a valuable purpose: they protect national sovereignty and in doing so the ability for a nation and its people to live by and promote the values, rights, lifestyles and institutions they cherish. Although many might accept a blurring of the lines when it comes to a country like Canada that shares so many commonalities with the US, even the idea of further national integration with the country's other neighbor, Mexico seems to cause unease in many Americans. The fact that the US is losing, as I write this, political independence to China, a country with vast ideological, cultural, and historical dissimilarities, is without doubt an externality of such great size that all here-to-fore conclusions as to the benefits to the US of free-trade ought to be carefully re-examined.
We can take comfort in the fact that the choice is not simply between the extremes of completely unrestricted flows of goods and capital on one hand and North-Korean style reactionary isolationism on the other. There is middle ground; there is managed trade, a system that the US has employed in the past. However, a return to managed trade would also require the picking of "winners" and "losers" and perhaps, because the losers instead of being unionized machinists with quiet voices in places like Detroit or Ohio would be some of America's wealthiest individuals, we are being told that the decline of the era of the nation-state is inevitable. What is inevitable is that if a nation loses its sovereignty it will also lose its identity. Just ask the Tibetans.
This article was written by
Jesse Veverka holds an M.S. in aerospace engineering and B.A. in economics from Cornell University. He worked as an analyst at Bear Stearns from 2000-2002. He currently lives in Japan where he is producing a feature-length documentary film tentatively entitled "China: The Rebirth of an Empire." His academic interests center on economics, political economy, public policy, East Asian languages, cognitive science and linguistics.