Wednesday morning, a report came out indicating that consumers were less enthusiastic about the holiday shopping season than they were last year. Investors attributed this to the "fiscal cliff" keeping shoppers away from stores. Holiday sales only rose 0.7% this year, compared to a 2% increase last year, according to MasterCard Advisors.
As a result, retail stocks had a terrible day. In fact, retail stocks such as Amazon (NASDAQ:AMZN), Abercrombie and Fitch (NYSE:ANF), and others were among the worst performers. What I found particularly surprising, however, was that the single biggest decliner on the S&P is the retailer that I'm most bullish on, Coach (COH).
Coach is a leading designer and marketer of high-quality fashion accessories. Most famous for their handbags, the company also produces travel accessories, outerwear, footwear, and business cases, having greatly expanded their product lines in the past several years. Coach is especially focusing on expanding their men's business, which remains largely an untapped market for the company. In fact, the company reports that men's sales doubled just over the past year to about $400 million, and they expect this to grow to $600 million next year. To give readers an idea of the potential the men's line has, bear in mind that total revenue was $4.8 billion last year, with men's sales making up only about 8% of the total.
During fiscal year 2013, Coach plans to increase its North American square footage by 10%, including the opening of 10 men's factory stores and the expansion of 20 existing stores. In addition, the company is planning 30 new stores in China and 13 in Japan. Coach sees its best opportunity to expand its men's line in Asia, where men are, according to the company, more "fashion conscious." In terms of valuation, I believe Coach is the most attractive of its peers right now.
Coach currently trades at 16.1 times TTM earnings. For the current 2013 fiscal year (ending in June), Coach is expected to earn $3.87 per share, according to consensus estimates. Earnings are expected to grow nicely to $4.45 and $5.13 in fiscal years 2014 and 2015, respectively. This is a 3-year average growth rate of 15.1%, more than justifying the P/E multiple. It sounds even cheaper to say that Coach trades at just 10.5 times 2015 earnings! Another point worth noting is Coach's 2.09% dividend yield. The company began paying dividends in 2009 and has raised the payout every year since.
The company also has a great history of earnings growth, as seen in the graph below, with the only hiccup being 2009 when sales of non-essential goods suffered: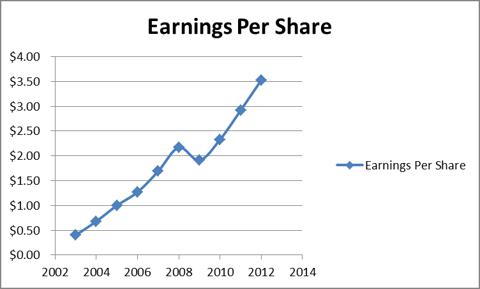 For comparison purposes, I'd like to examine the valuation of a few of Coach's competitors, specifically Michael Kors (NYSE:KORS) and Ralph Lauren Corp (NYSE:RL), which I believe to be the two most closely related companies to Coach. Kors trades at the astronomical valuation of 31.9 times current fiscal year's earnings. Although it is expected to grow its earnings 30% for the next two years, this still translates to 24.5 times forward earnings. While Kors is a great growth story, I think the current valuation is a bit too high.
Ralph Lauren is perhaps the most direct comparison to Coach, as both companies are expected to grow their earnings at the exact same 15.1% rate for the next few years. However, RL trades at 21.3 times TTM earnings, a significant premium to Coach. Additionally, RL only yields 1.06%, making Coach look even more attractive.
I believe this minor setback for retailers creates several good buying opportunities. All three of the companies profiled here, and others, are trading at a discount as a result of one report that may or may not affect the bottom line, and is certainly not very likely to have any bearing on future growth. Coach is especially well-positioned due to its aggressive expansion in Asia and other international markets. Of the "retailers on sale" Coach seems to be the most attractive right now due to its growth and cheap valuation. And don't forget the men's business, the growth of which should far overshadow any dismal holiday season.
Disclosure: I have no positions in any stocks mentioned, and no plans to initiate any positions within the next 72 hours. I wrote this article myself, and it expresses my own opinions. I am not receiving compensation for it (other than from Seeking Alpha). I have no business relationship with any company whose stock is mentioned in this article.