Oil had a really nice day yesterday, however oil related issues lagged the gain there which seems to indicate to us that the trading there was influenced by holiday circumstances as well as a view within the market that we will be making a trip over the fiscal cliff. We are waiting for a dip to buy for 2013 and fully expect to see this dip when the market realizes that a deal is not imminent nor feasible before the end of the year.
Oil & Natural Gas
We get a lot of messages and articles citing experts discussing how shale plays are uneconomical and will never pay off, etc, etc. To that we say garbage in and garbage out. With formulas and ROI everything is dependent upon the data, and right now the data is rather weak. Is it insane that many dry natural gas players continue to drill wells which at today's prices are not anywhere near being economical? That would be a resounding yes! However to throw the entire sector into the trash bin due to one portion of the shale revolution not working out right now is crazy, and that is why we wanted to highlight EOG Resources (NYSE:EOG) this morning. The stock has done nothing but rise as they continue to find oil in the Bakken and grow production through low risk drilling. The company has a lot of oil exposure and is insulated from many of the ills faced by its peers (lacking dry natural gas and NGL focused production) which has us believing that the company will be around for quite some time, regardless of what the shale bashers have to say. If the industry were to go into some 'shaleageddon' we would expect EOG to be one of the few companies able to move in and scoop up the best assets of their competitors - an issue that should only make the company more attractive to investors trying to mitigate risk while benefiting from the domestic oil renaissance.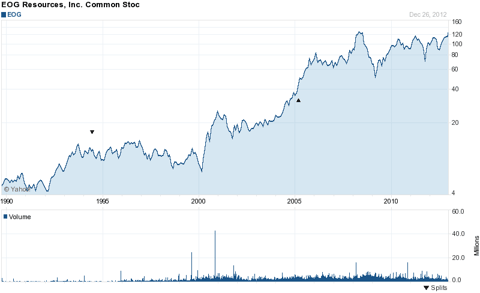 Chart courtesy of Yahoo Finance.
The past 10-13 years have been especially rewarding for EOG shareholders. What is even more impressive is that they are one of the few shale companies to have been able to maintain (or grow into) their valuation and share price. We think that the stagnation of the last five years or so is about over as the stock breaks out to new highs.
Metals
This morning we want to high-light two of the plays on China we have talked about over the past few months. First off, Vale (NYSE:VALE) has been quite strong and shown resilience in being able to hold the $20/share level even in the face of some ugly trading days. The stock has shown up in a few analysts' letters we have read from the big boys and is among their best ideas for 2013. We would argue with anyone who says their best idea for all of 2013 rests on a $100 billion market capitalization company, but sometimes it is not the exact idea where the money is to be made but via off-shoot trades. This is what we have been saying for our readers who want more risk and it is apparent that the investment community is coming around to our thesis that 2013 shall see a rebound in junior miners. We like the commodity exposure that Vale gives our more conservative readers as well as the yield which shields the shares from having to participate in severe market pullbacks but younger readers need to start putting a list together of viable junior mining plays to move into in 2013.
Also of interest is Freeport-McMoRan (NYSE:FCX) which finds itself once again bumping up against the $34/share level which has served as a resistance point for shares since the announcement of the company's two oil purchases. As much as this deal stinks (and believe me it smells rotten with all of the insiders tied together and what appears to be self dealing) these guys could come out smelling like roses if commodity prices rebound and the global economy picks up steam in 2013. That is what we have been calling for, and with analysts coming around to our thinking it gives us a bit more confidence on the timing of this one. We do think that the general market has at least one more pullback (fiscal cliff related of course) before it is safe to buy, so patience should be exercised.
Coal
So we were big bears of the coal sector earlier this year, calling almost to the dollar some of the lows in the sector. We ignored (some would say missed) the rebound as we were busy with our Utica investing which has returned gains which are better than or equal to a lot of the coal names so it is hard to argue with our actions. Although had we been involved more with coal than the few quick trades we did our options exposure could really have cranked up the returns for the year, but such is life (coulda, shoulda, wouldas have no place in investing except to be used as a learning tool). With that said, we do believe that the coals have set themselves up nicely to break through upwards resistance levels which have held strong and even stopped the most recent strong rally in its tracks. The only problem is if a deal on the fiscal cliff is not reached, but either way we see the sector revisiting the resistance levels for at least one more visit and attempt at breaking through. The stock we are watching through all of this is Alpha Natural Resources (ANR) which is where we have done some of the quick options trades over the months. It is a volatile stock and one in which the day traders are heavily involved, so unless you can stomach the large swings one might want to stay away. Remember, wait for a pullback and buy on the weakness.
Agriculture
One of the most disappointing stocks over the past two years or so has been Deere (NYSE:DE) in our opinion. The company failed to participate in the rally upwards as ag stocks in general were moving higher as the company's management took the conservative route and advised investors that Europe and Asia would have an impact upon overall sales and growth outlook. As bad as analysts thought it was going to be, and probably management too, the shares have actually held in quite strongly and we noticed yesterday while doing some research that they are in fact near a 52-week high. Not near recent two year highs, but very near the 52-week high which we find bullish considering where we are and what we have been through over the past two years. We are going to rotate this one back onto our watch lists and will pay more attention should the economy turn as the company has a tendency to really crank up performance in boom times.
Disclosure: I have no positions in any stocks mentioned, and no plans to initiate any positions within the next 72 hours. I wrote this article myself, and it expresses my own opinions. I am not receiving compensation for it (other than from Seeking Alpha). I have no business relationship with any company whose stock is mentioned in this article.