Two popular lunch spots among the Stock Rover team are Chipotle Mexican Grill (NYSE:CMG) and Panera Bread (NASDAQ:PNRA). We enjoy the food at both restaurants, but lately, we find ourselves at Panera much more often - the lines move quickly, the staff is supremely friendly, and the menu has a variety of appealing options. Meanwhile, the service at our local Chipotle is hit-or-miss, the menu - while highly customizable - doesn't stray from the same flavor profile, and portion sizes are invariably enormous.
So I've been wondering, is this preference merely a reflection of our personal tastes and the particular locations we visit, or - from an investment perspective - does it signal something larger? Over the long term, which is a better investment, CMG or PNRA?
CMG vs. PNRA - The Tale of the Tape
My first step to answering this question was to generate a table of the metrics I wanted to consider in this particular comparison.

Of these, I started by looking at the price/earnings multiple (P/E), 34 for CMG and 29 for Panera - both among the highest in their industry (Consumer Cyclical: Restaurants). Panera is a little less expensive by this metric, but by itself that doesn't tell us much. The next question for both companies would be whether their growth justifies these elevated multiples.
As a point of comparison, the next table shows the P/E for all the restaurant chains with a market cap over $1B.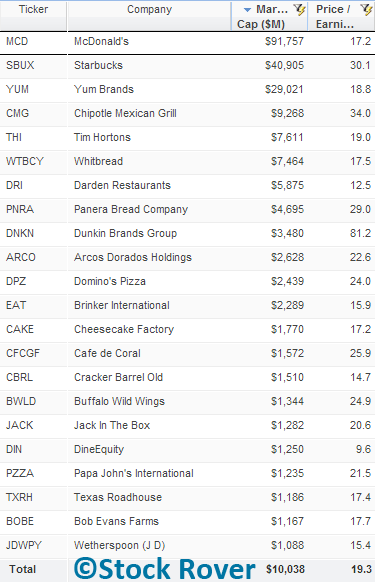 The P/E to growth (PEG) ratios, shown below, provide a quick test of the valuation by comparing the P/E to earnings per share growth over time.

By the PEG Trailing, Chipotle appears to be slightly better priced and a slightly better value than Panera. By the PEG Forward, Panera is slightly cheaper - and, at 1.4, is also less than the PEG Forward of both the S&P 100 (1.7) and the Dow Jones Industrial Average (1.5), shown below.

These ratios at least suggest that valuation for both CMG and PNRA is not unreasonable considering expected earnings growth, but they don't put much daylight between the two either. However, the next set of metrics, earnings per share (EPS) and sales growth begin to create some separation.
Earnings Per Share Growth
From the table below we can see that Chipotle's five-year EPS average is higher, as well as its change in EPS over the past year.

To get a sense of where those percentages are coming from, here is a graph showing Chipotle's EPS and change in EPS over the past several years, as well as what is expected next year: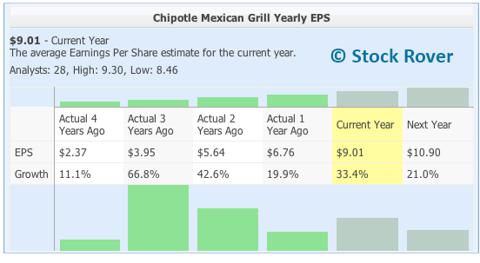 The EPS growth has bounced around a bit, but averages an impressive 34.8% over five years (counting the current year). Meanwhile, Panera's EPS numbers show more consistent growth, but on a lower trajectory: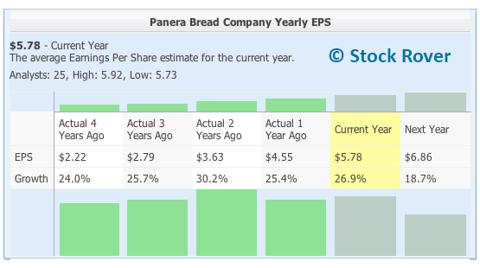 Panera still looks quite good here, but, for a similar P/E, Chipotle is growing faster.
Sales Growth
Sales offer a similar picture. The table below shows that, for both, sales growth over the past year is slightly higher than the five-year average.

This is good as it means that, for both companies, revenue growth is running on all cylinders, which is what we want in high P/E stocks. Similar to EPS, the projections for next year's sales numbers show a slight deceleration for both companies. Here are the graphs: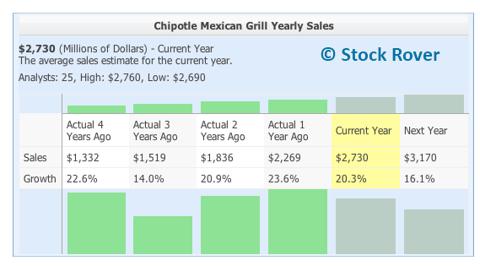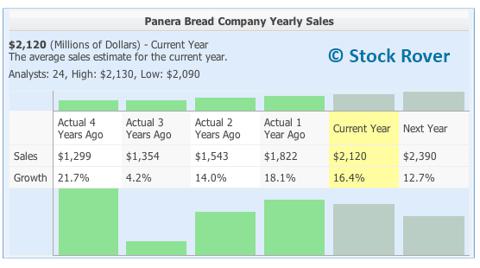 Analysts estimate that Chipotle will have stronger sales growth next year, increasing by 16.1%, versus 12.7% for Panera. Note that, in absolute revenue terms, Chipotle is the larger company and is expected to increase sales by $440 million, compared with the $270 million for Panera. Of course, these are just estimates and reality could turn out quite differently for both companies.
The Verdict on Growth
It is understandable why the P/Es for these two stocks are similarly high. Both companies are growing rapidly and the sales and EPS numbers are not dramatically different. Historically, Chipotle has grown both EPS and sales faster, and this is expected to continue going forward.
Interestingly, Chipotle's roughly 5% sales growth advantage over the past five years translated into an approximate 9% earnings growth advantage over Panera. Let's dig into growth a bit further.
The Growth Runway
By itself, growth does not necessarily indicate a good long-term investment. A key concern for investors is: can the strong historical growth continue, or has the company already traveled pretty far down its growth runway? And secondly, is the pace of growth negatively affecting the efficiency of current operations?
To the first question, Chipotle's fast pace of growth is apparently not undermining its long-term prospects - analysts following Chipotle estimate that, by matching the density of its home market in Denver, Chipotle could expand to 3,500 restaurants domestically. It has about 1,350 restaurants open now, so if it were to continue at the current pace of opening 165+ restaurants per year, the company could have about 13 years before reaching the end of its domestic runway. (Perhaps it's doubtful that the pace of growth will actually stay consistent, but still it can help gauge where the company is in the larger scheme of its development.) On top of that, the company is just now dipping its toe into international markets and is also exploring other concepts, like its ShopHouse Southeast Asian Kitchen in Washington, DC, which is soon expanding to LA (and I have to say, looks enticing).
The long-term prospects for Panera's growth are equally sunny. By matching the density of its home market in St. Louis, Morningstar estimates that Panera could expand to 4,000 bakery-cafes domestically (there are about 1,625 right now), which, at its current pace of about opening 115-120 per year, gives it about 20 years of runway. In addition, there is the potential for expansion internationally, as well as smaller-format stores for urban locations.
So, it appears that neither Chipotle nor Panera needs to slow down anytime soon. To the second question, about how current operations are being affected, I considered a few efficiency measures as well as comparable-store sales (comps).
Are They Efficient?
Considering that both companies are in the same industry, have clean balance sheets with increasing earnings, and have virtually no long-term debt, I used return on equity (ROE) as a quick test of their efficiency - one that ever so slightly favored Chipotle, but I think this one is too close to call. Have a look at their ROEs over the past five years: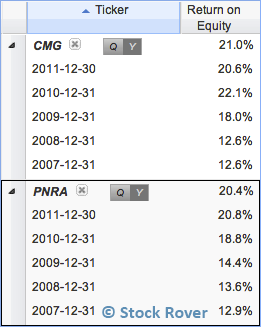 Comparing the 2011 ROEs with industry peers, both companies run in about in the middle of the pack. More established slower-growers like Darden Restaurants (DRI) and Starbucks (SBUX) have ROEs in the 25%-27% range, while other industry giants, such as Yum Brands (YUM) and McDonald's (MCD), have ROEs in the upper-30 and beyond. This would seem to suggest that profitability and capital efficiency still have room to improve as these two companies mature.
Next I looked at operating margin. Unlike ROE, the operating margins helps differentiate the two stocks. Here they are charted over the past five years:
We see both companies increasing their operating margins - a good sign for efficiency, especially while they are expanding - but Chipotle has maintained a wide lead since mid-2009.
While we're on this subject, an interesting aside: one cause for the dip in both companies' operating margins in the past few months may have been an increase in food prices. While both companies are vulnerable to rising food prices, Chipotle may have more exposure here because, as part of its ethos, the company buys from many smaller, sustainable suppliers, rather than from a vertically integrated chain. On the other hand, this may also mean that Chipotle has a uniquely strong bargaining position among suppliers, helping the company weather any food-price volatility and perhaps giving it an edge among competitors. For my part, I see Chipotle's model as a positive, given increasing consumer interest (mine included) in sustainability and small-scale food production.
Getting back to the numbers, I next looked at sales per employee, which is related to operating margin, but still tells its own story. Here is sales per employee over the last five years: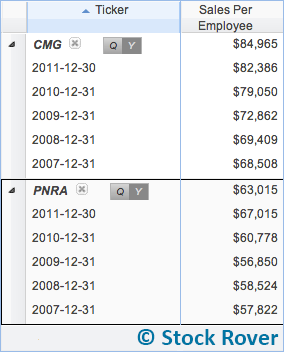 From the table we see that Panera has increased its sales per employee about 10%. Meanwhile, Chipotle has grown its sales per employee by about one-third in the same period of time making Panera's otherwise perfectly respectable progress look small.
To put the 2011 figures in perspective, Starbucks' sales per employee is about 88K - just ahead of Chipotle - and Darden is at 45K, less than both Chipotle and Panera.
So while Panera is no slouch, these data suggest that Chipotle operates more efficiently, and is increasing its lead.
Comparable Store Sales
Comps show that the increase in efficiency and profitability for both companies is not just coming from new stores, but from success at their already established stores. The below table shows comps in 2011 and the first three quarters of 2102. (For Panera, these count both franchises and company-owned stores; Chipotle does not have franchises.)

Panera looks good, but Chipotle wins this category too. If you are wondering, Chipotle estimates that most of its 2011 comp growth came from an increase in transactions, but with 2.9% coming from an increase in menu prices. Panera's 2011 comps growth was also 2.9% price increases, plus 1.8% increase in transactions and 0.2 % "positive mix impact" (selling higher priced items).
Stock Price Performance
By now, I'm feeling really good about Chipotle. But then there is this: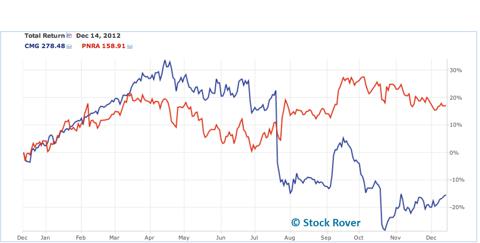 The one-year chart. CMG rises, sputters, and then takes a nose dive after the July earnings report, which it hasn't really recovered from. The July earnings report was actually good, but just didn't live up to high expectations. Meanwhile, PNRA, not without some turbulence, looks much more stable. Let's get the five-year view: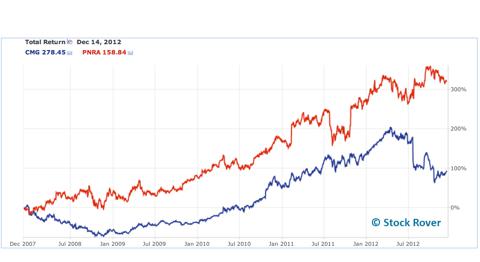 Here we see Panera maintaining a consistent lead over Chipotle, though Chipotle looked pretty healthy until five months ago.
First, the charts easily reinforce what the other data suggest, that Panera is a solid investment. But what to make of Chipotle's rocky ride? Some posit that Chipotle's precipitous drop just corrected its hype-inflated price, and now the stock is trading at levels more appropriate to its earnings and growth profile. This seems plausible to me. Although you needn't search far to find articles advising you to short Chipotle or stay away from it all together. And the loss experienced by investors in July does give one pause before committing capital.
In the end, however, these slightly uncomfortable charts aren't enough to undo the favorable opinion I've formed of Chipotle throughout the rest of this analysis. Because I am coming at this with a long-term view, I am relying primarily on fundamental factors as indicators of long-term value.
Conclusion
And that's a wrap (yes, a pun - how could one resist?). I did give a cursory consideration of several other factors, such as scalability, competition, and brand loyalty, and believe the two are still comparable and both strong in these areas. Based on the measures I looked at, Chipotle is this blog post's winner, having a small but clear edge in the key metrics examined. But, not a knockout by any means. While CMG is preferred, PNRA appears to be a fine place for long-term growth investors to dine as well.
Disclosure: I have no positions in any stocks mentioned, and no plans to initiate any positions within the next 72 hours. I wrote this article myself, and it expresses my own opinions. I am not receiving compensation for it (other than from Seeking Alpha). I have no business relationship with any company whose stock is mentioned in this article.