The year 2012 has been a turbulent one for quite a few technology stocks. The global recession, fiscal cliff concerns, European Debt Crisis and growth slowdown in China, have all contributed, to lesser consumer spending on technology products. The performance of S&P 500 Technology Sector Index's (graph below) shows the turbulence in the technology stocks. A major factor in the poor performance of the tech index has been the decline in Apple (NASDAQ:AAPL), because this tech giant has a large market cap and any price movement in AAPL has an exaggerated effect on the index. To add to woes of the tech sector, IDC has just revised its semiconductor outlook for 2012 & 2013, raising doubts on comeback efforts of some semiconductor stocks.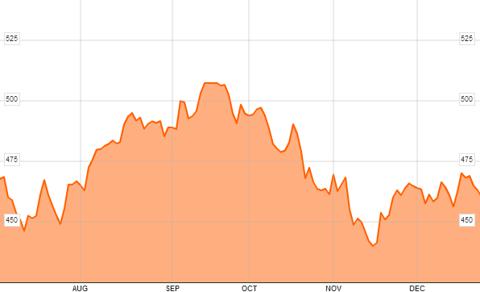 Figure : S&P 500 Technology Sector Index/ Bloomberg
A number of companies have suffered due to these macro-economic factors and general trends in their respective industries. Pandora (NYSE:P) and Advanced Micro Devices (NASDAQ:AMD), particularly have felt investor wrath in 2012. The figure below shows the abysmal performance of these stocks, in the last 52 weeks.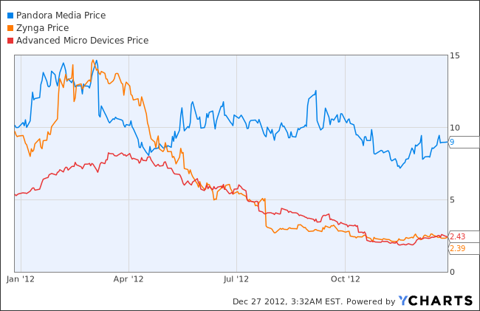 P data by YCharts
Advanced Micro Devices
AMD has shed more than 75% of its value in the last few months. The bad performance of AMD can be blamed on the bad performance of the entire PC OEM industry. The sales decline in PCs is primarily due to an increased focus of customers on handheld devices. In my recent update on AMD I had maintained that this tech giant has bottomed out. My thesis was that the company has approximately 75% of its market capitalization as cash and I was expecting the company to report better figures for the quarter due to improved sales by Windows 8. On the contrary, IDC has just cut its Semiconductor outlook for the next year. International Data Corp believes that soft PC demand and broad economic uncertainty will keep Semiconductor revenues almost flat. The company expected revenue for 2012 to be $319 billion and show a 4.9% growth to $368 billion in 2013.
I think this outlook confirm investor concerns that AMD will continue to depreciate its equity by continued losses. It seems highly unlikely that AMD will be able to become profitable next year. The already abysmal situation of the Balance Sheet raises doubts on the ability of AMD to sustain continued losses. As can be seen from the table below, the company lags behind the industry and sector in key financial strength indicators. The stock is trading 10% below the mean sell side target price and in light of this latest bleak outlook by IDC, I believe investors should expect further downgrades. I recommend investors to short AMD.
| | | | |
| --- | --- | --- | --- |
|   | Company | Industry | Sector |
| Quick Ratio (MRQ) | 1.33 | 2.52 | 1.64 |
| Current Ratio (MRQ) | 1.81 | 3.12 | 3 |
| LT Debt to Equity (MRQ) | 205.76 | 23.15 | 10.79 |
| Total Debt to Equity (MRQ) | 206.27 | 41.46 | 19.94 |
| Interest Coverage (TTM) | 4.28 | 35.11 | 164.21 |
Figure : AMD Financial Strength Reuters
Pandora
Pandora has slipped since its 3rd quarter results came out. Investors punished the stock for giving a lower than expected earning guidance for its 4th quarter and 2014 outlook. According to Pandora the company expects to face a decline in advertisement revenues due to cautious spending, by the advertisers scared from the global economic situation. The stock shed almost 11% after earnings were announced but since then has regained almost 5%. Analyst are expecting Pandora to report a loss of $-0.1 for 2014 and generate sales of $600 million. As the chart below shows the company has been able to show a consistent increase in sales.
This sales growth however, has not effectively translated into an increase in Net Income. I have already discussed the high content acquisition costs of Pandora and believe the company will continue to erode equity. The company has only $79 million in Cash & Equivalents and expects to report a loss of $0.06-$0.09 per share. I believe Pandora remains a good short target with an unreasonable high p/e of 780x and no expected reduction in acquisition cost. The chances of Internet Radio Fairness Act are still bleak at best and we can still not discount Pandora's losses. There I recommend investors to short this unreasonable expensive stock in light of more losses and bleak chances of Internet Radio Act getting approved.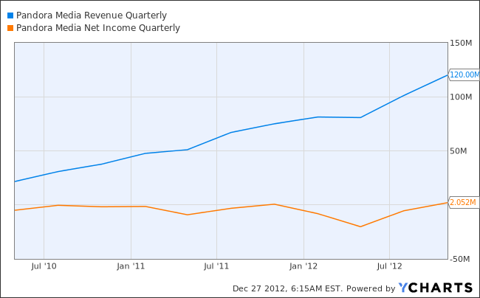 P Revenue Quarterly data by YCharts
Disclosure: I have no positions in any stocks mentioned, and no plans to initiate any positions within the next 72 hours. I wrote this article myself, and it expresses my own opinions. I am not receiving compensation for it (other than from Seeking Alpha). I have no business relationship with any company whose stock is mentioned in this article.