Many of us may find it hard to be thankful for much in this economy, especially when it comes to our portfolios. From its October 9, 2007 peak of 1565.1, the S&P 500 has been down as much as 52% hitting 752.44 on November 20, 2008. But every cloud has a silver lining. There are things to be thankful for in this, and most bear markets. I thought I'd list a few.
1. The Teachings of Benjamin Graham:
Benjamin Graham is perhaps best known today from frequent references made to him by billionaire investor Warren Buffett. Besides giving us Security Analysis in 1934 and his 1949 classic, The Intelligent Investor, he gave us short but meaningful quips about keeping our collective heads as investors in any market, let alone a bear market where we have seen a 52% drop. Some of my favorites are:
Confronted with a challenge to distill the secret of sound investment into three words, we venture the motto, Margin of Safety.

Price fluctuations have only one significant meaning for the true investor. They provide him with an opportunity to buy wisely when prices fall sharply and to sell wisely when they advance a great deal. At other times he will do better if he forgets about the stock market and pays attention to…the operating results of his companies.

…in the short run, the market is a voting machine but in the long run it is a weighing machine.
2. Low P/E Ratios
Last month, I pointed to a Wall Street Journal article by Jason Zweig where he points to a Benjamin Graham measure of valuing the stock market adopted by Yale professor, Robert Shiller. Dubbed the "Graham P/E", it divides the price of major U.S. stocks by their net earnings averaged over the past 10 years, adjusted for inflation.
At October 24, 2008, when the S&P 500 stood at 876.77 the Graham P/E was 15 (I have included November 20th's low of 752.44, a Graham P/E of 12.5, represented by the red line), the lowest it had been for nearly 20 years the suggestion being the market was greatly undervalued and investors were acting irrational. However, Chris Carroll a Johns Hopkins Professor of Economics, takes a slightly different position in a recent white paper. He points out the numbers predict a 6% or so rate of return over (grey dot, 8% at the red dot) the next 12 years net of inflation, about the historical average. Hardly the panic many market pundits have talked about.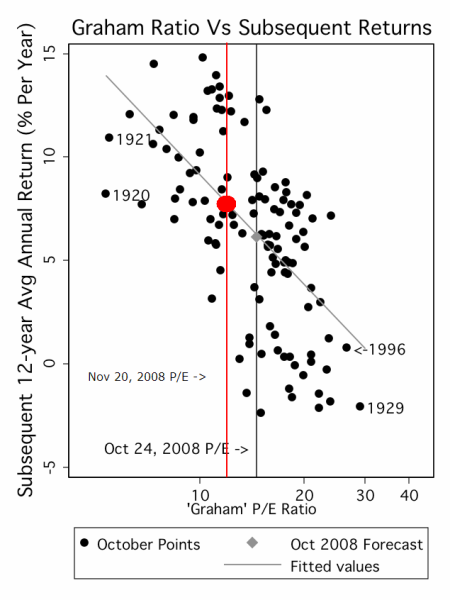 Source: Christopher Carroll/ Benjamin Taylor
Whether the current market provides for the buying opportunity of a lifetime or simply a return to normalcy as Carroll suggests is of little concern to me. I am finding quality companies at P/E multiples never available before. One company that fits the bill is Coach (COH), the leader in the handbag and accessory market.
Since being spun off from Sara Lee (SLE) almost a decade ago, Coach has grown its tangible book value by 49% per year and has not seen its return on equity dip below 40% in seven years. The company has raised its earnings per share by 47% per year and year-over-year EPS has increased every quarter for the at least the last five years including its most recent. Coach also has nearly $410 million in cash with only $2.2 million in debt.
In any other environment Coach would be selling for 25-30x earnings, and has since it went public years ago. But today an investor can have Coach for a cool 8x earnings. I must agree with Warren Buffett when he says,
…fears regarding the long-term prosperity of the nation's many sound companies make no sense. These businesses will indeed suffer earnings hiccups, as they always have. But most major companies will be setting new profit records 5, 10 and 20 years from now.
3. The Inevitable Market Rebound
This bear market has been the most severe we have seen since the decline of 1929. The good news is that we are not likely to see precipitous declines from here. So, although it is impossible to pick the exact bottom, it would be my guess that we are in the "bottom range". I feel strongly that over the next 3 to 5 years, the market will be much much higher. And according to the data below, most of that recovery will come in the first few days and months.
On average, using the last nine bear/bull markets as a proxy, 87% of the S&P 500's high has been recovered in the first year of the market bottom. On average, all of the prior high, and then some [122%], has been recovered by the second year. This is represented in the following chart [click image for larger view]:

For example, on August 25, 1987 (light blue highlight), the S&P 500 reached a high of 336.77. Then it began a drop over the three months, which included the infamous Black Monday when the market dropped more than 20% in one day, and by December 4, 1987 the market had fallen to 223.92, representing a 34% drop over that period and a loss of 112.85 points off the index. However, within one year of the bottom, the market had returned to 277.59, rebounding 53.67 points, a 24% return, from the bottom and recovering 48% of the loss of the previous high. By the second year, the market had stood at 348.55, recovering a full 110% of the previous high of 336.77.
In fact, in most instances, you will recover a full third of what you've lost in the first 40 days into a new bull market.
Buy and hold is not dead. No one can time the market so it pays to stay fully invested even in times of uncertainty.
4. Black Eyed Peas, and
5. Collard Greens
Seriously, do I really need to say more? There are few things in life that beat mom's collard greens and pop's black eyed peas thrown in with a little Jamaican corn bread. And with today economy and the burden it is putting on the pocket book, a cheap meal is hard to come by. In fact, with Americans on food stamps having reached an all-time high, a cheap nutritious meal is just what the doctor ordered.
Southern folklore suggests that a meal of black eyed peas and collard greens will bring with it good luck and financial prosperity. The peas represent coins and the greens represent folding money. Both foods are dependable sources of nutrients and antioxidants that protect your heart and maybe prevent cancer and both are great sources of folic acid.
Good eats!
Disclosure: I and the clients of Brick Financial Management, LLC hold positions in iShares S&P 500 Index ETF (NYSEARCA:IVV) and ProShares Short S&P 500 Index ETF (NYSEARCA:SH) but positions may change at any time.