Capstone Mining (OTCPK:CSFFF) just announced a share buyback, let's take a quick look at the numbers.
Capstone mining had 382 million shares outstanding on September 30. Cash was at $510 million, assets were at $1.5 billion and equity was at $1.4 billion.
Market capitalization was considerably lower than equity: $874 million. So it is a very good idea of management to announce a share buyback on 27 December 2012.
In this share buyback program, Capstone Mining can buy approximately 10% of all outstanding shares or 34,014,871 shares ($80 million over a time period of 1 year). Capstone Mining has a lot of cash as compared to its equity. So I believe the company will buy back shares with its cash position. After the buyback, this will leave the cash position of the company at approximately $500 million considering its net earnings are at $15 million per quarter.
So basically nothing significant will happen to the cash position over the next year. The buyback will reduce the amount of shares by as much as 34 million shares. The earnings per share will increase 10% as a result of the buyback and that means that the P/E ratio will drop 10%, making the valuations more interesting for investors to accumulate Capstone Mining's shares.
Normally the decrease in cash position will shrink equity, because the company will use up cash to perform the share buyback while liabilities and non-cash assets stay the same. The total assets should shrink too. (see Figure 1 and Figure 2). But as the cash position stays about the same as I pointed out earlier, the only effect will be a 10% decrease in amount of shares. So basically it comes to this: the company keeps its balance sheet at status quo, but tries to improve the earnings numbers with this share buyback.
This 10% improvement in earnings next year should support the share price of Capstone Mining going forward.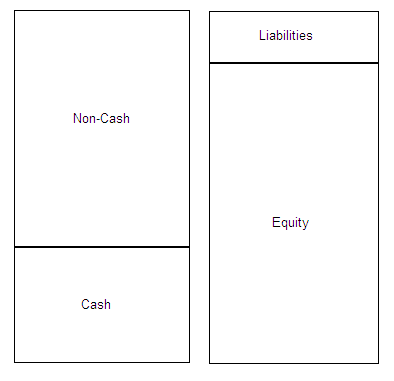 Fig. 1: Capstone Mining CSFFF.PK
Fig. 2: CSFFF.PK after buyback earnings not incl.
There are also buyout rumors on this company because of its low enterprise value. Enterprise value is calculated as market cap + liabilities + minority interest - cash equivalents. This number is around $550 million (September 2012).
So basically someone can buy out the company at $550 million which is the theoretical takeover price. If we take the EBITDA of the latest earnings release, we can see that the EV/EBITDA ratio is around 3.3, which is very low for the copper mining industry which averages at 4 to 5. So I think that Capstone Mining is still very undervalued and management has made a good decision in announcing this share buyback program at a time where the valuation on the company is very inexpensive. Investors should continue accumulating shares of this company.
Disclosure: I am long OTCPK:CSFFF. I wrote this article myself, and it expresses my own opinions. I am not receiving compensation for it (other than from Seeking Alpha). I have no business relationship with any company whose stock is mentioned in this article.