Brazil's Vale (NYSE:VALE), the world's largest mining company after BHP Billiton (NYSE:BHP) and the largest iron ore miner, has seen its share price fall precipitously since the start of 2012. For the year-to-date (YTD), its share price is down by over 13%, but it is up by almost 14% since I last wrote on Vale in early October of this year. These gyrations in the company's share price can be attributed to China's slowing economic growth and the negative impact this has had on iron ore prices, along with increased economic and political risk in Brazil.
In this article, I will review my outlook for Vale by analyzing the key catalysts that impact on its share price in order to determine whether it now represents an opportunity for value investors. I have done this in co-operation with fellow Seeking Alpha contributor Colin Lea, who has utilized a similar methodology to evaluate BHP. Prior to analyzing these key catalysts, I will review Vale's most recent financial performance in order to determine whether its performance has improved with the rebound in iron ore prices.
Financial Performance Continues To Disappoint
Despite the spot price for iron ore rebounding by around 54% to $138 per metric ton (PMT) since it touched a three-year low of $89.50 PMT on September 7, 2012, Vale's financial performance has continued to disappoint. For the third quarter 2012, the company reported a 10% fall in revenue, in comparison with the previous quarter (QoQ), to $11 billion. This also represents a 35% fall in revenue in comparison with the same period in the previous year (YoY). Accordingly, net income has also fallen for this period, down by 37% QoQ and 66% YoY to $1.7 billion.
Even when EBITDA is considered, which I believe is a better measure for comparing a company's historical financial performance, the financial performance is still disappointing. For this period, EBITDA fell by 27% QoQ and 61% YoY to $3.7 billion. This has also had an impact on the company's margins, with its gross profit margin (GPM) down by 5.5% QoQ and 18.5% YoY to 44% and its EBITDA margin down by 6% QoQ and 18.5% YoY to 39%.
Much of this decline in financial performance can be attributed to lower commodity prices and in particular iron ore prices, although there are a number of other operational issues that need to be considered.
Key Catalyst One: Iron Ore Prices
Since hitting an October 2009 high of $187, PMT iron ore prices declined to an early September 2012 low of $89.40 PMT, but have since recovered by 54% to around $137 PMT, as the chart below illustrates.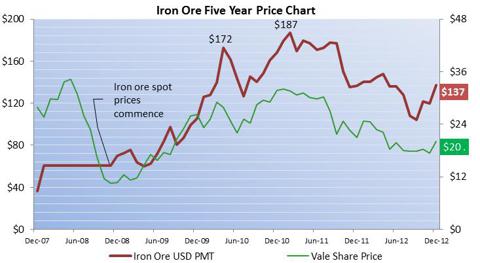 Source data: Index Mundi, Bloomberg, Yahoo Finance, Fidelity
As the chart also indicates, this rally in the price of iron ore is the key catalyst for the recovery in Vale's share price, and I would expect to its share price continue to rise if the rally is sustained. In a previous article from early October this year, I predicted that the long-term price for iron ore would settle at around $80 PMT. I formed this view on the basis of declining demand for iron ore because of contracting industrial activity and lower economic growth in China, combined with high iron ore and steel inventories. This lower demand is also being exacerbated by the European financial crisis, which was causing the economies of many of China's key export partners to contract.
This lower global demand for China's exports is having a significant impact on industrial activity and economic growth, because China, like many major emerging economies including Brazil, is an export driven economy. This essentially means that economic growth is dependent upon the consumption of those countries key exports, which in the case of China are semi-manufactured and manufactured goods.
However since my earlier article, China's industrial activity has started to improve, with the Chinese Purchasing Manufactures Index showing that industrial activity is expanding, being above the critical 50% mark for two successive months, as the chart below illustrates.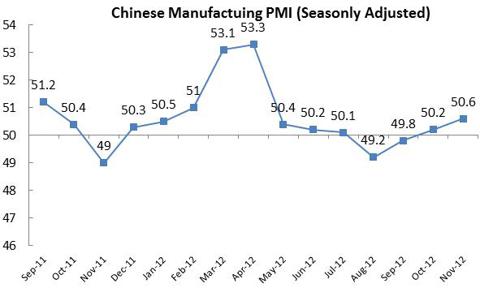 Source data: National Bureau of Statistics of China
Furthermore, economic growth forecasts for both the fourth quarter 2012 and the full year have become more optimistic, with it now estimated that further quarter GDP growth will be around 7.8%, which is a 40 basis point (BPS) increase on reported third-quarter GDP of 7.4%. Full-year GDP estimates have also been revised upward, with it now estimated to be in excess of the government's 7.5% target.
Much of this can be attributed to the government's stimulus package, which saw over $100 billion injected into the Chinese economy through infrastructure development. While all of these factors bode well for increased iron demand, I believe that with the iron ore price at over $130 PMT, they have been factored into the spot price for iron ore. I believe that in order see any further significant uptick in the iron ore price, it would take evidence of a sustained economic recovery in China. This would also require clear evidence of a recovery in Europe and the global economy as whole, which would act as a catalyst to drive increased demand for China's manufactured products.
There are a range of conflicting forecasts regarding the direction of the iron ore price, although Fitch's forecast seems to best represent the consensus, forecasting that the iron ore price will average $110 PMT through 2013, and then drop to an average of $90 to $100 PMT after that. The Australian Bureau of Resources and Energy Economics' forecast supports predicting an average price of $106 PMT for 2013.
For all of the reasons discussed in my earlier article "The Outlook for Iron Ore and How It Impacts the Valuation of Vale," I am still taking a relatively bearish outlook on the iron ore price. As a result, I believe that over the next year that iron ore prices will be in the $100 to 110 PMT range and after that, the post-2013 long-term iron ore price will fall into the $80 to $90 PMT range. Accordingly, this outlook for iron ore has been factored into my valuation of Vale in this article.
Key Catalyst Two: Operational Risk
Vale is one of the lowest-cost iron ore producers with a COGS to revenue ratio of 56%. As illustrated by the chart below, this is superior to its competitors such as BHP, Rio Tinto (NYSE:RIO) and Cliffs Natural Resources (NYSE:CLF), and makes it one of the lowest cost producers in the industry.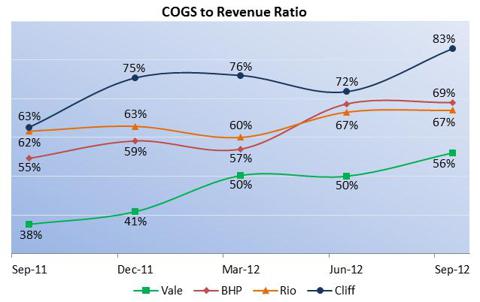 Source data: Vale, BHP, Rio Tinto and Cliff Quarterly Financial Reports.
Yet despite this, there seems to be no end in sight to the company's operational woes, and these are having a significant impact on the company's ability to operate cost effectively and profitability as seen by the ratio rising by around 6% QoQ.
As a result of these operational issues, the company has embarked on an expansive program to rein in costs and reallocate scarce capital more judiciously by suspending projects and selling non-core assets. Many of these operational issues have their origins in Vale's attempt to diversify its operations and reduce its dependence upon iron ore, as well as poorly executed strategies to create economies of scale. These initiatives saw the company move away from its core business of mining iron ore and expand into mining other metals, fertilizers, steel making and power generation.
Valemax Fleet Continues To Face Hurdles In China
Vale's fleet of 400,000 ton Valemax ships form a pivotal part of the company's strategy, with these huge vessels allowing a significant reduction in the costs associated with shipping iron ore to Vale's primary market China. Quite simply, they reduce shipping costs through generating tremendous economies of scale, and were intended to allow Vale to better compete with its Australian competitors BHP and Rio, which are geographically located significantly closer to China.
However, in January of this year, the Chinese government banned the Valemax vessels from docking in China's ports, which has prevented the forecast cost savings from materializing. This has forced Vale to send these vessels to more expensive trans-shipment hubs in the Philippines and Malaysia with the iron ore, then transfer it to smaller vessels for shipment to China. It appears that the key drivers of this ban are related to domestic political and business considerations rather than logistical issues that prevent the ships from physically docking. Given the Byzantine relationship between business interest groups and China's government, it is difficult to predict when this will come to an end.
This has been an expensive blow for Vale, with each vessel costing around $110 million each and 21 of the planned 35 vessels already delivered. Furthermore, the company has not been able to take advantage of the envisaged cost savings at a critical time when iron ore prices are falling and dry bulk rates have risen significantly. In dollar terms, it translates into Vale losing around $3 PMT in shipping costs and preventing the company from accessing the forecast $6 PMT in savings that the vessels should be generating.
With Vale selling just over 38 million tons to China in the third quarter alone, the ability for these ships to dock would translate into cost savings of around $230 million in that quarter alone. This would have seen Vale's third quarter COGs to revenue ratio fall by two full percentage points to an impressive 53.8%. Clearly, if Vale can have this ban overturned, it will have an immensely positive impact on the company's profitability.
Vale has recently expressed a view that it is confident that the ban will be lifted some time in 2013, and that its Valemax ships will be allowed to dock in China. This will allow it to access the tremendous cost savings these vessels can generate.
Further Impairment Charges Are Expected
The restructuring of Vale's operations has seen the company move to suspend troublesome and loss making operations as well as the sale of non-core assets. This includes ceasing operation at the troublesome Simandou project in Guinea, the shutdown of its loss making Canadian nickel mines and the sale of its fertilizer assets.
The company has recently conducted an asset review and informed the market that it will be recognizing an impairment charge before tax of $ 4.2 billion against its Onca Puma ferronickel operations. It will also be recognizing an impairment charge of $1.3 billion in recognition of the 22% fall in value of the company's stake in Norwegian aluminum producer Hydro ASA. Both of these charges, totaling $5.5 billion, will be recognized in the company's fourth quarter results. While these will not affect cash flow, it is clear that investors should be braced for a weaker net fourth quarter result.
Sale Of Non-Core Assets Will Boost Capital And See Increased Investment In Core Business Activities
The company has signed an agreement with Brazil's Petrobras (NYSE:PBR) to sell its nitrogen production assets located in Araucária, in the Brazilian state of Paraná, for $234 million. The purchase price will be paid by Petrobras through quarterly accrued installments adjusted by the Brazilian interbank interest rate (CDI).
Key Catalyst Three: Political And Economic Risk
Since the inauguration of the Rousseff government in Brazil, political risk for investors in the country has increased significantly, with her government embarking on a systematic process to establish a highly protectionist, interventionist and nationalistic economic platform. In order to implement this economic agenda, the Rousseff government has openly engaged in rewriting economic policy and business laws to create a system that protects and favors local companies and locally produced products.
These measures have included adjusting government procurement rules to favor local products and producers, placing tariffs on a range of imported products, forcing local procurement rules on various industries, introducing tax breaks for domestic industrial manufacturing and limiting the access of foreign investors to strategic assets such as a land and commodities. It has also seen the government openly embark on wholesale intervention in the economy and manipulate the taxation system. This has meant that even Vale as a Brazilian company has not been immune to this rising risk and over the last year, has found itself embroiled in a range of taxation and royalty disputes in Brazil.
Tax And Royalty Disputes
Vale has recently settled two tax disputes, one in Brazil with the state of Minas Gerais for $318 million, with almost $81 million to be paid in 2012 and the remainder in installments between then and 2015. When the existing provision of around $65 million is taken into account, this settlement will have a negative impact on fourth quarter earnings of $253 million. It will also have a $125 million impact on cash flow in the same period and $193 million impact in 2013/14. This settlement has seen the existing legal proceedings relating to this matter cease and will mean that Vale is not exposed to any future claims with regard to the value-added tax on services and circulation of goods (ICMS) recently enacted by the Brazilian state of Minas Gerais, through Law 20.540 and Decree 46.110.
Despite this settlement, Vale is still exposed to a $2 billion royalties dispute with the Brazilian government, which the company claimed would be settled in the third quarter 2012. To date, the dispute has yet to be settled, and Vale has provisioned around $677 million to cover the claim, with Vale CEO Murilo Ferreira claiming the settlement won't exceed this provision. Given management's penchant for downplaying the impact of disputes and issues affecting the company, I have little confidence that this will be the case.
The company is also still subject to litigation with the Brazilian government over a taxation dispute arising from a government claim for an additional $15 billion tax on profits from Vale's foreign subsidiaries. The matter is before the Brazilian Federal Court for deliberation, having already been heard by two lower courts that found in favor of the government. CEO Murilo Ferreira is confident of winning the case, but again I don't share his optimism because of the lack of transparency in the Brazilian legal system and the government's willingness to overtly interfere in the economy.
Finally, Vale has recently settled a taxation dispute with the Swiss government for $233 million, with payments to be made in installments from 2013 to 2015. Vale had made a $37 million provision for this matter, and the balance of the settlement of around $196 million will have a negative impact on fourth quarter 2012 earnings. Furthermore, the low provision in comparison to the final settlement reinforces my concern that management has a penchant for understating or downplaying the impact of these issues on the company.
The settled disputes will have a total negative impact of $449 million on fourth quarter 2012 earnings and a further $193 million over 2013/14. The outstanding royalties and taxation disputes with a potential quantum of $17 billion will have a significant impact on the company's ability to fund its capital expenditure requirements, if the company is found to be liable for the full amounts.
Key Catalyst Four: Shareholder Remuneration And Valuation
Vale's shareholder remuneration is comprised of two parts, the regular dividend payments and interest on share equity (ISE) payments. For investors in Brazilian companies, there is no withholding tax levied on dividend payments made from post-2006 profits, but share interest on equity payments attract a 15% withholding tax.
At the time of writing, Vale has a compelling dividend yield of over 5%, which is superior to many of its competitors, including BHP and Rio, both with yields of around 3%, but lower than Cliffs with a yield of 7%. The company has been consistently paying a dividend since 1999, as the chart below illustrates.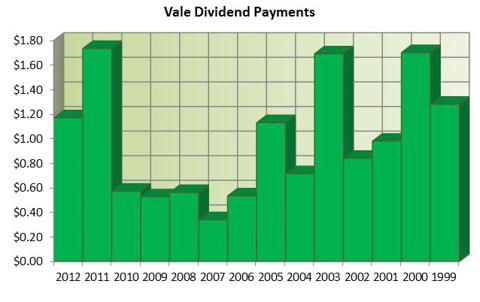 Source data: Vale Investor Relations
The 2012 dividend payment does not reflect the full year, and I would expect to see a further dividend payment announced at the time of full-year results. If the company were to lose the Brazilian taxation case, experience a further significant fall in revenues because of a significant fall in spot iron ore prices, or be subject to any further significant impairment charges as a result of its restructuring strategy, I would expect the dividend payment to fall.
Valuing Vale
In my past articles on Vale, I have taken a bearish view on iron ore prices and this has been a key determinant in my valuation of the company, with my most recent valuation in October this year giving an indicative value of $17 to $21 per share. Even with the company now having spiked in value by 14% since my last article, Vale is still trading with some very attractive valuation metrics in comparison to its competitors, as the table below illustrates.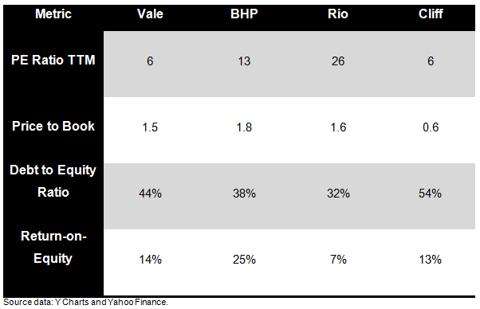 Typically, I do not like to rely upon ratios to determine whether a company is a worthwhile investment because of their simplistic and backward looking nature. As a result, I have valued Vale across a number of scenarios factoring in the catalysts discussed above, using a discounted cash flow methodology. With around 70% of Vale's revenue being derived from iron ore and the company's renewed focus on its iron business, iron ore prices have formed the key focus of the valuation scenarios.
For each the valuation scenarios, I have applied the following assumptions have been applied across all:
Cost of goods sold (COGS) over the long-term has been calculated at an average ratio of 50% of revenue, which is the company's five year historical average. While Vale's COGS to revenue ratio has risen significantly in the third quarter 2012, with the company refocusing on its core operations, I am expecting this to fall back to its historical average.
Capital expenditure has been calculated as an average of the previous five years outlay, giving a capital expenditure to revenue ratio of 27%.
An industry average weighted cost of capital (OTC:WACC) of 10% has been applied to all calculations.
A revenue growth rate in perpetuity of 2% has been used to reflect Vale's ability to continue improving its existing resource deposits and bring on line new projects.
All forecast impairment charges totaling $642 million have been included in the valuation.
The chart below sets out the indicative fair value calculations for Vale, and is based upon the revised outlook for iron ore, with full year 2012 iron ore prices averaging $109 PMT and then $100 PMT in 2013 and $90 PMT after that. As the chart shows, this gives Vale an indicative fair value per share of $25.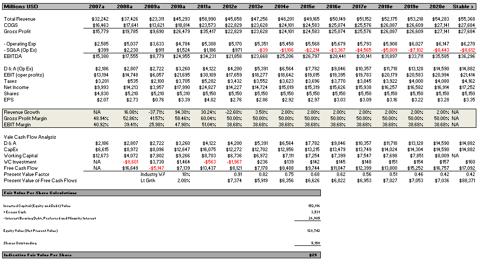 With Vale trading at around $20 at the time of writing, this represents potential upside of 25%, which while not being a considerable margin of safety, does make it a compelling buy for investors. When the calculation is amended to allow for Vale being found liable for the full quantum of the Brazilian taxation and royaltie's cases, the indicative fair value falls to $21. Investors need to be aware that these indicative valuations are dependent upon spot iron ore prices continuing to remain relatively high, and the company not being subject to any further significant impairment charges or liabilities.
Bottom Line
As a result of the recovery in iron ore prices, combined with Vale's management now biting the bullet and restructuring the company by divesting non-core assets and investing in improving core assets, Vale has become a far more appealing investment. Obviously, the company is still subject to considerable risk with the quantum of the settlement in the royalties dispute and the outstanding Brazilian taxation case yet to be determined. While potential upside of 25%, determined using conservative valuation inputs, makes this a solid opportunity for investors, it is heavily dependent upon spot iron ore prices and China's ongoing economic growth.
Overall, if the rally in iron ore prices is sustained, Vale, with its solid balance sheet and renewed management focus on core business, represents solid value for investors. But if spot iron ore prices fall significantly on the back of a slower Chinese economy, along with the company continuing to experience ongoing heightened political and economic risk in Brazil, then I would recommend that investors seeking exposure to iron ore consider a more diversified lower risk investment such as BHP. Further detail on BHP and how it stacks up as an investment opportunity can be found in Colin Lea's article.
Disclosure: I have no positions in any stocks mentioned, and no plans to initiate any positions within the next 72 hours. I wrote this article myself, and it expresses my own opinions. I am not receiving compensation for it (other than from Seeking Alpha). I have no business relationship with any company whose stock is mentioned in this article.